Rank:

FIFA (27th May 2021) 4th
EFO ranking Group One (3rd)
ELO rating 7th
Colours:
The Nike 2020 home shirt

-

White crew-necked jerseys with

navy blue

collar and side trim, white shorts with pale blue side stripe, white socks.
Capt:
Harry Kane ²⁷


33rd, W 21 - D 5 - L 7 - F 74 - A 28


Raheem Sterling 81:59
Marcus Rashford 91:20
Manager:
Gareth Southgate, 50 (3 September 1970), appointed caretaker manager on 27 September 2016, appointed as permanent manager on 30 November 2016.


55th match, W 35 - D 10 - L 10 - F 112 - A 38

England

Lineup

1
Pickford, Jordan L.
27
98 days
7 March 1994
G
Everton FC
32
27ᵍᵃ
2
Walker, Kyle A.
31
16 days
28 May 1990
RB
Manchester City FC
56
0
5
Stones, John
27
16 days
28 May 1994
RCD
Manchester City FC
43
2
15
Mings, Tyrone

D.

28
92 days
13 March 1993
LCD
Aston Villa FC
11
0
12
Trippier, Kieran J.
30
267 days
19 September 1990
LB
Club Atlético de Madrid, Spain
29
1
14

Phillips, Kalvin M.
25
193 days
2 December 1995
RM
Leeds United AFC
9
0
4
Rice, Declan
22
150 days
14 January 1999
CM
West Ham United FC
18
1
19
Mount, Mason T.
22
154 days
10 January 1999
LM
Chelsea FC
17
4
20
Foden, Philip W., off 86th min.
21
16 days
28 May 2000
RF
Manchester City FC


7


2

64th min. after he inadvertently stood on the foot of Gvardiol near the halfway line.
10
Sterling, Raheem S., off 90th+2nd min.
26
187 days
8 December 1994
in Kingston, Jamaica
LF
Manchester City FC
62
15
9
Kane, Harry E., off 82nd min.
27
320 days
28 July 1993
CF
Tottenham Hotspur FC
55
34

England Substitutes

scoreline:

England 1 Croatia 0
11
Rashford, Marcus, on 71st min.

(70:10)

for Foden

23


225 days
31 October 1997
RF
Manchester United FC
42
21
11
21
26
Bellingham, Jude V.W., on 82nd min.

(81:21)

for Kane
17
349 days
29 June 2003
AM
Bsv Borussia 09 Dortmund, Germany
5
1
0
4
18
Calvert-Lewin, Dominic N., on 90th

+2nd min. (91:20)

for Sterling
24
89 days
16 March 1997
LF
Everton FC
10
5
4
5

result:

England 1 Croatia 0

unused substitutes:

3-Luke Shaw, 7-Jack Grealish, 8-Jordan Henderson, 13-Dean Henderson, 16-Conor Coady, 22-Ben White, 23-Sam Johnstone, 24-Reece James, 25-Bukayo Saka.

manager records:

It is Gareth Southgate's record 24th match at the National Stadium, two more than Hodgson.
Southgate is the first England manager to have faced Croatia four times.

captain records:

Harry Kane is the eleventh different European Championship Final captain.

records:

This is the first time in ten attempts that England have won their opening European Championship Finals match.
First time England have won seven consecutive matches since March 2015. First home match on this day.
Its the fifth time England have recorded an identical scoreline for three matches in-a-row. The first time it has involved a 1-0 victory.
Jude Bellingham is the youngest player to appear in the European Championship Finals for any country.
Also the youngest England player to appear in Major Tournament Finals
4-3-3
Pickford -
Walker, Stones, Mings, Trippier -
Phillips, Rice, Mount -
Foden (Rashford), Kane (Bellingham), Sterling (Calvert-Lewin)

Averages (Starting XI):

Age
26 years 140 days
Appearances/Goals

30.8

5.3
Rank:
FIFA (23rd May 2021)

14th




EFO ranking

Group One

(4th)

ELO rating

18th

Colours:
Made by Nike - Black and dark grey mini-chequered v-necked jerseys with black sleeves/collar and red side trim, black shorts, black socks
Capt:
Luka Modrić
Head Coach:
Zlatko Dalić, 52 (26 October 1966), appointed 7 October 2017
44th match, W 20 - D 9 - L 14 - F 69 - A 60.
Croatia Lineup
1
Livaković, Dominik
26
155 days
9 January 1995
G
Gnk Dinamo Zagreb
22
0
2
Vrsaljko, Šime
29
154 days
10 January 1992
RB
Club Atlético de Madrid, Spain
50
0
21
Vida, Domagoj
32
45 days
29 April 1989
RCD
Beşiktaş JK, Turkey
89
4
5
Ćaleta-Car, Duje
24
269 days
17 September 1996
LCD

Olympique de Marseille, France


15


0

42nd min. after he held onto Sterling and handled the ball.
25
Gvardiol, Joško
19
141 days
23 January 2002
LB
RB Leipzig, Germany
2
0
10
Modrić, Luka
35
277 days
9 September 1985
RM
Real Madrid CF, Spain
139
17
most apps
11
Brozović, Marcelo, off 70th min.
28
209 days
16 November 1992
CM
FC Internazionale Milano, Italy


60


6

66th min. for pulling down Mason Mount as he was running into the penalty area.
8
Kovačić, Mateo
27
38 days
6 May 1994
in Linz, Austria
LM
Chelsea FC, England


68


3

48th min. for a lunge on Mason Mount after losing the ball near the centre-circle.
9
Kramarić, Andrej, off 70th min.
29
359 days
19 June 1991
RF
TSv 1899 Hoffenheim, Germany
55
14
17
Rebić, Ante, off 78th min.
27
265 days
21 September 1993
CF
AC Milan, Italy
39
3
4
Perišić, Ivan, off 85th min.
32
131 days
2 February 1989
LF
FC Internazionale Milano, Italy
102
28
Croatia Substitutes

scoreline:

England 1 Croatia 0
13
Vlašić, Nikola, on 70th min.

(69:35)

for Brozović
21
252 days
4 October 1997
CM
PFC Central Sport Club of the Army, Moscow, Russia
23
5
7
Brekalo, Josip, on 70th min.

(69:47)

for Kramarić
22
355 days
23 June 1998
RAM
VfL Wolfsburg, Germany
25
4
20
Petković, Bruno, on 78th min

. (77:49)

for Rebić
26
270 days
16 September 1994
CF
Gnk Dinamo Zagreb
15
6
15
Pašalić, Mario, on 85th min.

(84:29)

for Perišić
26
124 days
9 February 1995
in Mainz, Germany
LAM
Atalanta, Italy
26
3

result:

England 1 Croatia 0

unused substitutes:

12-Lovre Kalinić, 14-Ante Budimir, 16-Mile Škorić, 19-Milan Badelj, 22-Josip Juranović, 23-Simon Sluga, 24-Domagoj Bradarić, 26-Luka Ivanušec.

records:

Joško Gvardiol becomes Croatia's youngester player at a major tournament, beating the previous record set by Mateo Kovačić.
4-3-3
Livaković -
Vrsaljko, Vida, Ćaleta-Car, Gvardiol -
Modrić, Brozović (Vlašić), Kovačić -
Kramarić (Brekalo), Rebić (Petković), Perišić (Pašalić)

Averages (Starting XI):

Age
28 years 188 days
Appearances/Goals
58.3
6.8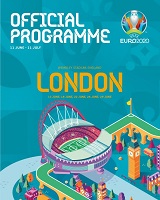 On a blistering hot day at Wembley, England began their group matches in the delayed Euro 2020 competition. Their opponents had beaten them in the World Cup semi-final in 2018, and although revenge was not on the agenda, it would be sweet nonetheless. Gareth Southgate had made some difficult calls in his team selection, some that surprised the majority, would his selections prove justified, time would tell.

The match had a lively start and Croatia were a little unlucky with their first attack, as the ball struck the referee just as a shot looked on. As per the new rules, the match was started with a drop ball and England cleared. Not only that, from a great throw-in by Kieran Trippier, Raheem Sterling sped away, running at the Croatian defence. He laid the perfect pass into the path of Phil Foden, who checked inside onto his favoured left-foot, and curled a delightful shot that struck the inside of the far post and is cleared by a defender. So unlucky for the youngster, and so nearly a dream start.

On eight minutes Sterling won a corner and from the kick the ball dropped to Kalvin Phillips, and he volleys the ball at goal only for goalkeeper Dominic Livakovic to make a fine save. The keeper did well to see it as the ball came through a forest of legs. England continued with their bright start, forcing Croatia back, and not allowing them any space. Five minutes later a free-kick found Harry Kane, but he was offside. Then Sterling again causes problems, but his centre was cleared.

The heat was stifling, and conservation of energy was going to be important for both sides. So it was no surprise when there were lulls in the play at times. Another clever throw-in by Trippier again found Sterling running for goal. But this time he went for the shot but scuffed it wide. At the other end, as England tired a little, Croatia, and especially Luca Modric, started to find their feet. Several crosses were coming in and England needed to step it up again after their dominance of the first 25 minutes. There are times when England's play is a little frustrating, and the tippy-tappy around their own area was a little worrying. To be fair though, England held possession well, Croatia were definitely becoming more threatening, although without troubling Jordan Pickford.

Both Foden and Mason Mount had faded after their terrific start and Kane was having to pick the ball up very deep at times. Superb control from Foden, bringing down a long through ball, was ruined when he and Kyle Walker were not on the same wavelength as Walker's pass went out for a goal-kick. In the 42nd minute Sterling won a free-kick on the edge of the box following a handball, but Trippier's shot couldn't penetrate the wall. At the back, both John Stones and Tyrone Mings looked full of confidence and composure, and they were both playing very well.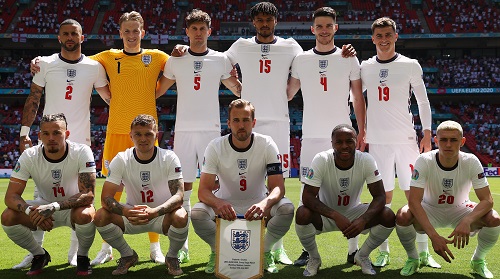 At half-time, it was satisfactory, but one couldn't help but worry that one slight mistake would be punished by the wily Croatian team. Just like, in the early minutes after the restart, when Trippier's header back towards Pickford was not quite firm enough. Luckily Pickford was alert to the danger and rushed out to clear the ball away. On 53 minutes, a poor pass from the subdued Kane ended one promising move and then two minutes later Modric fired in a shot that gave Pickford his first real save. But two minutes after that came the breakthrough.

At last, after much passing backwards, a forward pass brought rich rewards. The impressive Phillips picked the ball up just inside the Croatian half, strode forward, cut inside, and then fed a terrific pass into the path of Sterling who shot home as a defender's challenge came in. A fine move and a good goal. It was almost 2-0 when Foden found Mount on the left and the Chelsea player's cross was so nearly bundled home by Kane at the far post. Sadly, he couldn't quite keep his shot down and he also injured himself as he crashed into a post.

Foden was booked for one foul, and during the match three of the Croatia team also received yellow cards. On 65 minutes an attack in the England box caused danger but it ended when Ante Rebic pulled his shot well wide. At the other end Mount was fouled on the edge of the box, and he took the kick himself this time, and came within a "fag paper" of hitting the top corner. After Marcelo Brozovic then volleyed wide, changes were made from the line. Croatia brought on two new players and Marcus Rashford replaced the tiring Foden.

On 73 minutes a cross from the right by Croatia almost caused a mix-up between Pickford and Walker, until the keeper snatched the ball away from danger. Mings then headed down from a corner only for Sterling to shoot over the bar. Declan Rice and Phillips were working so hard in the midfield, with Rice's work going largely unnoticed as he continually harried and intercepted. Phillips had a tremendous match, certainly his best in an England shirt, and it must be said that all the players seemed to be enjoying the experience.

As the match moved into the last ten minutes, the overriding thought from the England fans was "nothing silly now". Jude Bellingham came on for Kane before Ivan Perisic's cross was well caught by Pickford. Croatia, were probing and searching for gaps, with Modric showing all his class, but without finding the answers. Pickford took the heat out of one situation near the end with another good interception, and generally there were no alarms to worry what had been a fine defensive display by the England players.

So, England, for the first time, start a European Championship Finals Tournament with a win and everyone in the stadium enjoyed the atmosphere, the spectacle and, for most of them anyway, the result. Now it is 'Bring on the Scots' time. England must beware here because they will be no pushovers, and remember this, which team do Scotland always raise their game against? And which team do they always most want to beat? We shall see.