Rank:
FIFA (23rd May 2021)

24th




EFO ranking

Group 8




ELO rating

21st to 24th

Colours:
Made by Joma - Yellow crew-necked jerseys with yellow/blue collar/cuffs with an outline of Ukraine territory graphic on front, yellow shorts, yellow socks.
Capt:
Andriy Yarmolenko
Head Coach:
Andriy Mykolayovych Shevchenko, 44 (29 September 1976), appointed 15 July 2016.
51st & final match, W 25 - D 13 - L 13 - F 71 - A 61. resigned 1 August 2021
Ukraine Lineup
1
Buschan, Heorhiy M.
27
33 days
31 May 1994
G
FC Dynamo Kyiv
11
0
13

Zabarnyi, Illya

B.

18
305 days
1 September 2002
RD
FC Dynamo Kyiv
13
0
4
Kryvtsov, Serhiy A., injured off 35th min.

(34:45)

30
110 days
15 March 1991
CD
FC Shakhtar Donetsk
25
0
22

Matviyenko, Mykola

O.

25
62 days
2 May 1996
LD
FC Shakhtar Donetsk
41
0
21
Karavayev, Oleksandr

O.

29
31 days
2 June 1992
RWB
FC Dynamo Kyiv
38
1
10

Shaparenko, Mykola

V.
22
272 days
4 October 1998
RM/
RCM
FC Dynamo Kyiv
17
0
5

Sydorchuk, Serhiy

O., off 64th min.
30
62 days
2 May 1991
CM
FC Dynamo Kyiv
41
3
17
Zinchenko, Oleksandr

V.

24
200 days
15 December 1996
LM/
AM
Manchester City FC, England
44
7
16

Mykolenko, Vitaliy

S.
22
35 days
29 May 1999
LWB
FC Dynamo Kyiv
19
0
7

Yarmolenko, Andriy

M.
31
253 days
23 October 1989


in Leningrad, USSR

RF/
RAM
West Ham United FC, England
99
42
9

Yaremchuk, Roman

O.
25
218 days
27 November 1995
LF/CF
KAA Gent, Belgium
29
10

Ukraine

Substitutes

scoreline:

Ukraine 0 England 1
15
Tsyhankov

, Viktor

V., on 35th min.

(34:55)

for Kryvstov
23
230 days
15 November 1997
in Nahariya, Israel
LAM
FC Dynamo Kyiv
29
6

scoreline:

Ukraine 0 England 4
14
Makarenko, Yevhenii O., on 64th min.

(63:22)

for Sydorchuk
30
43 days
21 May 1991
LCM
RSC Anderlecht, Belgium
14
0

result:

Ukraine 0 England 4

unused substitutes:

2-Eduard Sobol, 3-Heorhiy Sudakov, 6-Taras Stepanenko, 11-Marlos, 12-Andriy Pyatov, 18-Roman Bezus, 20-Oleksandr Zubkov, 23-

Anatoliy Trubin

, 24-Oleksandr

Tymchyk, 26-Artem Dobvyk.

team notes:

Serhiy Ktyvstov injured himself stooping for a low header (31:35) unchallenged and landing awkwardly. He battled on for another minute, repelling two English attacks before eventually collapsing (32:36) and being replaced by Tsyhankov.
Heorhiy Sudakov, Oleksandr

Tymchyk and Artem Dobvyk were all ready to replace their teammates, from 87:12, until Brych blew the final whistle on time.

records:

This is only the second time that Ukraine have made it to quarter-final stage of any Major Competition. They reached the World Cup Finals quarter-final in 2006, at their first attempt.
This is their joint heaviest defeat at a major tournament - having lost to Spain in 2006.
This is their eleventh European Championship Final match, and they have conceded a goal in every one.

Head Coach Andriy Shevchenko played for the Ukraine against England and their very first meeting, May 2000. Captain in August 2004. He was then a goalscoring substitute in their first competitive meeting between the countries, April 2009, missing a penalty kick in October 2009. Making his fifth and final appearance against England in the Euro 2012 defeat in June 2012.

3-5-2


2-4-3-1 after 34 mins.

Buschan -
Zabarnyi, Kryvtsov (Tsyhankov), Matviyenko -
Karavayev, Shaparenko, Sydorchuk (Makarenko), Zinchenko, Mykolenko -
Yarmolenko, Yaremchuk


notes: Tsyhankov went to the t

op of

(L) midfield, along with Zinchenko (A) and Yarmolenko (R),
in front of Mykolenko (L), Makarenko (LC), Shaparenko (RC) and Karavayev (R).

Averages (Starting XI):

Age

26

years 46 days
Appearances/Goals

30.9

5.7
Rank:

FIFA (27th May 2021) 4th
EFO ranking Group One (3rd)
ELO rating 8th to 6th
Colours:
The Nike 2020 home uniform

-

White crew-necked jerseys with

navy blue

collar and side trim, navy blue shorts with pale blue side stripe, white socks.
Capt:
Harry Kane ³⁰


37th, W 24 - D 6 - L 7 - F 81 - A 28




Jordan Henderson

72:10

Manager:
Gareth Southgate, 50 (3 September 1970), appointed caretaker manager on 27 September 2016, appointed as permanent manager on 30 November 2016.


59th match, W 38 - D 11 - L 10 - F 119 - A 38

England

Lineup

1
Pickford, Jordan L.
27
118 days
7 March 1994
G
Everton FC
36
27ᵍᵃ
2
Walker, Kyle A.
31
36 days
28 May 1990
RB
Manchester City FC
59
0
5
Stones, John
27
36 days
28 May 1994
RCD
Manchester City FC
47
2
6

Maguire, J. Harry
28
120 days
5 March 1993
LCD
Manchester United FC
35
4
3

Shaw, Luke P.H., off 65th min.
25
356 days
12 July 1995
LB
Manchester United FC
14
0
14
Phillips, Kalvin M

.

, off 65th min.
25
213 days
2 December 1995
RDM
Leeds United AFC
13
0
4
Rice, Declan, off 57th min.
22
170 days
14 January 1999
LDM
West Ham United FC
22
1
17
Sancho, Jadon M.
21
102 days
25 March 2000
RAM
Bsv Borussia 09 Dortmund, Germany
21
3
19

Mount, Mason T.
22
174 days
10 January 1999
AM
Chelsea FC
19
4
10

Sterling, Raheem S., off 65th min.
26
207 days
8 December 1994
in Kingston, Jamaica
LAM
Manchester City FC
66
17
9

Kane, Harry E., off 73rd min.
27
340 days
28 July 1993
CF
Tottenham Hotspur FC
59
37

England Substitutes

scoreline:

Ukraine 0 England 3
8

Henderson, Jordan B., on 57th min.

(56:24)

for Rice
31
16 days
17 June 1990

LDM
/DM
Liverpool FC
62
43
1

19

97th goal scored by an England substitute

second most appearanced Liverpool player

scoreline:

Ukraine 0 England 4
12
Trippier, Kieran J., on 65th min.

(64:05)

for Shaw
30
287 days
19 September 1990
LB
Club Atlético de Madrid, Spain
31
26
1
5
11
Rashford, Marcus, on 65th min.

(64:16)

for Sterling

23


245 days
31 October 1997
RAM
Manchester United FC
45
21
11
24
26
Bellingham, Jude V.W., on 65th min.

(64:44)

for Phillips
18
4 days
29 June 2003
AM
Bsv Borussia 09 Dortmund, Germany
7
1
0
6
18
Calvert-Lewin, Dominic N., on

73rd min. (72:33)

for Kane
24
109 days
16 March 1997
LF
Everton FC
11
5
4
6
final app 2020-21

result:

Ukraine 0 England 4

unused substitutes:

7-Jack Grealish, 13-Aaron Ramsdale, 15-Tyrone Mings, 16-Conor Coady, 20-Phil Foden, 21-Ben Chilwell, 23-Sam Johnstone

.

captain records:

Harry Kane is now equal with Tony Adams (5) in most European Championship Final captaincies.

records:

England have kept seven consecutive clean sheets for the first time (662 minutes), beating the previous record of six (1966-67 (a record 709 mins), 1974-75 (639), 1983 (643) and 2006 (630))
No other country has kept clean sheets in their first five European Championship Finals matches.
Not since the 1965-66 season have England played eighteen matches in one season, and not since then have they won fourteen matches in a single season.
This is England's 200th competitive (WC, EC & NL) win.
Harry Kane is the tenth different England player to score against the Ukraine, and the first to score more than one.
Jordan Henderson is equal with Rio Ferdinand in being the most experienced player to score their first goal for England. Both getting their first on their 62nd appearance.
Manager Gareth Southgate played for the England against Ukraine and their very first meeting, May 2000.
4-2-3-1
Pickford -
Walker, Stones, Maguire, Shaw (Trippier) -
Phillips (Bellingham), Rice (Henderson) -
Sancho, Mount, Sterling (Rashford) -
Kane (Calvert-Lewin)


notes: when Bellingham came on, he took up an attacking midfield role, with Henderson behind him.

Averages (Starting XI):

Age

26

years 6 days
Appearances/Goals

35.5

5.8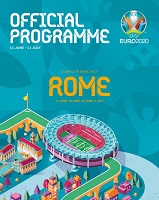 Have you ever sat through an England game, so relaxed and confident of victory, than this match against Ukraine? I don't know about you, but usually I am fraught with anxiety and anguish when we play such a vital game, but not this time. What a performance that was! England won the toss and decided to bat, oh no, sorry, wrong sport! But, boy oh boy, did the openers do well.

England began brightly, and in only the fourth minute, Raheem Sterling picked up possession on the left, cut inside, and threaded a wonderful pass into the path of Harry Kane, 12 yards out. Was Harry back to his best, you bet he was, as he prodded the ball past the goalkeeper to give his team the perfect start. The goal laid the foundation for the rest of the match as England's confidence grew and grew.

To be fair, Ukraine then had a spell of good possession, but the England unit, and that is exactly what it was, had no intention of giving their opponents any hint of their goal, closing down quickly and effectively. Ukraine managed a couple of attacks down the wings, but as soon as the crosses came in, the England defenders cleared the danger. The only real scare came in the 19th minute when Kyle Walker's loose pass allowed Roman Yaremchuk a run at goal coming in from the left. Just for a moment, the heart missed a beat, but there was Jordan Pickford to dive to his right to shovel the shot round a post for a corner. The chance had come from an England mistake, and it was a narrow squeak, but as it turned out, it would be the nearest Ukraine would get to a goal.

On 22 minutes a positive break by Jadon Sancho worked the ball to Sterling who then combined with the rejuvenated Luke Shaw down the left, for the Manchester United full-back to pull back a glorious ball across the box from the bye-line. Unfortunately, there was no England player following up and Ukraine cleared the danger. Six minutes later Shaw sent in an excellent free-kick which Kane met with his head, but cleared the crossbar with the header. It was good to see this improved delivery from set-pieces though, one of the few weaknesses from England's early games in the tournament. They have obviously put in some serious work on the training ground.

England came very close to a second goal on 33 minutes after more fine approach play by Sterling. The ball went into the box but was only cleared to the onrushing Declan Rice who hit a screamer on target, only for the goalkeeper, Heorhiy Buschan to parry the ball away, and then cleared as England players tried to pounce on the rebound. On a break shortly afterwards, Ukraine attacked down the left, but the England central defenders, dominant throughout, cleared any possible thought of danger. Sancho, looking very lively, was next to come close. Shaw again broke clear and his cross was gathered by Sancho with his back to goal. A quick turn and shot again brought the best out of Buschan, but it would have been to no avail as Shaw had been flagged offside. The rest of the half played out with England comfortably holding their lead at the break, although my notes did say that we needed that second goal.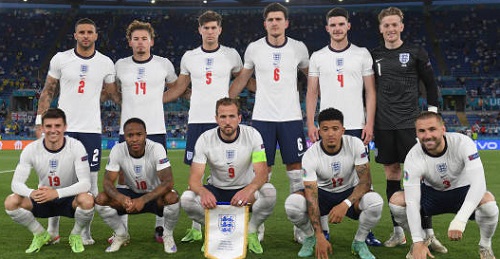 A minute after the restart we all got our wish granted. A free-kick on the left was beautifully flighted in by Shaw, and there was the immense figure of Harry Maguire to power home a terrific unstoppable header. Was it a dream? Had we just woken up from our slumbers? No, it was all true and it was the England team that was in dreamland! It couldn't get any better could it? It certainly could, and four minutes later England made it 3-0. Once again it was Shaw at the heart of things as his cross came in from the left to give Kane a downwards header that flew through the goalkeeper's legs. The England players, and the few England fans that had managed to get into the stadium were ecstatic, as were the many millions watching at home.

To calm things down England then had to concentrate for a while as Ukraine had a spell of good possession, but England's work ethic in closing players down was outstanding and it meant that the Ukraine players had nowhere to go.

Gareth Southgate, who it must be said has made all the right decisions so far, decided to bring on Jordan Henderson for Rice, who had again played well. Rice's booking in the Germany game would probably have been in Southgate's thoughts at that moment. He wanted the player available for any possible semi-final match.

England continued with their dominant play, and just as it felt against Germany that their opponents often seemed to have an extra man, this time it was Ukraine who must have thought that. On 62 minutes England came so close to a fourth goal. As the ball looped up to Kane on the edge of the box in the inside-left position, the Spurs man hit a perfect volley at goal. It had to be a goal and a magnificent hat-trick, but no, the save of the game by Buschan prevented the celebrations becoming even louder. Football at its best though.

The icing on the cake came seconds later from the resultant corner after Bushan's save. Mason Mount's cross was met by a brilliant glancing header from Henderson, to his absolute joy scoring the goal he so much wanted. He had finally broken his scoring duck after 62 internationals for his country.

A standing ovation for Shaw with just over 20 minutes to go, as Southgate brought him off, along with Sterling and Phillips, who was also on a booking, and on came Kieran Trippier, Marcus Rashford and Jude Bellingham as replacements. One of the big strengths of this England squad is the quality they have on the bench, and there was still Phil Foden, Jack Grealish and others to call upon if necessary. An embarrassment of riches for the Manager. Rashford's first action saw him win a corner, but this time the cross was too high for Maguire. Pickford mis-kicked a clearance, which brought a little scare, and then Kane went off to be replaced by Dominic Calvert-Lewin. On 74 minutes Yevhenii Makarenko fired in a fierce shot, which Pickford blocked, although none too convincingly. However, the goalkeeper did keep his clean sheet intact, something very precious to him. His kicking, often his strong point, had let him down a little in this match, and he fluffed another clearance before gathering the ball safely. He had saved anything that did come his way though.

England were still closing the Ukrainians down really well in the closing stages, a testament to their fitness It was easy for England to play out the remaining time, as Ukraine were a spent force. They knew they had been well and truly beaten by this England team, who now face a mighty match against Denmark back at Wembley in the semi-final.