Rank
FIFA (22 December 2022)

5th


EFO ranking Group Two
ELO rating 7th
Colours
The Nike 2022 home uniform

-

White crew-necked jerseys

with dark to light blue

fury gradient sleeves, fury/void cuffs, blue void shorts, white socks with fury/void thin hoop.
Captain
Harry Kane

Manager
Gareth Southgate, 52 (3 September 1970), appointed caretaker manager on 27 September 2016, appointed as permanent manager on 30 November 2016.

⁴⁷

most goals as captain

57th of 63, W 34 - D 12 - L 11 - F 128 - A 48.

P 83rd of 91, W 51 - D 18 - L 14 - F 178 - A 58.

Jordan Henderson

80:16

England Lineup

three changes on the previous match (Shaw, Phillips & Grealish out)
league position (16th March)

1
Pickford, Jordan L.
29
19 days
7 March 1994
G
Everton FC

(PL 15th)

52
39ᵍᵃ
2
Walker, Kyle A.
32
302 days
28 May 1990
RB
Manchester City FC

(PL 2nd)

75
0
5
Stones, John
28
302 days
28 May 1994
RCD
Manchester City FC

(PL 2nd)

66
3
6
Maguire, J. Harry
30
21 days
5 March 1993
LCD
Manchester United FC

(PL 3rd)

55
7
3
Chilwell, Benjamin J.
26
95 days
21 December 1996
LB
Chelsea FC

(PL 10th)

18
1
10
Bellingham, Jude V.W., off 86th min.
19
270 days
29 June 2003
RF
Bsv Borussia 09 Dortmund, Germany
24
1
8

Henderson, Jordan B.
32
282 days
17 June 1990
CM
Liverpool FC

(PL 6th)

75
3
4
Rice, Declan
24
71 days
14 January 1999
LM
West Ham United FC

(PL 17th)

41
3
7

Saka, Bukayo A.T.
21
202 days
5 September 2001
RF
Arsenal FC

(PL TOP)

26
8
9

Kane, Harry E., off 81st min.
29
241 days
28 July 1993
CF
Tottenham Hotspur FC

(PL 4th)

82
55
11
Maddison, James D., off 85th min.
26
123 days
23 November 1996
LF
Leicester City FC

(PL 16th)

2
0
England Substitutes

scoreline:

England

2 Ukraine 0

105

19
Toney, Ivan B.E., on 81st min.

(80:30)

for Kane
27
10 days
16 March 1996
CF
Brentford FC

(PL 8th)

1
0

1272

the third player from Brentford FC

- first since 1939

only app 2023
16
Grealish, Jack P., on 85th min.

(84:50)

for Maddison
27
197 days
10 September 1995
LF
Manchester City FC

(PL 2nd)

31
13
2
18
18
Gallagher, Conor J., on 86th min.

(85:07)

for Bellingham
23
48 days
6 February 2000
LM
Chelsea FC

(PL 10th)

6
2
0
4
result:

England 2 Ukraine 0

unused substitutes:
12-Kieran Trippier, 13-Aaron Ramsdale, 14-Marc Guéhi, 15-Eric Dier, 17-Kalvin Phillips, 22-Fraser Forster.
team notes:
Harry Kane was awarded a special golden boot by the FA prior to this match.
Jack Grealish's great great grandfather,

Billy

Garraty, also played for England in 1903.
stadium notes:
Jude Bellingham becomes the first teenager to play for England ten times at the National Stadium.
Harry Kane continues as record England goalscorer at the new National Stadium, now at 22, He has now also scored in more matches at the Stadium—sixteen, to Rooney's fifteen.
He remains one behind Bobby Charlton as Wembley's record goalscorer.
manager notes:
Southgate has only fie

ld

ed an older team once, against Germany in March 2017 when they were on average, 27 years and 356 days old.
It is also Southgate's tenth EC match at Wembley, extending the record, two more than Alf Ramsey.
team records:
This is England's 75th European Championship preliminary match victory out of 110 played. Also their seventieth clean sheet. It is also their ninetieth victory across all European Championship matches out of 148. Their 85th clean sheet.
The 350th victory whilst England was under a Conservative government.
Their fifth home match on this date is also their fifth victory.
This is England's 100th match played on a Sunday (W 47 D 27 L 26 F 165 A 110)
goal records:
Harry Kane has now scored fifty England goals under Gareth Southgate.
Following Harry Kane's goal, Tottenham Hotspur FC players have now scored a record-breaking 258 goals of the 2290 scored by England.
Harry Kane and Bukayo Saka have now scored for England together in all of the last three matches that they have played on a Sunday.
Manager Gareth Southgate played for the England against Ukraine in their very first meeting, May 2000.
4-3-3
Pickford -
Walker, Stones, Maguire, Chilwell -
Bellingham (Gallagher), Henderson, Rice -
Saka, Kane (Toney), Maddison (Grealish)

Averages

(Starting XI)

:

Age

27

years 144 days
Appearances/Goals

46.9

7.2
Rank
FIFA (22 Dec'ber 2022)

26th


EFO ranking Group Nine
ELO rating 22nd
Colours
Made by Joma - Yellow crew-necked jerseys with yellow/blue collar/cuffs with an outline of Ukraine territory graphic on front, yellow shorts, yellow socks.
Captain
Oleksandr Zinchenko
Interim manager
Ruslan Petrovych Rostan
41 (29 October 1981), appointed 28 February 2023. Also in charge of the under-21's and FC Oleksandriya.

first match, W 0 - D 0 - L 1 - F 0 - A 2.

Ukraine

Lineup
12

Trubin, Anatoliy

V.
21
237 days
1 August 2001
G
FC Shakhtar Donetsk
4
0
21
Karavayev, Oleksandr O., off 61st min.
30
297 days
2 June 1992
RB
FC Dynamo Kyiv
47
2
3
Svatok, Oleksandr S.
28
180 days
27 September 1994
RCD
SSC Dnipro-1
1
0
22

Matviyenko, Mykola

O.

26
101 days
2 May 1996
LCD
FC Shakhtar Donetsk
55
0
16

Mykolenko, Vitaliy

S., off 62nd min.
23
328 days
29 May 1999
LB
Everton FC, England
29
1
17
Zinchenko, Oleksandr

V.

26
101 days
15 December 1996
RM
Arsenal FC, England
53
8
20
Sudakov, Heorhiy V.
20
206 days
1 September 2002
CM
FC Shakhtar Donetsk
4
0
6
Stepanenko, Taras M., off 90th min.
33
101 days
8 August 1989
LM
FC Shakhtar Donetsk
74
4
8
Malinovsky, Ruslan V.
29
99 days
4 May 1993
RF

Olympique de Marseille, France, on loan from Atalanta BC, Italy

52

7

69th min. for pulling back Bukayo Saka outside the Ukraine penalty area
9
Yaremchuk, Roman

O., off 74th min.
27
119 days
27 November 1995
CF
Club Brugge KV, Belgium
43
13
7
Mudryk, Mykhailo P., off 61st min.
22
80 days
5 January 2001
LF
Chelsea FC, England
9
0
Ukraine Substitutes

scoreline:

England 2 Ukraine 0

14
Buyalskyi, Vitaliy K., on 61st min.

(60:44)

for Karavayev
30
79 days
6 January 1993
RB
FC Dynamo Kyiv
10
0
15
Tsyhankov

, Viktor

V., on 61st min.

(60:44)

for Mudryk
25
131 days
15 November 1997
in Nahariya, Israel
LF
Girona FC, Spain
43
7
2

Sobol, Eduard

O., on 62nd min.

(61:11)

for Mykolenko
27
341 days
20 April 1995
LB
RC Strasbourg Alsace, France
28
0
11
Dovbyk, Artem O., on 74th min.

(73:14)

for Yaremchuk
25
279 days
21 June 1997
CF
SSC Dnipro-1
15
6
10
Konoplyanka, Yevhen O., on 90th min.

(89:30)

for Stepenenko
33
186 days
22 September 1989
LM
MKS Cracovia SSA

, Poland

87
21
result:

England 2 Ukraine 0

unused substitutes:
1-Andriy Lunin, 4-

Eduard Sarapiy

, 5-

Serhiy Sydorchuk

, 13-Denys Miroshnichenko, 18-Artem Bondarenko, 19-

Oleksandr Pikhalyonok

, 23-

Mykita Shevchenko

.
Interim manager Ruslan Rotan played for Ukraine against England in the

August 2004 friendly

, a

squad member in the April 2009

, and playing member of the

Ukraine victory in October 2009

. He was an

unused substitute at the Euro 2012 finals match

. He returned for the

September 2012 World Cup qualification match

, being on the end of Gerrard's elbow for the first of his two yellow cards. Rotan was a

squad member for the return match a year later

.
4-3-3
Trubin -
Karavayev (Buyalskyi), Svatok, Matvlyenko, Mykolenko (Sobol) -
Sudakov, Stepanenko (Konoplyanka), Zinchenko -
Malinovsky, Yaremchuk (Dovbyk), Mudryk (

Tsyhankov

)

Averages

(Starting XI)

:

Age

26

years 209 days
Appearances/Goals

33.7

3.2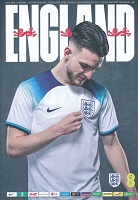 After all that is going on in their own country, it was such a delight to welcome the Ukraine National team to Wembley Stadium, and what a welcome the fans gave both teams! It was a very emotional build up to the actual match, but it was important, especially for England to focus on the job in hand. As it turned out they were not distracted.

Gareth Southgate made several changes to the team that won so well in Italy three days earlier, but such is the squad strength, he was able to bring in plenty of talent. The match began tentatively, and it was all a bit scrappy in the early stages. One Ukrainian shot was blocked before being collected by Jordan Pickford, and Harry Kane went down in the box, though nothing was given. On ten minutes a free-kick from James Maddison was cleared by the defence, and on the counter, only swift defensive cover by Kyle Walker stopped a dangerous break.

Neither side could find any real rhythm in these early exchanges although two attacks by Ukraine ended with shots well wide, although the second effort was offside anyway. A shot came in at the other end and the goalkeeper, Anatoliy Trubin fumbled it giving Maddison the chance to follow up. The keeper recovered to dive on the ball as the Leicester player challenged, and was injured in the process. A free- kick was given against Maddison, which seemed harsh. On 19 minutes England had their first real effort on goal as Jordan Henderson won a corner and the kick was cleared to Ben Chilwell who promptly centred back into the middle where Kane managed to get in a header. Again, it was an easy save for the keeper.

It was obvious that Ukraine would defend in numbers and then looked to counter- attack quickly. Most of the play was still a bit scrappy, with passes going astray from both teams. Then a real chance for Kane as Henderson's cross came in from the right only for Kane to miss the ball completely when he might have done better. Kane fell over, and when Jude Bellingham returned the ball across goal, Kane almost turned the ball into the net from a prone position. Then a good exchange between Walker and Bukayo Saka almost opened the Ukrainians up but a free-kick was awarded. When the cross came in, Kane was again there, but this time he shot over, although replays suggested he would have been given offside had it gone to VAR. Kane was yet to find his shooting boots at this point.

It was sometimes painful to watch when Chilwell had possession as it was a case of 10% of his passes going forwards, and the other 90% went back towards his own goal. He did improve that ratio later.

There was a sense after the half-hour that England were starting to find their feet and in one attack on 36 minutes, three shots were fired in in quick succession, but all were blocked by a determined defensive unit. A minute later though, and England found a way through. Saka, who was increasingly influential, was found by a great pass from Kane wide on the right. Saka then sent over a fine cross to the far post, and there was Kane, yet again, to finish with a close range shot as he followed up. It was number 55 for the 'Golden Boy' as he increased his goals tally for England once more. Two minutes later and England struck again.​

Kane fed Henderson and the Liverpool player found Saka, wide on the right, but just itching to attack the defenders. This time the Arsenal man cut inside and curled the most exquisite left-footer into the far top corner for one of the best England goals seen at Wembley for a long time. Immediately, Kane was in again, but this time Trubin saved his shot. As the half drew to a close England superiority was beginning to show more clearly and although Mykhailo Mudryk fired a shot wide there was little danger for Pickford. To their eternal credit the Ukrainian fans in the stadium made for an electric atmosphere and although their side were 2-0 down, they cheered them all the way.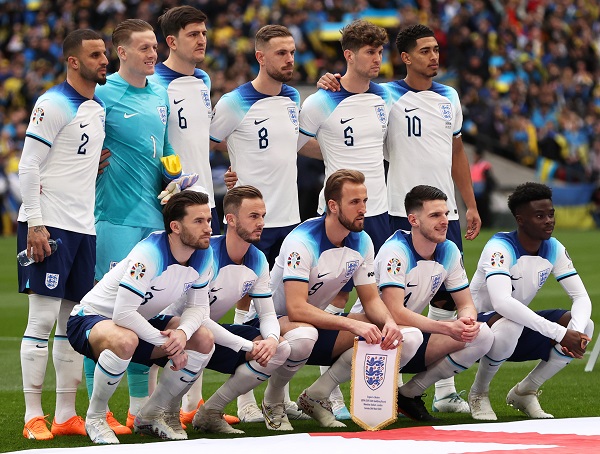 England started the second-half on the front foot and Bellingham, Saka and Maddison all featured prominently in some good and clever attacks. At the other end the home defence was in command and it must be said that Ukraine had little effect up front. There was one decent attack, defended well by John Stones, and then, straight up the other end and another cross by Saka should have been converted by Bellingham.

You sensed that if England scored the next goal the match would be over, but try as they might, they could not force that third goal, despite being in total control of the game. Credit though, does go to Ukraine, who never gave up and battled right to the end. How could they not, when their crowd were so passionately encouraging. There were some near misses, especially when a good free-kick routine set Saka up for another curler, but this time it flew well over the top. Substitutes for both sides came on to try and freshen things up, but England's control meant that nothing much changed. Ivan Toney came on for Kane and he immediately flicked the ball on to Saka, but then Maddison mis-controlled the ball and the chance was lost. Jack Grealish and Conor Gallagher came on for Bellingham and Maddison, who had both played well, and Gallagher's first touch almost brought a goal but the goalkeeper saved well. Right at the end Harry Maguire had a free header from a corner but headed over when it seemed easier to score.

Grealish also went close with one good effort, whilst at the other end Ukraine's powder-puff attack could make no impression on the England defence. My man of the match was Kyle Walker who I thought had an excellent game, combining well with Saka, and also defending expertly at times. He was always ready to take possession too. Another good win for England, and just the tonic to back up the fine win in Italy.