"LIONS PRIDE" Star Sport
Officials

from Bulgaria

Ukraine Squad

Type

England Squad

Referee

(sky blue)


Georgi Nikolov Kabakov
37

(22 February 1986), Plovdiv, FIFA-listed 2013

2
Goal Attempts
11
1
Attempts on Target
5
Assistant Referees
0
Hit Bar/Post
1
Martin Veselinov Margaritov


35 (8 January 1988), Plovdiv

Diyan Hrsitov Valkov


46 (2 March 1977), Varna

2
Corner Kicks Won
2
Fourth official
Nikola Antonov Popov

, 40 (1 February 1983), Sofia







UEFA Delegate:

Amil Gerina, Montenegro
UEFA Referee Observer: Darko Ĉeferin, Slovenia
0
Offside Calls Against
1
11
Fouls Conceded
7
35%
Possession
65%
Video Assistant Officials
Ivaylo Stoyanov, 42 (28 March 1981), Petrich
Drogomir Draganov, 41

Ukraine Team
Rank
FIFA (29 June 2023) 24th


EFO ranking

Group nine




ELO rating

23rd to 20th

Colours
Made by Joma - Yellow crew-necked jerseys with yellow/blue collar/cuffs with an outline of Ukraine territory graphic on front, yellow shorts, yellow socks.
Captain
Taras Stepanenko
Manager
Serhiy Stanislavovych Rebrov, 49 (3 June 1974), appointed 7 June 2023.
P4 - W 2 - D 2 - L 0 - F 8 - A 6.
Ukraine Lineup
1
Buschan, Heorhiy M.
29
101 days
31 May 1994
G
FC Dynamo Kyiv
16
0
2

Konoplya, Yukhym D.
24
14 days
26 August 1999
RB
FC Shakhtar Donetsk
6
1
13
Zabarnyi, Illya

B.

21
8 days
1 September 2002
RCD
AFC Bournemouth, England
28
1
22

Matviyenko, Mykola

O.

, off half-time
27
132 days
2 May 1996
LCD
FC Shakhtar Donetsk
59
0
16

Mykolenko, Vitaliy

S.
24
103 days
29 May 1999
LB
Everton FC, England
33
1
17

Zinchenko, Oleksandr V., off 76th min.
26
268 days
15 December 1996
RM
Arsenal FC, England
54
9
8
Sudakov, Heorhiy V., off 65th min.
20
8 days
1 September 2002
CM
FC Shakhtar Donetsk
8
0
6
Stepanenko, Taras

M.

34
8 August 1989
LM
FC Shakhtar Donetsk
78
4
22nd min. for a foul on James Maddison midway in the Ukraine half.
15
Tsyhankov

, Viktor

V.
25
298 days
15 November 1997
in Nahariya, Israel
RF
Girona FC, Spain
48
11
9

Yaremchuk, Roman

O., off 65th min.
27
286 days
27 November 1995
CF
Club Brugge KV, Belgium
44
13
42nd min. for standing on Jordan Henderson's ankle in the centre-circle
10
Mudryk, Mykhailo P.

,

injured off 90th min.
22
247 days
5 January 2001
LF
Chelsea FC, England
12
0
Ukraine Substitutes

scoreline:

Ukraine 1 England 1

4
Kryvtsov, Serhiy A., on half-time for Matviyenko
32
178 days
15 March 1991
in Zaporizhzhia, USSR
LCD
Club Internacional de Fútbol Miami, United States
33
0
11
Dovbyk, Artem O., on 65th min.

(64:06)

for Yaremchuk
26
80 days
21 June 1997
CF
Girona FC, Spain
19
6
5

Sydorchuk, Serhiy

O., on 65th min.

(64:42)

for Sudakov
32
132 days
2 May 1991
CM
FC Dynamo Kyiv
57
3
14
Buyalskyi, Vitaliy K, on 76th min.

(75:44)

for Zinchenko
30
246 days
6 January 1993
RM
FC Dynamo Kyiv
12
0
20
Nazaryna, Yehor A., on 90th min.

(89:31)

for Mudryk
26
61 days
10 July 1997
CM
FC Shakhtar Donetsk
1
0

result:

Ukraine 1 England 1

unused substitutes:
3-Bohdan Mykhaylichenko, 7-Andriy Yarmelenko, 12-

Anatoliy Trubin

, 18-Vladyslav Vanat, 19-Denys Popov, 21-Oleksandr Karavayev, 23-Andriy Lunin
team notes:
Due to the ongoing conflict in Ukraine, under attacking from Russia, who continue to be banned from all FIFA & UEFA competitions, then this match was played on neutral soil, but still an Ukraine away match.
records:
Oleksandr Zinchenko's goal is the first Ukraine have scored against England in any European Championship competition, at the eighth attempt.
Manager Serhiy Rebrov played for Ukraine against England in their very first meeting, May 2000, against Gareth Southgate, and then was an unused substitute in the August 2004 friendly match.
4-3-3
Buschan -
Konoplya, Zabarnyi,

Matviyenko

(Kryvtsov), Mykolenko -
Zinchenko (Buyalskyi)

, Sudakov

(

Sydorchuk

), Stepanenko -
Tsyhankov, Yaremchuk (Dovbyk)

, Mudryk

(Nazaryna)

Averages

(Starting XI)

:

Age
25 years 303 days
Appearances/Goals

35.1

3.5

England
Team
Rank
FIFA (29 June 2023)

4th


EFO ranking Group Two
ELO rating 6th to 7th
Colours
The Nike 2022 away uniform

-

Challenge red jerseys

with navy blue

winged collars(with turquoise trim)/cuffs, challenge red shorts, challenge red socks with navy blue tops.
Captain
Harry Kane
Manager
Gareth Southgate, 53 (3 September 1970), appointed caretaker manager on 27 September 2016, appointed as permanent manager on 30 November 2016.
⁵⁰

most goals as captain

60th of 63, W 36 - D 13 - L 11 - F 140 - A 49.

P 86th of 91, W 53 - D 19 - L 14 - F 190 - A 59.

England

Lineup

four changes on the previous match

(Shaw, Alexander-Arnold, Stones & Rashford out)

league position (31st August)

1
Pickford, Jordan L.
29
186 days
7 March 1994
G
Everton FC

(PL B

OTTOM

)

55
40ᵍᵃ
final app 2017-23
2

Walker, Kyle A.
33
104 days
28 May 1990
RB
Manchester City FC

(PL TOP)

77
1
6
Maguire, J. Harry
30
188 days
5 March 1993
RCD
Manchester United FC

(PL 8th)

58
7
86th min. following a collision with Heorhiy Buschan in the 6 yard area
5
Guéhi, A.K. Marc-Israel
23
58 days
13 July 2000
in Abidjan, Côte d'Ivoire
LCD
Crystal Palace FC

(PL 11th)

5
0
3
Chilwell, Benjamin J.
26
262 days
21 December 1996
LB
Chelsea FC

(PL 10th)

19
1
final app 2018-23
8
Henderson, Jordan B.

,

33


84 days
17 June 1990
RDM
Al Ettifaq FC, Saudi Arabia

(SAPL 5th)

78
3

the first player from Saudi to represent England

4
Rice, Declan
24
238 days
14 January 1999
LDM
Arsenal FC

(PL 5th)

44
3

the 69th Arsenal player to represent England

7
Saka, Bukayo A.T., off 86th min.
22
4 days
5 September 2001
RAM
Arsenal FC

(PL 5th)

29
11
10
Bellingham, Jude V.W., off 65th min.
20
72 days
29 June 2003
AM
Real Madrid CF, Spain

(LL TOP)

25
1

the fifth Real player to represent England

11
Maddison, James D., off 65th min.
26
290 days
23 November 1996
LAM
Tottenham Hotspur FC

(PL 2nd)

4
0
34th min. for a frustrated foul on Ilya Zabarnyi next to Ukraine penalty box

a record 79th Hotspur player to represent England

9

Kane, Harry E.
30
43 days
28 July 1993
CF
FC Bayern München, Germany

(BL 2nd)

85
58
11,000 dys

the second Bayern player to represent England

England Substitutes

scoreline:

Ukraine 1 England 1

19
Rashford, Marcus, on 65th min.

(64:49) f

or Maddison
25
313 days
31 October 1997
LF
Manchester United FC

(PL 8th)

54
23
16
31
20
Foden, Philip W., on 65th min.

(64:56)

for Bellingham
23
104 days
28 May 2000
AM
Manchester City FC

(PL TOP)

26
16
3
10
21
Gallagher, Conor J., on 86th min.

(85:50)

for Saka
23
215 days
6 February 2000
RAM
Chelsea FC

(PL 10th)

8
2
0
6
result: Ukraine 1 England 1
unused substitutes:
12-Kieran Trippier, 13-Sam Johnstone, 14-Levii Colwill, 15-Fikayo Tomori, 16-Kalvin Phillips, 17-Lewis Dunk, 18-Eberechi Eze, 22-Aaron Ramsdale, 23-Callum Wilson.
team notes:
England's fortieth away match played in September, is also their tenth away draw this month.
Harry Kane has now captained his country sixty times, the fourth most-—behind Bobby Moore, Billy Wright and five behind Bryan Robson.
manager notes:
Gareth Southgate joins Roy Hodgson in managing an England side against Ukraine for a third time.
Levi Colwill is the one hundredth different player named on a teamsheet by Gareth Southgate.
Oleksandr Zinchenko's goal is the fiftieth competitive goal conceded under Southgate.
records:
Kyle Walker becomes the 450th-454th known England goalscorer.
25th European Championship qualification draw and Kyle Walker's goal is the 325th EC goal scored.
Walker also becomes the most experienced player to score his first goal for his country, in so doing, he becomes the seventieth different England player over the age of thirty to score.
Kyle Walker scores the 100th England goal by a Manchester City FC player.
Manager Gareth Southgate played for England against Ukraine in their very first meeting, May 2000, against Serhiy Rebrov.
4-2-3-1
Pickford -
Walker, Maguire, Guéhi, Chilwell -
Henderson, Rice -
Saka (Gallagher), Bellingham (Rashford), Maddison (Foden) -
Kane

Averages

(Starting XI)

:

Age
27 years 107 days
Appearances/Goals

43.5

7.6
Match Report
by Mike Payne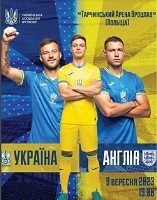 England's 100% record in the Euro qualifiers so far, came to an end in Poland, where Ukraine played their home leg against us. It was a deserved point for Ukraine, but you can't help wondering why England have recently forgotten how to attack. Hardly any balls into the box, hardly any runs down the wings to the bye-line and few shots on target as a result. In fact the obsession with the pass backwards has become a big worry as we move forward to play against better teams.

Maybe, that is all a bit over-critical of a side top of the table after five games, but it has to be said, possession doesn't win games and it is goals that count.

When the game started England had all the possession they wanted as the Ukraine side sat back waiting for the chance to break. Only trouble was they never had much of a kick as England stroked the ball from side to side, and back again, and then back to the other side again. Ten minutes of this had elapsed before the home goalkeeper, Heorhiy Buschan, had to do anything. On 12 minutes Jordan Pickford had his first touch, would you believe it, a backpass!

Finally, a minute later and a chance for Bukayo Saka as his shot at goal is blocked by Taras Stepenenko. On the right side of England's attack, Kyle Walker was trying his utmost to help with overlaps, but Ben Chilwell had one thought every time he received possession, "I must turn round and go backwards" and that is what happened with almost every pass he made. On 19 minutes an England cross did come in, and it skidded off a defender's head into his goalkeeper's arms. A short spell of sloppy defending by England followed and the inevitable happened when Ukraine made a quick break down the right in the 26 th minute. Yukhym Konoplya pulled the ball back from the bye-line and in came Oleksandr Zinchenko to shoot past Pickford with the England defence all at sea.

How ironic, that after all England's possession the score was Ukraine 1 England 0. It hopefully teaches them a lesson in decisive passing instead of all this negative side to side movement.

To be fair, England were stung into a bit more action after the goal and two minutes later James Maddison had a chance, but he couldn't adjust his feet and the danger was cleared. Shortly after that Jordan Henderson saw a shot loop over the bar, but at least we could now see a bit more purpose in our attacks. However, a throw-in was gained deep in Ukraine territory and from Walker's throw, the ball went to Marc Guehi, and then straight back to Pickford!! Another attacking position lost.

England continued to be more on the front foot though and a lovely pass by Jude Bellingham almost set Maddison up with a chance, but again, poor control by the Spurs player again ended the move. Ukraine meanwhile were finding plenty of space down the right side of England's defence, but without too much concern to Pickford's goal.

With 41 minutes on the clock, England conjured a fine equaliser with their most positive bit of play so far. Harry Kane is not just a goalscorer, as we have seen many times before. He picked the ball up just inside the Ukraine half, had a look, before spotting a great run by Walker round behind the full-back, the pass was superb, the touch by Walker was outstanding and the finish sublime as he calmly slotted past the keeper. It was Walker's first goal for his country in this his 77th cap, and boy, was he overjoyed! Just on half-time a deep cross from Saka was headed back by Kane, who was stretching, and the ball trickled wide.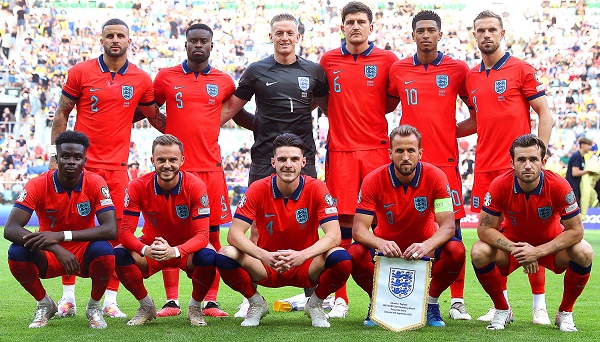 As the second-half began, the support for Ukraine from the stadium reached a crescendo of noise, and their team were rising to the occasion with some steadfast defending. It proved a good test for England's resilience, which has never really been in doubt. Indeed there did seem to be a new determination from England after the restart. Bellingham put in a weak header, easily saved, and then after Kane was fouled, from the free-kick, Harry Maguire headed a good chance wide. Maguire was having a very good game and his partnership with Geuhi was developing well.

As the play hotted up, there were signs that England were finding more space as the home side tired. Good play by Henderson and Saka saw England win a corner, which ended up back to Pickford! Enough said. Maddison's touch let him down again when in a good position but then a break by Heorhiy Sudokov ended with a shot wide from the hosts. On 59 minutes we saw one of the top moments of the match and it came from Saka. He gained possession, cut inside, and unleashed one of his trademark left- foot curlers which was destined for the top corner. Unfortunately, a magnificent fingertip save by Buschan touched it onto the crossbar and the rebound was cleared.

Saka was again in the mix when his shot was blocked by a defender sprawling in front of him. All the England players appealed for handball, and the replays suggested they had a very good shout, but VAR was not used, surprisingly. A succession of substitutes on both sides made things a little scrappy for the next ten minutes and in the 81 st minute some fine defending by Walker, having one of his best games for his country, stopped a rare Ukraine attack. At this point it seemed both sides were settling for a draw and little happened in those closing minutes. Maguire was unluckily booked for a 50/50 challenge he had to make on the loose ball, as the goalkeeper dived at his feet.

In the end the game finished with honours even. England did not show enough flair or invention in their attacking play, and Ukraine were quite content to defend in numbers and try to catch England out on the break. So, a point apiece and we now move on to October for our next Euro qualifier. Meanwhile, we have a certain 'Friendly' to play in Scotland. A Friendly against Scotland? No such thing!


Source Notes
TheFA.com
BBC Sport
Ukraine Football
UEFA.com
Mike Payne - football historian and contributor
cg