"REAL McCOY" Mirror Sport
Officials

from Italy

Scotland Squad

Type
England Squad
Referee

(red)


Davide Massa


42 (15 July 1981), Imperia, FIFA-listed 2014

7
Goal Attempts
10
0
Attempts on Target
5
Assistant Referees
0
Hit Bar/Post
0
Filippo Meli


46 (9 June 1977), Parma

Stefano Alassio


43 (16 June 1980), Imperia

1
Corner Kicks Won
5
Fourth official


Matteo Marcenaro

,

30 (5 November 1992), Genova

3
Offside Calls Against
2

Video Assistant Officials

7
Fouls Conceded
12
Michael Fabbri

,

39 (8 December 1983), Ravenna
Valerio Marini

, 40

38%
Possession
62%

Scotland Team
Rank
FIFA (29 June 2023) 30th


EFO ranking

n/a




ELO rating

21st to 24th

Colours
Made by Adidas - Special Edition 150th anniversary navy blue crew-necked jerseys with white collar and white/navy pinstriped cuffs, white shorts, red socks.
Captain
Andrew Robertson
Head Coach
Stephen Clarke, 60 (29 August 1963), appointed 20 May 2019.
P47 - W 24 - D 10 - L 13 - F x - A x.
Scotland Lineup
1
Gunn, Angus F.J.
27
233 days
22 January 1996
in Norwich, England
G
Norwich City FC, England
6
4ᵍᵃ
15
Porteous, Ryan T.
24
171 days
25 March 1999
RD
Watford FC, England
7
1
13
Hendry, Jack W.
28
128 days
7 May 1995
CD

Al Ettifaq FC, Saudi Arabia

25

3

42nd min. for pushing and shoving Bellingham during Phillip's caution
6
Tierney, Kieran, off 82nd min.
26
99 days
5 June 1997
in Douglas, Isle of Man
LD

Real Sociedad de Fútbol, Spain, on loan to Arsenal FC, England

41

1

77th min. for pulling on Bukayo Saka as he crossed the halfway line
2
Hickey, Aaron B., off 89th min.
21
94 days
10 June 2002
RWB
Brentford FC, England
13
0
14
Gilmour, Billy C., off 60th min.
22
93 days
11 June 2001
RM
Brighton & Hove Albion FC, England
20
0
8
McGregor, Callum W., off 89th min.
30
90 days
14 June 1993
LM
The Celtic FC
55
3
3
Robertson, Andrew
29
185 days
11 March 1994
LWB
Liverpool FC, England
66
3
4
McTominay, Scott F.
26
278 days
8 December 1996
in Lancaster, England
RF
Manchester United FC, England
43
7
10
Adams, Ché E.F., off 59th min.
27
61 days
13 July 1996
in Leicester, England
CF
Southampton FC, England
25
5
7
McGinn, John, off 82nd min.
28
329 days
18 October 1994
LF
Aston Villa FC, England
58
17
Scotland Substitutes

scoreline:

Scotland 0 England 2

11
Christie, Ryan, on 59th min.

(58:59)

for Adams
28
202 days
22 February 1995
CF
AFC Bournemouth, England
41
5
9
Dykes, Lyndon J. on 60th min

. (59:21)

for Gilmour
27
340 days
7 October 1995
in Gold Coast, Australia
RM
Queen's Park Rangers FC, England
32
9

scoreline:

Scotland 1 England 3

17
Armstrong, Stuart, on 82nd min. for Tierney
31
166 days
30 March 1992
LB
Southampton FC, England
44
4
18
Ferguson, Lewis, on 82nd min. for McGinn
24
19 days
24 August 1999
LAM
Bologna FC 1909, Italy
7
0
20
Jack, Ryan J., on 89th min.

(88:42)

for McGregor
31
198 days
27 February 1992
CM
Rangers FC
17
0
22
Patterson, Nathan K., on 89th min.

(88:56)

for Hickey
23
331 days
16 October 2001
RB
Everton FC, England
15
1

result:

Scotland 1 England 3

unused substitutes:
5-John Soutter,12-Robby McCrorie, 16-Scott McKenna, 19-Kevin Nisbet, 21-Zander Clark, 23-Kenny McLean, 24-Lawrence Shankland.
team notes:
Scotland's second home defeat in twenty matches in all competitions, also ending a run of six straight victories (Ukraine in June 2022 was their last home defeat).
The own goal is Scotland's 175th goal scored against their auld enemy.
Arsmtrong and Fegruson had been waiting on the touchline since the turn of the 79th minute to come on as replacements.
3-4-3
Gunn -
Porteous, Hendry, Tierney (Armstrong) -
Hickey (Patterson), Gilmour (Dykes), McGregor (Jack), Robertson -
McTominay, Adams (Christie), McGinn (Ferguson)

Averages

(Starting XI)

:

Age
26 years 228 days
Appearances/Goals

32.6

3.6

England
Team
Rank
FIFA (29 June 2023)

4th


EFO ranking Group Two
ELO rating 7th to 6th
Colours
The Nike 2022 home jersey

-

White crew-necked jerseys

with dark to light blue

fury gradient sleeves, fury/void cuffs, blue shorts, white socks with fury/void thin hoop.
Captain
Harry Kane
Manager
Gareth Southgate, 53 (3 September 1970), appointed caretaker manager on 27 September 2016, appointed as permanent manager on 30 November 2016.
⁵¹

most goals as captain

61st of 63, W 37 - D 13 - L 11 - F 143 - A 50.

P 87th of 91, W 54 - D 19 - L 14 - F 193 - A 60.

Harry Maguire

82:59

England

Lineup

six changes on the previous match

(Walker, Rice, Guéhi, Kane & Bellingham remain)

league position (31st August)

1
Ramsdale, Aaron C.
25
121 days
14 May 1998
GK
Arsenal FC

(PL 5th)

4
5ᵍᵃ
final app 2021-23
2

Walker, Kyle A.
33
107 days
28 May 1990
RB
Manchester City FC

(PL TOP)

78
1
6
Dunk, Lewis C.
31
295 days
21 November 1991
RCD
Brighton & Hove Albion FC

(PL 6th)

2
0
5
Guéhi, A.K. Marc-Israel, off half-time
23
61 days
13 July 2000
in Abidjan, Côte d'Ivoire
LCD
Crystal Palace FC

(PL 11th)

6
0
3
Trippier, Kieran J.
32
358 days
19 September 1990
LB
Newcastle United FC

(PL 13th)

43
1
8
Phillips, Kalvin M.
27
284 days
2 December 1995
RM
Manchester City FC

(PL TOP)

28
1
41st min. after his slide tackle on Ché Adams was adjudged to be a foul
4
Rice, Declan
24
241 days
14 January 1999
LDM
Arsenal FC

(PL 5th)

45
3
10
Bellingham, Jude V.W.

, off 84th min.

20
75 days
29 June 2003
AM
Real Madrid CF, Spain

(LL TOP)

26
2
42nd min. for pushing and shoving Jack Hendry during Phillip's caution
7

Foden, Philip W., off 71st min.
23
107 days
28 May 2000
RF
Manchester City FC

(PL TOP)

27
4
9

Kane, Harry E., off 84th min.
30
46 days
28 July 1993
CF
FC Bayern München, Germany

(BL 2nd)

86
59
11
Rashford, Marcus, off 71st min.
25
316 days
31 October 1997
LF
Manchester United FC

(PL 8th)

55
16
England Substitutes

scoreline:

Scotland 0 England 2

15
Maguire, J. Harry, on half-time for Guéhi
30
191 days

5 March 1993

LCD

Manchester United FC

(PL 8th)



59
55
7


¹

31st own goal scored by England
4

scoreline:

Scotland 1 England 2

17
Saka, Bukayo A.T., on 71st min.

(70:47)

for Foden
22
7 days
5 September 2001
RF
Arsenal FC

(PL 5th)

30
22
11
8

the 131st player to reach the 30-app milestone

18
Eze, Eberechi O., on 71st min.

(70:59)

for Rashford
25
78 days
29 June 1998
LF
Crystal Palace FC

(PL 11th)

2
0
0
2
final app 2023

scoreline:

Scotland 1 England 3

21
Gallagher, Conor J., on 84th min.

(83:19)

for Bellingham
23
218 days
6 February 2000
RAM
Chelsea FC

(PL 10th)

9
2
0
7
23
Wilson, Callum E.G., on 84th min.

(83:23)

for Kane
31
198 days
27 February 1992
CF
Newcastle United FC

(PL 13th)

9
1
2
8
final app 2018-23
result: Scotland 1 England 3
unused substitutes:
12-Ben Chilwell, 13-Sam Johnstone, 14-Jordan Henderson, 16-Fikayo Tomori, 19-Levi Colwill, 20-James Maddison, 22-Jordan Pickford, 24-Eddie Nketiah.
team notes:
No other nation has played England more than Scotland (116), and England have visited no other country more than Scotland (58). England have only defeated Wales (69) more than Scotland (49).
No other nation has scored as many goals as Scotland have against England (175).
This is England's first friendly match at an away venue since Netherlands in March 2018.
England's eightieth match to be played in September.
First own goal conceded since Kyle Walker's in June 2019. First own goal for Scotland against England since May 1974 (Colin Todd). First substitute to score an own goal since May 2016 (Eric Dier vs. Australia).
Jude Bellingham is the 125th different known goalscorer against Scotland.
Bellingham and Harry Kane become the first players to score against Scotland whilst plying their trade in a foreign country since Paul Gascoigne's goal in Euro 1996.
Aaron Ramsdale is the 49th goalkeeper to have made four England appearances.
The first time England have used seven BAME players since June 2021 against Czech Republic.
manager notes:
Kalvin Phillips is the one hundredth player to be caution in the Southgate era.
records:
England's 600th victory in their 1047th match. The first European nation to reach the milestone.
It is England's 100th victory since 11 May 2010, the day the Conservative Government came into recent power.
Manager Gareth Southgate played against Scotland during Euro '96. In the two-legged play-off matches for a place in the 2000 European Championship Finals, Southgate was an unused substitute in the first match and started and finished the second match.
4-3-3
Ramsdale -
Walker, Dunk, Guéhi (Maguire), Trippier -
Phillips, Rice, Bellingham (Gallagher) -
Foden (Saka), Kane (Wilson), Rashford (Eze)

Averages

(Starting XI)

:

Age
27 years 39 days
Appearances/Goals

36.4

7.6
Match Report
by Mike Payne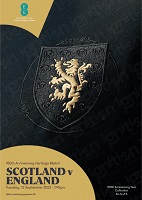 What a difference three days make! This match was much more like the England we enjoy watching, full of attacking flair and control, and great goals too. It was always going to be one match that the Scots would relish and for their fans it is the only game they desperately want to win more than any others. But this time, even their most diehard fan would concede that England were a class above Scotland. Who would ever have thought that Graeme Souness would be England's greatest fan on the night, waxing lyrical after the match...... through gritted teeth, of course!

The match had a lively start with both sides showing plenty of hustle and bustle but as the game settled England were bossing the possession and Scotland hardly had a kick. On 19 minutes Marcus Rashford and Phil Foden combined only for Foden to shoot over. One of the more noticeable things different to the Ukraine game the previous Saturday, was the way England used the long ball over the top for their forwards to run onto. It gave the Scottish defence nightmares and they never really came to grips with it.

On 25 minutes, Jude Bellingham, becoming more influential every minute, was put through by Rashford, but his cross was deep, dropping for Kyle Walker out on the right. Walker, being now a 'proven' goalscorer for England, hit a shot to the far post but it flew wide. Two minutes later, another great break by England, down the right this time, and when the cross came in only a desperate interception by a Scottish defender prevented a tap-in for Harry Kane. On 32 minutes Bellingham and Rashford combined in another good move, and the ball again fell to Walker. He tried again, firing a shot across goal, and there was Foden to brilliantly side-foot the ball past Angus Gunn in the Scotland goal.

Before the Scots had time to regroup, England scored again just three minutes later. More pressure from the lively England attack and when Rashford and Foden combined on the left, Foden's final cross should have been cleared by Andy Robertson. Unfortunately for the Scotland skipper, all he could do was place the ball perfectly for the inrushing, and following up, Bellingham, to crash home number two. It really was one-way traffic at this stage, although the Scots did try hard to pull one back before half-time. But England's defenders repelled the powder-puff attack with ease.

On 40 minutes Kalvin Phillips was rather harshly booked for a tackle where he clearly won the ball. It resulted in 'handbags' as the players jostled each other, and Bellingham and Jack Hendry were added to the referee's notebook. A late Scotland corner was easily cleared and right on the half-time whistle England so nearly added a third goal, but Foden's final pass was just too far ahead of Kane, and that followed a fine breakaway by England. The half had seen so much more from England as an attacking threat, and quite frankly the Scots had no answer.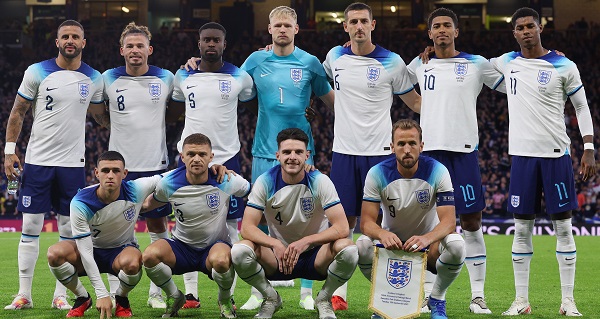 After the break, Harry Maguire came on for Marc Guehi and the Scots had more possession when play restarted, but without threatening Aaron Ramsdale's goal, in fact he never had a shot to deal with all through. Having said that, the England goalkeeper did look a little suspect on his passing , being hurried at times and causing​ a few hearts in mouth moments. Nothing came from this though and Scotland continued to struggle.

On 65 minutes there was an excellent block by the impressive Lewis Dunk from a rare Scotland shot by Aaron Hickey. This came as Scotland had their best spell of the game and two minutes later they scored a rather fortunate goal to set up what might have been a tense finish. Robertson, atoning for his earlier blemish, was at the heart of the move and he ended up in the right-wing position, firing a low drive across goal. Maguire, who had done little wrong in his two appearances over the two England games, stuck out a foot, but only succeeded to put the ball past Ramsdale. Scotland couldn't even score the one goal they did get!

The goal spurred England back into life once more, as they had gone into their shell again for a short time. However, on 71 minutes a golden chance for John McGinn as a cross came in from the left from Robertson. The Aston Villa could have done much better had he headed the ball cleanly, but it came off his shoulder and flew over the bar. At that point Gareth Southgate took off Rashford and Foden and put Eberechi Eze and Bukayo Saka, and almost immediately the former was through with a great run. This time Gunn dived at his feet and the ball was cleared. Kane then had the ball in the net but was pulled back for a foul, after Kieran Trippier's cross.

England now had their mojo back and they controlled the remainder of the match. Good pressure from England after 79 minutes won a corner and two minutes later they sealed the result. Brilliant play again by Bellingham as he finished a fine run with a beautiful pass through to Kane, and the lethal weapon in the England attack, calmly shot past Gunn. There had been a good reaction from England to Scotland's goal and the result was never in doubt as the half progressed. England might have had another goal late on when substitute Conor Gallagher burst through into a good position but chose to pass, when a certain Bobby Charlton, would have blasted it at goal as he often did at Hampden Park. I'm sure though that Bobby would have loved this performance by England as it turned into an easy win for the visitors.

An easy win for England in Scotland, surely not?


Source Notes
TheFA.com
BBC Sport
UEFA,com
ScottishFA
Mike Payne - football historian and contributor
cg