Rank:

FIFA (27th May 2021) 4th
EFO ranking Group One (3rd)
ELO rating 7th to 9th
Colours:
The Nike 2020 home shirt

-

White crew-necked jerseys with

navy blue

collar and side trim, white shorts with pale blue side stripe, white socks.
Capt:
Harry Kane ²⁷


34th, W 21 - D 6 - L 7 - F 74 - A 28




Raheem Sterling

73:31

Manager:
Gareth Southgate, 50 (3 September 1970), appointed caretaker manager on 27 September 2016, appointed as permanent manager on 30 November 2016.


56th match, W 35 - D 11 - L 10 - F 112 - A 38

England

Lineup

1
Pickford, Jordan L.
27
103 days
7 March 1994
G
Everton FC
33
27ᵍᵃ
24
James, Reece T.
21
192 days
8 December 1999
RB
Chelsea FC
7
0
5
Stones, John
27
21 days
28 May 1994
RCD
Manchester City FC
44
2
15
Mings, Tyrone

D.

28
97 days
13 March 1993
LCD
Aston Villa FC
12
0
3
Shaw, Luke P.H.
25
341 days
12 July 1995
LB
Manchester United FC
11
0
14
Phillips, Kalvin M.
25
198 days
2 December 1995
RM
Leeds United AFC
10
0
4
Rice, Declan
22
155 days
14 January 1999
CM
West Ham United FC
19
1
19
Mount, Mason T.
22
159 days
10 January 1999
LM
Chelsea FC
18
4
20
Foden, Philip W., off 63rd min.
21
21 days
28 May 2000
RF
Manchester City FC
8
2
10
Sterling, Raheem S.
26
192 days
8 December 1994
in Kingston, Jamaica
LF
Manchester City FC
63
15
9
Kane, Harry E., off 74th min.
27
325 days
28 July 1993
CF
Tottenham Hotspur FC
56
34

England Substitutes

7
Grealish, Jack P., on 63rd min.

(62:44)

for Foden
25
281 days
10 September 1995
RF
Aston Villa FC
8
6
0
2
11
Rashford, Marcus, on 74th min.

(73:48)

for Foden

23


230 days
31 October 1997
CF
Manchester United FC
43
21
11
22

result:

England 0 Scotland 0

unused substitutes:

6-Harry Maguire, 8-Jordan Henderson, 12-Kieran Trippier, 13-Aaron Ramsdale

, 16-

Conor Coady, 17-Jadon Sancho, 18-Dominic Calvert-Lewin, 21-Ben Chilwell, 23-Sam Johnstone, 26-Jude Bellingham.

team notes:

Jack Grealish's great great grandfather,

Billy

Garraty, also played for England in 1903.

manager records:

It is Gareth Southgate's record 25th match at the National Stadium, three more than Hodgson.
This was the thirtieth clean sheet in the Southgate era. Only Bobby Robson (33) had more after 56 matches in charge.

Wembley records:

This is the first scoreless draw between the two countries at Wembley after 33 meetings.
Only the second competitive scoreless draw at the new stadium (first in October 2010).
National Stadium record P 75 - W 54 - D 12 - L 9 - F 172 - A 47.

records:

This is the first scoreless draw between the two countries at Wembley after 33 meetings. The first between the countries since 1987, and only in 1970 and 1872 previous to that.
England's seventeenth goalless draw in a major tournament, two more than any other country.
The 150th time England have failed to score since the war. However - The 200th clean sheet they have kept at home - The 75th clean sheet they have kept in the month of June - The 25th clean sheet they have achieved on a Friday.
Manager Gareth Southgate played against Scotland during Euro '96. In the two-legged play-off matches for a place in the 2000 European Championship Finals, Southgate was an unused substitute in the first match and started and finished the second match.
4-3-3
Pickford -
James, Stones, Mings, Shaw -
Phillips, Rice, Mount -
Foden (Grealish), Kane (Rashford), Sterling -

Averages (Starting XI):

Age
25 years 34 days
Appearances/Goals
25.5
5.3
Rank:

FIFA (23rd May 2021)

44th




EFO ranking

n/a


ELO rating

49th to 45th

Colours:
Made by Adida

s

- Navy crew-necked jerseys with hand-painted shadowed hoops, broad white/red cuffs and white Adidas shoulder stripes, navy shorts with white Adidas side stripes, navy socks with white Adidas stripes.
Capt:
Andrew Robertson
Head Coach:
Stephen Clarke, 57 (29 August 1963), appointed 20 May 2019.
23rd match, W 8 - D 7 - L 8 - F - A.
Scotland Lineup
1
Marshall, David J.
36
105 days
5 March 1985
G
Derby County FC, England
46
0
2
O'Donnell, Stephen G.
29
38 days
11 May 1992
RWB
Motherwell FC

21


0


87th min. for bringing down Jack Grealish in the centre circle at his fourth attempt.
4
McTominay, Scott F.
24
192 days
8 December 1996
in Lancaster, England
RD
Manchester United FC, England
25
0
5
Hanley, Grant C.
29
210 days
20 November 1991
CD
Norwich City FC, England
35
2
6
Tierney, Kieran
24
13 days
5 June 1997
in Douglas, Isle of Man
LD
Arsenal FC, England
22
0
3
Robertson, Andrew
27
99 days
11 March 1994
LWB
Liverpool FC, England
47
3
23
Gilmour, Billy C., off 76th min.
20
7 days
11 June 2001
RM
Chelsea FC, England
3
0
7
McGinn, John
26
243 days
18 October 1994
CM/
RM

Aston Villa FC, England


35

10

15th min. for arguing with the referee after not receiving a free-kick
8
McGregor, Callum W.
28
4 days
14 June 1993
LM/CM
The Celtic FC
33
0
9
Dykes, Lyndon J.
25
254 days
7 October 1995
in Gold Coast, Australia
RF
Queen's Park Rangers FC, England
14
2
10
Adams, Ché Z.E., off 86th min.
24
340 days
13 July 1996
in Leicester, England
LF
Southampton FC, England
6
2
Scotland Substitutes
17
Armstrong, Stuart, on 76th min.

(75:53)

for Gilmour
29
80 days
30 March 1992
LM
Southampton FC, England
27
2
19
Nisbet, Kevin, on 86th min.

(85:10)

for Adams
24
102 days
8 March 1997
CF
Hibernians FC
5
1

result:

England 0 Scotland 0

unused substitutes:

11-Ryan Christie, 12-Craig Gordon, 14-John Fleck, 16-Liam Cooper, 20-Ryan Fraser, 21-Jon McLoughlin, 22-Nathan Patterson, 24-Jack Hendry, 25-James Forrest, 26-Scott McKenna.

records:

Scotland have failed to score in eight of their last twelve major tournament matches.
3-5-2
Marshall -
O'Donnell, McTominay, Hanley, Tierney, Robertson -
Gilmour (Armstrong), McGinn, McGregor -
Dykes, Adams (Nisbet).


notes: when Armstrong replaced Gilmour, he went onto the left, pushing McGinn and McGregor across

Averages (Starting XI):

Age
26 years 338 days
Appearances/Goals
26.1
1.7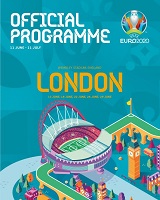 One of my pet sayings when watching England play, whether it is our football or cricket teams, is that when all eleven players play well together, then we are capable of beating anyone. Sadly, too many of the England team against Scotland were woefully out of sorts, and it showed. Let's be honest, Scotland did exactly what was expected, raising their game to a different level because it was England they were up against. But alas, England never responded in kind and they were a little lucky to escape with a point.

Gareth Southgate changed both full-backs with Reece James and Luke Shaw coming in, to try and stem the runs of Andy Robertson down the left, especially. The match started with a series of niggly fouls but it was the Scots who had the first attack as Stephen O'Donnell centred to Che Adams, only for the England defence to block the shot. It was a frantic opening with both sides getting stuck in to their challenges.

On 11 minutes Phil Foden and Mason Mount combined down the right and eventually won a corner. From this England could, and definitely should have taken the lead. The cross came in and John Stones was there all on his own with a free header. He headed well enough but the ball, instead of ending up in the back of the net, crashed against a post to be cleared by the relieved Scottish defenders. Stones will rue that miss for many years. Whether a goal then would have changed the course of the match, we will never know, but it certainly would have lifted the England players and fans.

Immediately after that incident England went close again. Scott McTominey was badly caught in possession as Raheem Sterling robbed him of the ball. Sterling went to the bye-line, but his pull-back was put wide by the inrushing Mount. Meanwhile John McGinn was doing his best to niggle the England players, but he then became the first to receive a yellow card as his 'passion' overstepped the mark. In the 17th minute James's long pass found Foden, who shot just wide. It wouldn't have counted though as the Manchester City youngster was flagged offside anyway.

A good burst by Shaw saw him find Mount who won a fruitless corner. For the next few minutes there was a lot of to-ing and froing but not much in the final third at either end. Just before the half-hour James put over another cross, but Kane couldn't quite direct the header, which flew wide. A minute later though, and England were indebted to a wonderful save from Jordan Pickford. A deep cross came in from the left and O'Donnell met it with a sweet volley. Somehow, Pickford managed to turn the ball away with a strong hand for a superb save.

As the half came to an end it was pretty obvious that the Scots were up for the game, much more it would seem than England were. I'm sure that's not true, but that is what it looked like. Scotland were playing much better than some of their more recent dire performances, but England just could not seem to get out of first gear. Declan Rice was having a battling game, in every sense, but he lacked support in midfield with Kalvin Phillips having a much quieter match and Mount only flitting in and out. For Scotland, who were winning the midfield battle, Chelsea starlet Billy Gilmour looked a particularly fine talent, and having Kieran Tierney back also made a big difference for the Scots. The last action of the half saw Adams win a corner, but that came to nothing and the players trooped off with the scores equal, nothing each!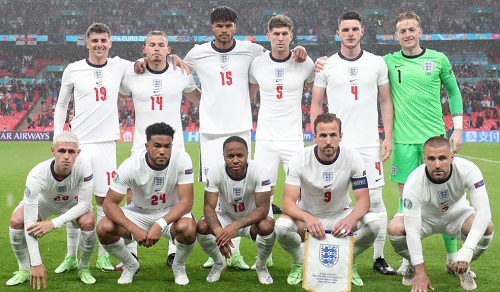 After the break it was England who started brightly. Shaw won a corner and the home side had two chances in a minute. First Sterling, found Foden, but his shot was blocked, and then Mount advanced to hit a shot on target. Goalkeeper David Marshall, was down smartly though, to turn the ball round a post. On 55 minutes Kane found James and the full-back fired in a shot that flew narrowly over the top. James should have hit the target with that one, and to be honest, Marshall had had an easy time so far.

Scotland still kept battling and after Kane had a shot blocked they broke quickly and as a centre came in Tyrone Mings headed over his own goal to clear the danger. From the corner Dykes heads for goal, but James is back to clear from the line, although replays suggested it was drifting wide anyway, but James wasn't to know that.

It must be said that England's delivery from corners and set-pieces had been awful throughout the night, rarely clearing the first defender, and being easily dealt with by the Scottish defence. Southgate decided a change was needed, but surprisingly, although he, at last, thought that Jack Grealish was worth a go, he then took off Foden, when any other number of candidates would have been more suited to be the one substituted. Grealish was soon in the action, and soon on the floor after a foul let him know what was to come. He did combine well with Mount and Shaw though, but Shaw's final effort flew well wide. At the other end Adams sliced a shot wide before England attacked again. This time Robertson could consider himself, as they say in Scotland, a wee bit lucky. Sterling had his ankle tapped and went down in the penalty area. They are sometimes given, but not this time, and to be fair, it would have been a tad harsh.

The last ten minutes saw both sides start to realise that a point was useful to each team although chances were still created as McGinn's shot was deflected for a corner, whilst a nasty foul by O'Donnell on Grealish earned a deserved yellow card. The clock ticked down to the 90th minute and there was an almighty scramble in the Scottish goalmouth. Rice was at the heart of it as his shot was blocked as he fell, he then tried to force the ball home from a prone position but, much to Scotland's relief, the ball was hacked clear, and the final whistle blew to end the agony, for England fans at least. To see Scotland's players celebrating on the pitch as though they had won the Euro 2020 Cup, was very annoying to this England fan, but I suppose you couldn't help but admire how well they had played. I just wonder if we will see the same passion from the Scots when they play Croatia in their final group match.

England meanwhile, have a lot to sort out before they play the Czech Republic in their final group game. They can learn from the passion of the Scots as we saw very little passion from them in this match, and I can honestly say that I have rarely seen England play so poorly in such a big game. Pickford did well in goal, the back four held firm, Declan Rice worked his socks off, but as for the rest, they need to have a re-think as to what this tournament means to them.