Rank:

FIFA (4 April 2019)

16th


EFO ranking Group Five


ELO rating

=6th to 5th

Colours:
Made by Nike - Orange v-necked jerseys with lighter orange sleeves, white shorts, orange socks.
Capt:
Virgil Van Dijk
Manager:
Ronald Koeman, 56 (21 March 1963), appointed 6 February 2018.
thirteenth match, W 6 - D 4 - L 3 - F 25 - A 13.
Netherlands Lineup
1
Cillessen, Jacobus A.P.
30
45 days
22 April 1989
G
FC Barcelona, Spain
49
0
22
Dumfries, Denzel J.M.

23


49 days
18 April 1996
RB

Philips Sport Vereniging

6

0


44th min. after a needless leap on the touchline took out Chilwell.

4
van Dijk, Virgil

27


333 days
8 July 1991
RCD
Liverpool FC, England
27
4
3

de Ligt, Matthijs

19


298 days
12 August 1999
LCD

Amsterdamsche FC Ajax

16

2

30th min. for a trip on Marcus Rashford inside the area.

P

ENALTY

17
Blind, Daley
29
89 days
9 March 1990
LB
Amsterdamsche FC Ajax
63
2
15
de Roon, Marten E., offf 68th min.

28


69 days
29 March 1991
RM
Atalanta BC, Italy
11
0

21

de Jong, Frenkie, off 114th min.
22
25 days
12 May 1997
CM
Amsterdamsche FC Ajax
8
0
8
Wijnaldum, Georgino

G.E.

28
207 days
11 November 1990
LM
Liverpool FC

, England

56
11
7
Bergwijn, Steven C., off 90th min
21
241 days
8 October 1997
RF
Philips Sport Vereniging
6
0
10
Depay, Memphis
25
113 days
13 February 1994
CF
Olympique Lyonnaise

, France

47
16
9
Babel, Ryan G., off 68th min.
32
169 days
19 December 1986
LF
Fulham FC, England
57
8
Netherlands Substitutes

scoreline:

Netherlands 0 England 1
11

Promes, Quincy A., on 68th min.

(67:32)

for Babel

27


153 days
4 January 1992
F
Sevilla FC, Spain
37
6
20
van de Beek, Donny, on 68th min.

(67:35)

for de Roon

22


49 days
18 April 1997
M

Amsterdamsche FC Ajax

6

0

106th min. after a late and deliberate challenge on Ross Barkley

scoreline:

Netherlands 1 England 1
6
Pröpper, David P.W.H, on 90th min. for Bergwijn

27


277 days
2 September 1991
M
Brighton & Hove Albion FC, England
15
3

scoreline:

Netherlands 2 England 1

AET sub

16
Strootman, Kevin, on 114th min

. (113:15)

for de Jong

29


113 days
13 February 1990
DM
Olympique de Marseille, France
44
3

result:

Netherlands 3 England 1

unused substitutes:
2-Hans Hateboer, 3-Nathan

Aké

, 12-Patrick van Aanholt, 13-Kenneth Vermeer, 14-Stefan de Vrij, 18-Tonny de Vilhena, 19-Luuk de Jong, 23-Marco Bizot.
records:
Kyle Walker's own goal is the fiftieth goal England have conceded on a Thursday.
Coach Ronald Koeman first played against England for the Netherlands in the 1988 European Championship Finals victory, and again in the 1990 World Cup Finals draw. His third and final appearance was the qualification match for the 1994 World Cup Finals, and significant because of his successful free-kick and yellow card.
4-3-3
Cillessen -
Dumfries, Van Dijk, de Ligt, Blind -
de Roon (van de Beek), de Jong (Strootman), Wijnaldum -
Bergwijn (Pröpper), Depay, Babel (Promes)

Averages

(Starting XI)

:

Age
26 years 84 days
Appearances/Goals

31.5

3.8
Rank:

FIFA (4 April 2019)

4th


EFO ranking Group One (2nd)
ELO rating 5th to 9th
Colours:
The Nike 2018 home uniform

-

White v-necked jerseys

with red tri

m on collar, blue shorts, white socks.
Capt:
Raheem Sterling


first, W 0 - D 0 - L 1 - F 1 - A 3.




Harry Kane

46th min.

Manager:
Gareth Southgate, 48 (3 September 1970), appointed caretaker manager on 27 September 2016, appointed as permanent manager on 30 November 2016.


34th match, W 19 - D 8 - L 7 - F 60 - A 28.

England Lineup
1
Pickford, Jordan L.
25
91 days
7 March 1994
G
Everton FC
18
18ᵍᵃ
2
Walker, Kyle A.
29
9 days
28 May 1990

RB

Manchester City FC

47


¹




thirtieth own goal scored by England

14
Chilwell, Benjamin J.
22
167 days
21 December 1996
LB
Leicester City FC
7
0
16
Rice, Declan, off 105th min.
20
143 days
14 January 1999
CM
West Ham United FC
3
0
5
Maguire, J. Harry
26
93 days
5 March 1993
RCD
Leicester City FC
19
1
6
Stones, John
25
9 days
28 May 1994
LCD
Manchester City FC
38
2
17
Delph, Fabian, off 77th min.
29
197 days
21 November 1989
RM
Manchester City FC
19
0
18
Barkley, Ross
25
183 days
5 December 1993
LM
Chelsea FC
28
4
10
Sterling, Raheem S.

24


180 days
8 December 1994
in Kingston, Jamaica
RF
Manchester City FC
50
8
60th player to reach the 50-app milestone

, 3rd youngest (youngest BME).

19

Rashford, Marcus, injured off half time
21
218 days
31 October 1997
CF

Manchester United FC


32

7


¹

88th penalty-kick scored

(121)

- 2nd BME

youngest to score a penalty

since Oct 1958

11
Sancho, Jadon M., off 61st min
19
73 days
25 March 2000
LF
Bsv Borussia 09 Dortmund, Germany
5
0

England

Substitutes

scoreline:

Netherlands 0 England 1
9
Kane, Harry E., on half time for Rashford

25


313 days
28 July 1993
CF
Tottenham Hotspur FC
38
31
22
7
7
Lingard, Jesse E., on 61st min.

(60:38)

for Sancho

25


173 days
15 December 1992
LF
Manchester United FC
23
13
4
10

scoreline:

Netherlands 1 England 1
8
Henderson, Jordan B., on 77th min

(76:33)

for Delph
28
354 days
17 June 1990
CM
Liverpool FC
51
37

0

14

scoreline:

Netherlands 2 England 1

AET sub

20
Alli, Bamidele

J.

, on 106th min. for Rice
23
56 days
11 April 1996
M
Tottenham Hotspur FC
36
25
3
11

result:

Netherlands 3 England 1

unused substitutes:
3-Danny Rose, 4-Eric Dier, 12-Joe Gomez, 13-Jack Butland, 16-Michael Keane, 21-Callum Wilson, 22-Trent Alexander-Arnold, 23-Tom Heaton.
records:
This is the first time England have conceded more than once in extra-time.
The result proved to be England's thirtieth loss in a Finals match (out of 102 matches) and Matthijs De Ligt's equalising goal was the 100th Finals goal England have conceded (they have scored 132).
Kyle Walker's own goal is the fiftieth goal England have conceded on a Thursday.
Manager Gareth Southgate first played against Netherlands in the 1996 European Championship Finals, in which he received a last-minute yellow card. He next played as a second-half substitutes in friendly matches in August 2001, and again in February 2002.
4-3-3
Pickford -
Walker, Maguire, Stones, Chilwell -
Delph (Henderson), Rice (Alli), Barkley -
Sterling, Rashford (Kane), Sancho (Lingard).


notes: 4-4-2 when Henderson came on, Barkley went left, Lingard to right

Averages

(Starting XI)

:

Age
24

years

158

days

Appearances/Goals

24.2

1.9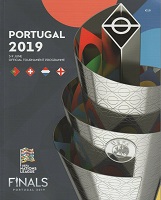 After the very long wait, England finally arrived in Portugal to play the semi-final of the first Nations League competition. It was in November 2018 that England qualified for this match and, just like the World Cup semi-final of last summer, it was to end in bitter disappointment.





The match was against Ronald Koeman's Dutch side, Koeman is someone who England have had trouble with in past internationals, and it was no different this time. However, it has to be said that the England players did not rise to the occasion and they helped Koeman and his team in almost every way. As usual England began brightly, although straight away, it was obvious that the Dutch held possession much more comfortably than England did. Both sides made early mistakes, with the game being played at a high tempo. Declan Rice lost possession to Memphis Depay, but the latter's shot was easily gathered by Jordan Pickford.





England looked very rusty right through the team. None of the players had played much football recently and it showed. Passes went astray and their build up was slow and laborious. More worryingly, The Netherlands had the upper hand in the midfield with Ross Barkley, Rice and Fabian Delph working hard but showing neither flair nor guile. Having said all of that the Dutch rarely threatened as Harry Maguire and John Stones looked fairly solid at the back, and then, on the half-hour, England took a surprise lead.





New Dutch 'wonderkid', Matthijs de Ligt, mis-controlled the ball just inside his own area and Marcus Rashford was on it in a flash to rob de Ligt, only for the defender to bring Rashford down with a late tackle. A definite penalty. Up stepped the ice-cool Rashford to send the goalkeeper the wrong way. Taking the lead in a semi-final is the easy bit, the next bit might prove a little harder for England.



B

efore half-time both sides had chances. On 35 minutes, Ryan Babel hit a long shot that Pickford fumbled away, the goalkeeper recovering to gather the ball before a Dutch player could pounce on the loose ball. Two minutes later Jadon Sancho sent Rashford in for another chance, but that was snuffed out by a fine block by Denzel Dumfries. Delph then shot straight at the Dutch keeper, Jacobus Cillessen, before Dumfries was booked for flattening Ben Chilwell, not for the first time the big defender had used strong-arm tactics. England reached half-time with their lead intact but Gareth Southgate had plenty to ponder on before the restart.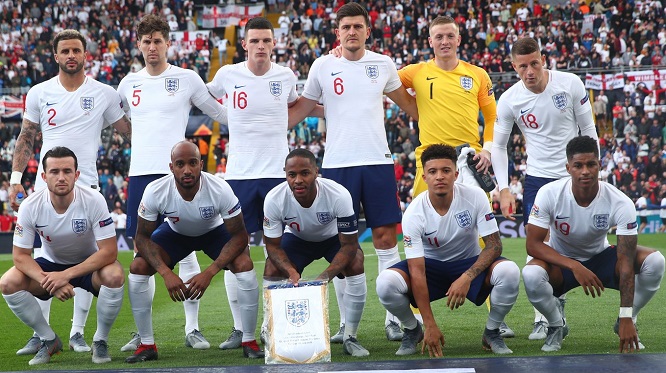 Harry Kane came on for the injured Rashford for the second-half and once again, England began the half well. Indeed, on 54 minutes the game could have been settled. A fine cross from the left by Chilwell presented Sancho with a sitter, but the youngster's close-range header was straight at Cillessen and the keeper saved. What a chance, and what a miss.





Almost immediately, sloppiness by Kyle Walker, losing possession to Depay, almost cost England a goal. Pickford blocked Depay's first effort and then both England players watched in relief as Depay scuffs his attempted follow-up.





The Netherlands were dominating possession as England seemed content to sit back and defend in numbers. But, when England do that it inevitably brings them more trouble, and sure enough, in the 73rd minute they conceded a poor goal. It came from a corner, and the marking was non-existent as de Ligt made up for his earlier blemish to rise above Walker and Stones to power home an unstoppable header. Six minutes later and the Dutch should have taken the lead as good work down the right gave Donny Van de Beek a great chance. Luckily for England he miscued over the bar.





As the clock ticked into the last ten minutes of normal time, England began to look stronger and with just seven minutes to go it seemed that they had snatched a winning goal. A fine move saw Chilwell and Raheem Sterling combine to feed substitute Jordan Henderson. The midfield player's precision pass found another substitute, Jesse Lingard, and the Manchester United tucked the ball beyond Cillessen and began joyous celebration. As the England fans and players basked in the glory, sinister goings on off the field suddenly brought an abrupt end to the moment. V__A__R!!!





It was by far England's best move of the match, but by the tip of Lingard's toenail, the player was deemed offside by the Very Annoying Review, and the referee gave a free-kick to the Dutch.





Kane's shot on the turn flew just wide and then an awful blunder by Maguire in injury time almost let in Depay, but the Dutchman completely fluffs another great chance presented to them on a plate by England. Will they never take one of these gifts? Well, let's see. There was still time for Sterling to curl a shot cutting in from the left to scrape the crossbar, but inevitably perhaps, there would be extra-time.





At the end of normal time England had their best spell and it augered well for the extra-time. However, it was the Dutch who re-took control somewhat and they were pressing for a goal. Then, in the seventh minute of the extra period England committed Hara-Kiri once too often! They had already tried several times to gift a goal to the Netherlands and this time it was John Stones who made the blunder to end all blunders. Barkley pfaffing around, back to Maguire, more pfaffing around, and back to Stones. The Manchester City defender has been encouraged by Pep Guardiola to play the ball out from the backer since Stones has played under him. I, for one, wish he hadn't listened to his manager and hoofed the ball upfield! Instead, Stones made 'pfaffing around' an art form! Give the ball to Depay, why don't you? And that is exactly what he did. Pickford almost saved Stones' bacon with a fine save from Depay, but the ball bounced free and as Quincy Promes and Walker challenged the ball squirmed in off the England player for an own goal. What an absolute calamity!





No matter what happened after that the team were beaten by that awful moment. Pickford made another fine save from Depay moments later and although there was a little bit more about England in the second-half of the extra period, there was no coming back. Indeed, England were not content with gifting a goal through Stones, they then did it again with six minutes left. This time Maguire, Stones and Barkley were the guilty men. Barkley's pass to Depay was so good it would seem that Depay was wearing a white shirt. Depay took possession, laid the ball to Promes and it was 3-1 with the greatest of ease. And that was that. No England in the final—.again, and so many questions for Southgate to ponder on. It is all so frustrating.

Right, and this is me calming down a little, it has to be said that the Netherlands were the better side and as Pickford was our busiest and best player, they probably deserved to win. I'm just disappointed that a) we didn't play our best team and b) we gave them the sort of chances that we never seem to get given by the teams we play against. Like I said, so frustrating.