Match Summary
Officials

from Belarus

Montenegro

Type

England
Referee (sky blue) Aleksei Kulbakov
39 (27 December 1979), Homel, FIFA-listed 2005.



Assistant Referees - Dmitri Zhuk

and

Oleg Maslyanko

Fourth official - Denis Scherbakov
9
Goal Attempts
11
2
Attempts on Target
6
0
Hit Bar/Post
0
3
Corner Kicks Won
6
0
Offside Calls Against
1
10
Fouls Conceded
14
34%
Possession
66%

Montenegro Team
Rank:

FIFA (February 2019)

47th


EFO ranking n/a


ELO rating

60th

Colours:
Made by Legea - Red collared shirts with darker red sleeves, red cuffs with yellow trim, red shorts with yellow hemmed trim, red socks with yellow hoop.
Capt:
Stefan Savić
Manager:
Ljubiša Tumbaković Љубиша Тумбаковић, 66 (2 September 1952 in Serbia), appointed January 2016
26th match, W 7 - D 7 - L 12 - F - A -
Montenegro Lineup
1
Petković, Danijel
25

25 May 1993

G
FC Lorient-Bretagne Sud, France
16
0
2
Stojković, Filip
26
22 January 1993
born in Ćuprija, Yugoslavia
RB
Fk Crvena zvezda, Serbia
36
1
15
Savić, Stefan
28
8 January 1991
CD
Club Atlético de Madrid, Spain
51
5
22
Simić, Marko, off 74th min.
31
16 June 1987
born in Obrenovac, Yugoslavia
CD
Paxtakor Toshkent Fk, Uzbekistan
36
1
6
Tomašević, Žarko
31
16 June 1987
LB
KV Oostende, Belgium
34
4
23
Marušić, Adam
26
17 October 1992
born in Belgrade, Yugoslavia
RM
SS LAzio SpA, Italy
27
0
20
Ivanić, Mirko
25

13 September 1993


born in Bački Jarak, Yugoslavia
ARM
Fk Crvena zvezda, Serbia
15
1
4

Vukčević

, Nikola
27
13 December 1991
ALM
Levante Unión Deportiva SAD, Spain
33
1
7
Vešović, Marko, off 70th min.
27
28 August 1991
LM
Legia Warszawa SA, Poland
25
2

11

Bećiraj, Fatos, off 61st min.
30

5 May 1988


born in Peć, Yugoslavia
RF
Maccabi Netanya FC, Israel
61
9
9
Mugoša, Stefan
27
23 February 1992
LF
Incheon United FC, Republic of Korea
29
7
Montenegro Substitutes

scoreline:

Montenegro 1 England 3
10
Janković, Marko, on 61st min

(60.33)

for Bećiraj
23
9 July 1995
RF
Societŕ Polisportiva Ars et Labor SpA, Italy
16
1
3

Boljev

ić, Aleksandar, on 70th min.

(69:05)

for

Vešović

23
12 December 1995
LM
KV Red Star Waasland-Sportkring-Beveren, Belgium
10
0

B

oljev

ić cautioned in the 92nd min. for Ungentlemany Conduct, for getting involved with the pushing and shoving between Henderson and

Vukčević

scoreline:

Montenegro 1 England 4
16
Jovović, Vladimir, on 74th min.

(73:35)

for Simić
24
26 October 1994
AM
FK Jablonec, Czech Republic
25
0

result:

Montenegro 1 England 5

unused substitutes:

5-Boris Kopitović, 8-

Marko Bakić,

12-Milan Mijatović, 13-Damir Ljuljanović, 14-

Luka Đorđević, 17-Asmir Kajević,

18-Nebojša

Kosović, 19-Aleksandar Šćekić, 21-Risto Radunović.

records:

Fatos Bećiraj equals the record currently held by Elsad Zverotić as Montenegro's most capped player.
4-4-2
Petković -
Stojković, Savić, Simić (

Jovović)

, Tomašević -
Marušić, Ivanić, Vukčević, Vešović (

Boljev

ić) -
Bećiraj (Janković), Mugoša

Averages (Starting XI):

Age
27.5
Appearances/Goals
33.0
2.7

England Team
Rank:

FIFA (7 February 2019) 5t

h


EFO ranking Group One (2nd)
ELO rating 5th
Colours:
The Nike 2018 home shirt

-

White v-necked jerseys with red tri

m on collar, blue shorts, white socks.
Capt:
Harry Kane
(17th captaincy, 15)
Jordan Henderson 83rd min.
Manager:
Gareth Southgate, 48 (3 September 1970), appointed caretaker manager on 27 September 2016, appointed as permanent manager on 30 November 2016.
33rd match, W 19 - D 8 - L 6 - F 59 - A 25.
England Lineup
1
Pickford, Jordan L.
25
7 March 1994
G
Everton FC
17
15

GA

2
Walker, Kyle A.
28
28 May 1990
RB
Manchester City FC
46
0
3
Rose, Daniel L.
28
2 July 1990
LWB
Tottenham Hotspur FC
26
0
Rose cautioned in the 93rd min. for a Foul, following a very late challenge on

Boljev

ić.
4
Rice, Declan
20
14 January 1999
DM
West Ham United FC
2
0
5
Keane, Michael V.
26
11 January 1993
CD
Everton FC
7
1
6
Maguire, J. Harry
26
5 March 1993
CD
Leicester City FC
18
1
7
Sterling, Raheem S.
24
8 December 1994
R/LF
Manchester City FC
49
8
8

Barkley, Ross, off 81st min.
25
5 December 1993
RM
Chelsea FC
27
4
Barkley cautioned in the 52nd min. for Dissent. When England were awarded a free-kick, Barkley took it before the referee's whistle.
9
Kane, Harry E., off 83rd min
25
28 July 1993
CF
Tottenham Hotspur FC
37
22
10
Alli, Bamidele

J.

, off 64th min.
22
11 April 1996
LM
Tottenham Hotspur FC
35
3

11

Hudson-Odoi, Callum J.
18
7 November 2000
L/RF
Chelsea FC
2
0

England

Substitutes

scoreline:

Montenegro 1 England 3
14
Henderson, Jordan B., on 64th min

(63:02)

for Alli
28
17 June 1990
LM
Liverpool FC
50
0
Henderson cautioned in the 92nd min. for Ungentlemanly Conduct, after having his shirt pulled by

Vukčević and reacting to his head pushing.

scoreline:

Montenegro 1 England 5
17
Ward-Prowse, James M.E., on

(80:30)

81st min. for Barkley
24
1 November 1994
M
Southampton FC
final app
2017-19
2
0
19
Wilson, Callum E.G., on 83rd min

. (82:12)

for Kane
27
27 February 1992
F
AFC Bournemouth
2
0

result:

Montenegro 1 England 5

unused substitutes:

12-Kieran Tripper, 13-Tom Heaton, 15-James Tarkowski, 16-Ben Chilwell, 18-Jadon Sancho, 20-Jack Butland.

team notes:

No Manchester United player in two consecutive competitive matches for the first time in 29 years.

records:

Callum Hudson-Odoi becomes the second youngest player to start a competitive match.
Michael Keane's goal is the 100th away ECP goal scored.
England score five in two consecutive matches for first time since 1984.
4-3-3
Pickford -
Walker, Keane, Maguire, Rose -
Barkley (Ward-Prowse), Rice, Alli (Henderson) -
Sterling, Kane (Wilson), Hudson-Odoi.


notes:- Sterling & Hudson-Odoi swapped flanks after thirty minutes

Averages (Starting XI):

Age
24.3
Appearances/Goals
24.2
3.1
Match Report by Mike Payne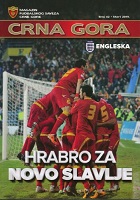 This turned out to be another very comprehensive victory for England, who continued to make the perfect start to their European Championship campaign. From the shock of going a goal down, the visitors knuckled down and produced a totally dominant display, showcased by several excellent individual performances.





The match began slowly, with England keeping possession well but not really threatening the Montenegro goal. The first meaningful attack saw Callum Hudson-Odoi centre from the right to the head of Harry Maguire. The big Leicester defender headed the ball high over the bar. During the first ten minutes or so, England passed the ball around, looking for ways to pierce a big, strong and determined defence. Ross Barkley, who has showed up very well in the two games over the weekend, won a corner and then on 12 minutes Raheem Sterling burst into the game. A wonderful tight dribble into the box beat three men before his cross was cleared by a defender, who just beat a lunging Deli Alli to the ball.





England were baffled by some strange decisions from the referee in the opening quarter of an hour, and they also suffered a little from wrong decisions being made from attackers looking for an opening. However, England were still dominant, so what happened next came as a severe shock.





In the 17th minute a long pass out to the left might have been cut out by Hudson-Odoi, but his 'challenge' was flattened by a firm header down that gave possession to Igor Vesivic. The lively forward attacked Michael Keane, who also really should have done better but he failed to stop Vesivic. A lucky rebound off Keane's leg bounced kindly for the home forward and he was left with a clear shot at goal, which he executed perfectly, giving Jordan Pickford no chance. It was Montenegro's first attack of the game, and it came as a big shock to all England fans, players and staff. How could that have happened?





Suddenly Montenegro grew in confidence from the goal and it was clear that England had to regroup and go again. To their credit they did, gradually regaining control, after clearing a couple of dangerous breaks and on the half-hour they scored a deserved equaliser. It came from a good old simple English ploy, a free-kick. From out on the right wing, Barkley centred perfectly to the far post and there was Keane to make up for his earlier blip to powerfully head home. Simples!





That settled England down again, although a speculative effort from about 35 yards by Stefan Mugosa, had to be watched all the way by Pickford, who gathered it well. The visitors were now back in their stride again and how Sterling didn't score from one attack was baffling. It followed another fine run by the excellent Hudson-Odoi, who was growing confidently into his role. From his ball into the middle Sterling had several bites at the cherry, but couldn't quite force the ball over the line. He need not have worried as three minutes later, and seven minutes from the break, England took the lead.





Again, Hudson-Odoi was at the hub of the goal. His run goalwards, cutting in from the left, ended with a shot across goal. It was probably going wide, but there was Barkley, in the right place at the right time, to side-foot home from close range. The young winger had been switched to the left and it really paid off as he shone brightly for the rest of the match.





After the break there was no let up from England and four minutes into the half a deep cross by Hudson-Odoi cleared the defence but Sterling mis-hit his attempted volley, probably caught out by the fact that it only just cleared the jumping defender in front of him. A minute later and Hudson-Odoi had another chance after a fine pass by Harry Kane. This time the youngster's shot was pushed wide by the keeper, Danijel Petkovic.





The only way back for Montenegro was if the sometimes sloppy England defence blundered, and they did their best to oblige in one breakaway, although eventually the ball was cleared. No matter, as on 59 minutes the result was settled. Another good attack by England saw Sterling twisting and turning in the box, looking for the decisive ball into the middle. When his pull-back finally came it deflected off a defender straight into the path of the marauding Barkley who gleefully picked his spot to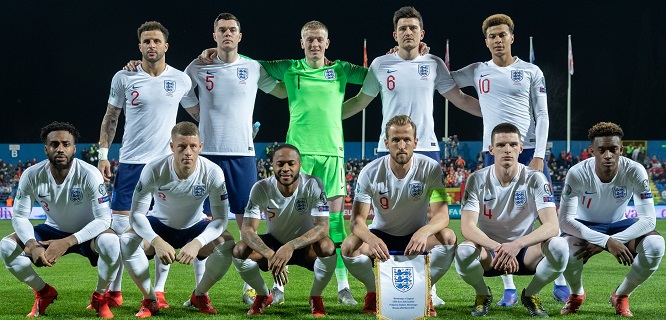 score his second and England's third goal.





England brought on Jordan Henderson for Alli, to win his 50th cap and after that it was a question of how many England would score, as all the fight had gone from the home players by this time. In the 71st minute England scored again as Barkley, at the heart of so much of England's good attacking play, fed a superb pass through to Sterling and the Manchester City star laid the ball across goal where Kane was able to coolly slot home unchallenged. Nine minutes later and the win was rounded off nicely with a lovely goal from the hard-working Sterling. A superb through pass from Henderson sent Sterling clear and the striking winger clipped the ball wide of the advancing Petkovic.





James Ward-Prowse came on for the brilliant Barkley and Callum Wilson replaced Kane for the final minutes, but the job was done by now, in another very efficient and comprehensive victory. Quite a bit of frustration was being shown by Montenegro in the final ten minutes and both Henderson and Danny Rose were booked as tempers became a little frayed. It was also not helped by some racial chanting from the home fans against the English players, and that is something that really needs to be addressed and sorted by the powers that be.





This was an exciting display by a young England side, with great contributions from Barkley, Hudson-Odoi and the impressive Declan Rice, making his first start for his country. The futures bright for this set of players at Gareth Southgate's disposal and certainly the England fans will be delighted with these last two games.


Source Notes
TheFA.com
BBC Sport
UEFA.com
FSCG



Mike Payne - football historian and contributor
cg