"JORD OF THE FLIES" Daily Mirror
Officials from Romania

Type

England Squad

Referee

(black)


Ovidiu Alin Haţegan
38 (14 July 1980), Arad, FIFA-listed 2008.
11
Goal Attempts
13
2
Attempts on Target
5
Assistant Referees
0
Hit Bar/Post
2
Octavian

Şovre




45 (19 July 1973)

Sebastian Gheorghe


43 (7 March 1976)

3
Corner Kicks Won
9

Fourth official


Anastasios Sidiropolous


39 (9 August 1979), Rhodes, Greece, FIFA-listed 2011

3
Offside Calls Against
1
15
Fouls Conceded
17
43%
Possession
57%
Video Assistant Officials

from Italy

Michael Fabbri




35 (8 December 1983), Ravenna

Assistant - Marco Di Bello,

37 (12 July 1981), Brindisi, FIFA-listed 2018

Switzerland Team
Rank:

FIFA (4 April 2019)

8th


EFO ranking n/a


ELO rating

14th

Colours:
Made by Puma - Red v-necked jerseys with white trim, white white shorts, red socks.
Capt:
Granit Xhaka
Manager:
Vladimir Petković, 55 (15 August 1963 in Sarajevo, Yugoslavia), appointed 23 December 2013, effective 1 July 2014.
54th match, W 30 - D 11 - L 13 - F - A
Switzerland Lineup
1
Sommer, Yann
30
174 days
17 December 1988
G
Borussia VfL 1900 Mönchengladbach, Germany
47
0
2
Mbabu, M. Kevin

24


51 days
19 April 1995
RWB
Berner SC Young Boys
6
0
22
Schär, Fabian L.

27


171 days
20 December 1991
RCD
Newcastle United FC, England
50
7
5
Akanji, Manuel O.

23


325 days
19 July 1995
CD
Bsv Borussia 09 Dortmund, Germany
17
0
4
Elvedi, Nico

22


252 days
30 September 1996
LCD
Borussia VfL 1900 Mönchengladbach, Germany
11
1
13
Rodríguez Araya, Ricardo I., off 87th min.
26
288 days
25 August 1992
LWB
AC Milan, Italy
65
7
10
Xhaka, Granit
26
255 days
27 September 1992
RM

Arsenal FC, England

76

11

116th min. for his trip on Sterling just outside the penalty area.
8
Freuler, Remo M.
27
55 days
15 April 1992
LM
Atalanta BC, Italy
18
1
23
Shaqiri, Xherdan, injured off 65th min

(64:14)

27
242 days

10 October 1991


in Gjilan, Yugoslavia
RAM
Liverpool FC, England
82
22

20

Fernandes Ribeiro, Edimilson, off 61st min.
23
55 days
15 April 1996
LAM
ACF Fiorentina, Italy, on loan from West Ham United FC, England
10
0
9
Seferović, Haris, off 113th min.
27
107 days
22 February 1992
CF
Sport Lisboa e Benfica, Portugal
61
17
Switzerland Substitutes
17
Zakaria Lako Lado, Denis L. on 61st min

. (60:19)

for Fernandes

22


201 days
20 November 1996
DM
Borussia VfL 1900 Mönchengladbach, Germany
22
2
14
Zuber, Steven, on 65th min.

(64:21)

for Shaqiri

27


296 days
17 August 1991
RM
TSG 1899 Hoffenheim, Germany
25
6
19
Drmić, Josip, on 87th min.

(86:46)

for Rodríguez

26


305 days
8 August 1992
LF
Borussia VfL 1900 Mönchengladbach, Germany
34
10

scoreline:

Switzerland 0 England 0

AET sub

7
Okafor, Noah, on 113th min.

(112:35)

for Seferović

19


16 days
24 May 2000
AM
FC Basel 1893
1
0

result:

Switzerland 0 England 0

unused substitutes:
3-François Moubandje, 6-Michael Lang, 11-Renato Steffen, 12-Yvon Mvogo, 15-Loris Benito, 16-Albian Ajeti, 18-Djibril Sow, 21-Jonas Omlin.
3-5(3-2)-1
Sommer -
Schär, Akanji, Elvedi -
Mbabu, Xhaka, Freuler, Rodríguez (Drmić) -
Shaqiri (Zuber), Fernandes (Zakaria) -
Seferović (Okafor)

Averages

(Starting XI)

:

Age
26 years 48 days
Appearances/Goals

40.3

5.1

England Team
Rank:

FIFA (4 April 2019) 4th
EFO ranking Group One (2nd)
ELO rating 9th
Colours:
The Nike 2018 home uniform

-

White v-necked jerseys

with red tri

m on collar, blue shorts, white socks.
Capt:
Harry Kane

¹⁵




18th, W 10 - D 4 - L 4 - F 36 - A 19




Fabian Delph

75th min.
Eric Dier 106th min.
Manager:
Gareth Southgate, 48 (3 September 1970), appointed caretaker manager on 27 September 2016, appointed as permanent manager on 30 November 2016.


35th match, W 19 - D 9 - L 7 - F 60 - A 28.

England Lineup
1
Pickford, Jordan L.
25
94 days
7 March 1994
G
Everton FC
19
18ᵍᵃ
22
Alexander-Arnold, Trent

J.

20


245 days
7 October 1998
RB
Liverpool FC
6
1
12
Gomez, Joseph D.

21


17 days
23 May 1997
RCD
Liverpool FC
7
0
6
Maguire, J. Harry

26


96 days
5 March 1993
LCD
Leicester City FC
20
1
the 183rd/184th player to reach the 20-app milestone
3
Rose, Daniel L., off 70th min.

28


342 days
2 July 1990
LB

Tottenham Hotspur FC

27

0


23rd min. after he lunged into Mbabu

17
Delph, Fabian, off 106th min.

29


16 days
21 November 1989
RM
Manchester City FC
20
0
last from the 1980's to play
the 183rd/184th player to reach the 20-app milestone
final 2014-19
4
Dier, Eric J.E.

25


145 days
15 January 1994
DM
Tottenham Hotspur FC
40
3
the 85th player to reach the 40-app milestone
20
Alli, Bamidele

J.

23
56 days
11 April 1996
LM
Tottenham Hotspur FC
37
3
final app 2015-19
10
Sterling, Raheem S.
24
183 days
8 December 1994
in Kingston, Jamaica
RF
Manchester City FC
51
8

9

Kane, Harry E., off 75th min.

25


316 days
28 July 1993
CF
Tottenham Hotspur FC
39
22
7
Lingard, Jesse E., off 106th min.

25


176 days
15 December 1992
LF

Manchester United FC

24

4


26th min. after he caught Xhaka's ankle

England

Substitutes
2
Walker, Kyle A., on 70th min.

(69:23)

for Rose

29


12 days
28 May 1990
LB
Manchester City FC
48
42
0
6
21
Wilson, Callum E.G., on 75th min

. (74:05)

for Kane

27


102 days
27 February 1992
CF
AFC Bournemouth
3
1
1
2
11
Sancho, Jadon M., on 106th min. for Lingard

19


76 days
25 March 2000
LF
Bsv Borussia 09 Dortmund, Germany
6
3
0
3

scoreline:

Switzerland 0 England 0

(AET sub)

18
Barkley, Ross, on 106th min. for Delph

25


186 days
5 December 1993
LM
Chelsea FC
29
13
4
16

result:

Switzerland 0 England 0

unused substitutes:
5-John Stones, 8-Jordan Henderson, 13-Jack Butland, 14-Ben Chilwell, 15-Michael Keane, 16-Declan Rice, 19-Marcus Rashford, 23-Tom Heaton.
records:
This is England's 320th competitive international match (W 185 D - 83 - L 52 - F 644 - A 233). The sixtieth occasion they have failed to score.
Jesse Lingard's caution is the fiftieth caution in the Southgate era.
Jordan Pickford is the first goalkeeper to score for England in a shoot-out.
Manager Gareth Southgate played against Switzerland in the Euro '96 opening match, and again in the March 1998 friendly.
4-4-2 (diamond)
Pickford -
Alexander-Arnold, Gomez, Maguire, Rose (Walker) -
Delph (Barkley), Dier, Alli -
Sterling, Kane (Wilson), Lingard (Sancho)

Averages

(Starting XI)

:

Age
25 years 105 days
Appearances/Goals

26.4

2.1

oldest team in 2018-19
oldest ever XI in NL Finals
Match Report

by Mike Payne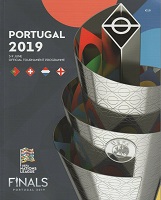 In a match nobody really wanted, England came out winners in a penalty shoot-out to secure third place in the first Nations League Championship. That was probably the best thing that could have been said about the final game of a long season, and now the players can finally officially go on holiday.



England definitely deserved to win but the game should have been done and dusted long before it came down to extra-time and penalties. Early on, the match looked full of zest and as early as the second minute Harry Kane came very close to scoring. A long ball forward from Jordan Pickford was flicked sideways by Kane. The striker then ran on to a superb return pass and delicately chipped the ball at goal. The goalkeeper, Yann Sommer, back peddled and just managed to touch it onto the crossbar. The ball bounced down but out of the reach of two England players following up. That was a near miss, and how Kane would have loved a goal.





Switzerland hit back and Remo Freular shot straight at Pickford. In the 14th minute England had another fine chance when Kane found Raheem Sterling. But last season's sharpness has evaporated from the tired legs and Sterling shot straight at Sommer who saved easily. By this time the game had died somewhat and there were long passages of tediousness. Danny Rose and Jesse Lingard were both booked for strong challenges and Haris Seferovic shot high and wide from one rare goal effort.





Trent Alexander-Armstrong was playing very well down the right and the quality of his crosses deserved a better result. Several times he curled in dream centres, but England just did not take advantage. In the 35th minute one of those crosses was perfect for Deli Alli to head at goal. It seemed he must score but sadly, he headed over the bar. And that was the end of the action in a largely forgettable first-half.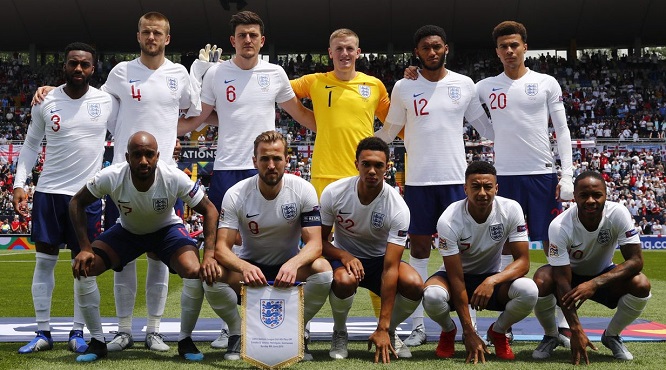 The Swiss created the first chance after the break with Freular going close. In the 56th minute Pickford dived full length to push a good effort by Granit Xhaka out for a corner. A cross from the left by Rose was deflected by defender Fabian Schar, and after another finger-tip touch by Sommer, the ball struck the far post before being cleared. The game crawled along with little incident after that. Sterling headed over from another fine Alexander-Arnold cross in the 74th minute and then substitute Steven Zuber shot just wide for the Swiss two minutes later. Callum Wilson replaced Kane and Kyle Walker came on for Rose as England looked to change things. With five minutes of normal time left England, once again, thought they had won the match.





Sterling crossed to Ali and his header struck the crossbar and bounced down. Wilson was the first to react and he forced the loose ball over the line. Joyous scenes followed, but one lesson that we have learned from these last two games is that we should never celebrate a goal until after VAR has been checked! Sure enough, about 'ten minutes' before the ball was put in by Wilson, a 'foul' had been spotted, against Wilson, and the goal was once again ruled out. The 'foul' was nothing more than a coming together of two players in the area, but because the Swiss defender went down the ref decided it was a foul after consulting the wonderful VAR system.



T

he authorities really do have to look at this system again as at the moment it is nothing short of a liability. In the end, and in the future, nobody will celebrate goals as we will all have to wait for VAR to have a look. 'Clear and Obvious' is what it was supposed to be, but against the Dutch and now against the Swiss, it was anything but.





So, this match went into extra-time, and England had the better of the extra period. Sterling should have done better at the far post with a header, Alli forced a fine save from Sommer and right at the death Sterling hit a lovely free-kick which struck the crossbar yet again. It probably wouldn't have counted as a goal though, as VAR would have found that someone had put an extra coat of paint on the bar at half-time! Sorry, I know I shouldn't be so flippant, but for goodness sake, let us get back to leaving it to the officials on site to make the decisions and then we can have a proper argument when they get it wrong!





It was still 0-0 at the end of extra-time, so on we went to penalties. No problem for England, ahem! Harry Maguire, Ross Barkley, Jadon Sancho, Sterling, Pickford (yes, Pickford, and he fired home a cracker) and Eric Dier all scored from the spot for England whilst Zuber, Xhaka, Manuel Akanji, Kevin Mbabu and Schar all scored for the Swiss to make it 6-5. It was then left for Josip Drmic to equalise for the sixth time. He failed, thanks to a fine diving save by the hero of the hour, Jordan Pickford.





There was no bronze medal presenting ceremony, which sort of summed up this low-key match, and apparently the medals were put in the dressing room to be sorted out amongst the winning team. Having said all of that, at least England came back with a little bit more than they did from the World Cup last year.





Now they can have their holidays.




Source Notes
TheFA.com
BBC Sport

Mike Payne - football historian and contributor
cg