"IT'S KANE AGAIN" Daily Mirror
Officials

from Sweden

England Squad
Type

Switzerland Squad

Referee

(red)


Lars Christian Andreas Ekberg
37 (2 January 1985), Malmö, FIFA-listed 2013
9
Goal Attempts
12
5
Attempts on Target
4
Assistant Referees
0
Hit Bar/Post
1
Mehmut Culum


(1983)

Fredrik Klyver
5
Corner Kicks Won
5
Fourth official
Bojan Pandžić
40 (13 March 1982), Hisings Backa, FIFA-listed 2014

The pre-match photos included the Ukraine flag.
1
Offside Calls Against
2
11
Fouls Conceded
13
52.1%
Possession
47.9%
Video Assistant Officials

from Belgium

Alexandre Boucaut


41 (10 August 1980)

Assistant VAR official - Christof Dierick, 43

England
Team
Rank:
FIFA (10th February 2022)

5th


EFO ranking Group One (3rd)
ELO rating 6th
Colours:
The Nike 2020 away uniform

-

Mega blue and royal blue collared jersey and shorts. Abstract three-lions pattern throughout with challenge red sidestripes. Mega blue socks with a thin challenge red/sport royal blue hoop.
Capt:
Harry Kane ⁴¹


45th, W 29 - D 9 - L 7 - F 107 - A 33.


Jordan Henderson 87:34
Manager:
Gareth Southgate, 51 (3 September 1970), appointed caretaker manager on 27 September 2016, appointed as permanent manager on 30 November 2016.


69th match, W 45 - D 14 - L 10 - F 154 - A 43

record 19th

ͨ

at National Stadium

England

Lineup

For the second half, The team did not wear the names on their shirts.
1
Pickford, Jordan L.
28
19 days
7 March 1994
G
Everton FC
43
32ᵍᵃ

101

2
Walker-Peters, Kyle L., off 62nd min.
24
347 days
13 April 1997
RWB
Southampton FC
1
0

1267

the 39th Southampton player to represent England

3

Shaw, Luke P.H., off 61st min.
26
257 days
12 July 1995
LWB
Manchester United FC
20
2

the 190th player to reach the 20-app milestone

102

4
Guéhi, A.K. Marc-Israel
21
256 days
13 July 2000
in Abidjan, Côte d'Ivoire
LD/
LCD
Crystal Palace FC
1
0

1268

40th foreign-born player

the sixteenth Palace player to represent England

14
White, Benjamin W.
24
169 days
8 October 1997
CD

/RB

Arsenal FC
3
0

the 68th Palace player to represent England

6
Coady, Conor D.
29
31 days
23 February 1993
RD/
RCD
Wolverhampton Wanderers FC
9
1
7

Gallagher, Conor J., off 61st min.

(60:39)

22
48 days
6 February 2000
LM
Crystal Palace FC, on loan from Chelsea FC
2
0
8
Henderson, Jordan B.
31
282 days
17 June 1990
RM/
LDM
Liverpool FC
69
2
9
Kane, Harry E., off 88th min.
28
241 days
28 July 1993

CF/RF

Tottenham Hotspur FC

68

49


¹⁴

the 100th penalty-kick scored

(137)

10
Foden, Philip W., off 79th min.
21
302 days
28 May 2000
RF/
RAM
Manchester City FC
14
2
11
Mount, Mason T., off 62nd min.
23
75 days
10 January 1999
LF
Chelsea FC
27
4
England Substitutes

scoreline:

England 1 Switzerland 1
17
Rice, Declan, on 61st min.

(60:39)

for Gallagher
23
71 days
14 January 1999
RDM
West Ham United FC
28
25
2
3

103

23
Mitchell, Tyrick K., on 61st min.

(60:54)

for Shaw
22
206 days
1 September 1999
LB
Crystal Palace FC
1
0

1269

the 17th Palace player to represent England

20
Sterling, Raheem S., on 62nd min.

(61:01)

for Walker-Peters
27
108 days
8 December 1994
in Kingston, Jamaica
RF
Manchester City FC
73
64
18
9
16
Grealish, Jack P., on 62ndmin.

(61:25)

for Mount
26
197 days
10 September 1995
RAM/
LAM
Manchester City FC
19
10
1
9

scoreline:

England 2 Switzerland 1
18
Bellingham, Jude V.W., on 79th min.

(78:40)

for Foden
18
270 days
29 June 2003
RAM
Bsv Borussia 09 Dortmund, Germany
11
3
0
8
W 11 - D 0 - L 0
19
Watkins, Oliver G.A., on 88th min.

(87:59)

for Kane
26
86 days
30 December 1995
RF
Aston Villa FC
6
0
1
6
result: England 2 Switzerland 1
unused substitutes:
5-John Stones (injured), 12-Harry Maguire, 13-Nick Pope, 15-Tyrone Mings, 21-James Ward-Prowse, 22-Fraser Forster.
team notes:
Ben White was a last-moment replacement for John Stones, who was injured in the warm-up.
Jack Grealish's great great grandfather,

Billy

Garraty, also played for England in 1903.
Tyrick Mitchell is the 98th player (not 100th as reported) used by Gareth Southgate.
substitute notes:
It is Raheem Sterling's first appearance as a substitute since September 2017.
stadium notes:
As Harry Kane scored, he becomes the record goalscorer (20) at the newly built Stadium, bea

t

ing Wayne Rooney. (At Wembley, as a whole, he still two behind Gary Lineker and three behind Bobby Charlton)
It also secured England's sixtieth victory at The National Stadium.
penalty kick notes:
Harry Kane's kick, England's one hundredth successful conversion, was his first penalty kick in a friendly match since against France, June 2017.
records:
This is England's 75th victory in the month of March.
Manager Gareth Southgate played against Switzerland in the Euro '96 opening match, and again, also against Murat Yakin, in the March 1998 friendly.
3-4-3
4-2-4 after 62 minutes
Pickford -
Coady, White, Guéhi -
Walker-Peters (Sterling), Henderson, Gallagher (Rice), Shaw (Mitchell) -
Foden (Bellingham), Kane (Watkins), Mount (Grealish)
notes: after the spate of substitutions on the hour, the new back line was White, Coady, Guéhi and Mitchell.
Rice and Henderson became the new defensive midfielders.

Averages

(Starting XI)

:

Age
25 years 252 days
Appearances/Goals
23.4
5.3

Switzerland Team
Rank:
FIFA (10th Feb 2022) 14th


EFO ranking

n/a




ELO rating

11th

Colours:
Made by Puma - White crew-necked jerseys with red chest trim & cuffs, white shorts, white socks.
Capt:
Granit Xhaka
Manager:
Murat Yakin, 47 (15 September 1974), appointed 9 August 2021
eighth match, W 4 - D 3 - L 1 - F 14 - A 4.

Switzerland

Lineup
12
Omlin, Jonas
28
84 days
19 January 1994
G
Montpellier Hérault SC, France
3
0
3
Widmer, Silvan D., injured off 36th min.

(35:00)

29
21 days
5 March 1993
RB
1.FSv Mainz 05, Germany
28
2
5
Akanji, Manuel O.
26
250 days
19 July 1995
RCD
Bsv Borussia 09 Dortmund, Germany
39
0
6
Frei, Fabian
33
95 days
8 January 1989
LCD
FC Basel
19
3
13
Rodríguez Araya, Ricardo I.
29
214 days
25 August 1992
LB
Torino FC, Italy
93
9
8
Freuler, Remo M., off 62nd min.
29
345 days
15 April 1992
RDM
Atalanta BC, Italy
18
1
10
Xhaka, Granit
26
181 days
27 September 1992
LDM
Arsenal FC, England
99
12
11
Steffen, Renato, off 62nd min.
30
144 days
3 November 1991
RAM
VfL Wolsfburg, Germany
21
1
23

Shaqiri, Xherdan, off 80th min.
30
168 days

10 October 1991


in Gjilan, Yugoslavia
CAM
Chicago Fire FC, United States
101
26
17
Vargas Martinez, Ruben E., off 63rd min.
23
234 days
5 August 1998
LAM
FC Augsburg 1907, Germany
23
4
7

Embolo, Breel D., off 79th min.
25
41 days
14 February 1997
in Yaoundé, Cameroon
CF
Borussia VfL 1900 Mönchengladbach, Germany
51
9
Switzerland Substitutes

scoreline:

England

0 Switzerland 1
2
Mbabu, M. Kevin, on 36th min.

(35:34)

for Widmer
26
341 days
19 April 1995
RB
VfL Wolfsburg, Germany
20
0

scoreline:

England

1 Switzerland 1
20
Zeqiri, Andi, on 62nd min.

(61:39)

for Steffen
22
277 days
22 June 1999
RAM
FC Augsburg 1907, Germany, on loan from Brighton & Hove Albion FC, Engand
6
0
15
Sow, Mohameth Djibril I., on 63rd min.

(62:05)

for Freuler
27
48 days
6 February 1997
LDM
Eintracht Frankfurt, Germany
25
0
14
Zuber, Steven, on 63rd min

. (62:12)

for Vargas
27
221 days
17 August 1991
RM
Athlitikí Énosis Konstantinoupóleos, Greece, on loan from Eintracht Frankfurt, Germany
47
10

scoreline:

England

2 Switzerland 1
19
Gavranović, Mario, on 79th min.

(78:45)

for Embolo
32
122 days
24 November 1989
CF
Kayseri SK, Turkey
38
16
22
Aebischer, Michel, on 80th min.

(79:05)

for Shaqiri
25
79 days
6 January 1997
AM
FC Bologna 1909, Italy, on loan from Berner SC Young Boys
8
0

result:

England 2 Switzerland 1
unused substitutes:
1.David von Ballmoos, 4-Nico Elvedi, 9-Noah Okafor, 16-Jordan Lotomba, 18-Eray Cömert, 21-Gregor Kobel

.

team notes:
Stephen Widmer wemt down on 34:23 after pulling a muscle as he sprinted back to cover Phil Foden.
records:
Manager M

urat Yakin

played for Switzerland against England, and Gareth Southgate, in the March 1998 friendly, and also in the group match of Euro 2004.
4-2-3-1
Omlin -
Widmer (Mbabu), Akanji, Frei, Rodríguez -
Freuler (Zuber), Zhaka -
Steffen (Zeqiri), Shaqiri (Aebischer), Vargas (Zuber) -
Embolo (Gavranović)

Averages

(Starting XI)

:

Age
28 years 260 days
Appearances/Goals
45.0
6.0
Match Report
by Mike Payne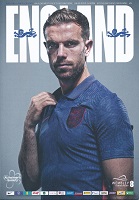 This was one of those games, wasn't it, with lots of new faces, who had had little time to prepare and gel, and the match turned out to be lacking in urgency at this crucial stage of the domestic season. However, the good news was that England found a way to win.

It was a very slow start to the match, with Switzerland looking more lively than their hosts. Indeed, they were soon on the attack and Ben White had to clear one dangerous early cross. At the other end, Harry Kane was given a pass but was quickly shut out by a determined and well-organised Swiss defence. Conor Gallagher was one of the few England players looking lively, and his curling effort had to be headed clear as it threatened the goal. Despite all this activity, neither goalkeeper had been called into action as yet.

You knew that the game was struggling to get going, especially when a Mexican wave started up in the crowd! And that was just 15 minutes in. However, with Xherdan Shaqiri pulling the strings for Switzerland, the game saw its first real chance as Xhaka forced a fine save from Jordan Pickford on 21 minutes. But just a minute later the visitors took a deserved lead. Shaqiri was again at the heart of the move and his fine cross from the right cleared a back-pedalling White and there was Breel Embolo to head a simple goal coming in behind the England defender. From a defensive point of view it was a poor goal to concede, but a well-taken header nonetheless.

The Swiss were now on a roll, (sorry for the pun), and they really should have increased their lead as first, Shaqiri's shot was deflected wide, and then Pickford produced a fine save from Fabian Frei's volley at the far post. The goalkeeper managed to get a hand to the ball and push it onto the crossbar and eventually to be cleared away. For a spell Pickford must have thought he was behind Everton's current defence, such was the frailty of England at this point. Over the years regular England watchers do worry when so many new faces appear at the same time, as it always seems to take England half a game to wake up. This was one of those games.

Mason Mount and Phil Foden were not making much headway as we passed the half-hour mark and although Kyle Walker-Peters did hit a post with a shot coming in from the right, sadly for him an offside flag went up, so it wouldn't have counted.

On 38 minutes the Swiss went close again as Renato Steffan's cross-cum-shot had to be headed away by White. Then, a minute later, Shaqiri hit a post direct from a corner and in the resultant scramble the ball fell to Ricardo Rodriguez who brought another fine save out of Pickford before Embolo hit the next rebound over the bar. England's defence had been so un-England like, and was all over the place at times in the first-half. You feared the worse, but football always has the ability to surprise you, and right on half-time England somehow found an unlikely equaliser.

Foden chased down Frei in the corner and the defender's hurried clearance was brilliantly intercepted by Walker-Peters. The ball ran towards Gallagher and his pass inside was met by Luke Shaw, steaming in to thump a really good shot past the goalkeeper, Jonas Omlin It was much more than England deserved, and far less than the Swiss deserved, but the home fans didn't care a jot about that as their favourites were back in the match.

At the break, it was obvious that England needed to re-group, up the tempo and add more urgency. Meanwhile, trying to follow the cricket in the West Indies at the same time as watching this match, England suffered another of their now famous collapses! But I digress, and almost immediately after the restart at Wembley, Kane was put through by Gallagher. As it happened the pass was just a fraction too far ahead of the England striker and although he did get a shot away goalkeeper Omlin was easily able to block his effort. But it was a good sign and to be honest, England seemed to have more control throughout this half.

A minute later debutant Marc Guehi almost capped a steady performance with a goal, but alas his header from a corner went wide. On the hour Gareth Southgate decided to make a raft of chances bringing on several substitutes. One of those was another debutant, Tyrick Mitchell, who became the 100th different player used by Southgate since he became England's manager. With the Swiss also making changes the match drifted into a 'not much happening' mode for a while. Just like the cooks, too many substitutes spoilt the broth!

Suddenly a flurry of activity as on 71 minutes Kane headed straight at Omlin and a minute later White tried to atone for his earlier defensive error by firing in a good shot which only just cleared the crossbar. Then on 75 minutes came the game's pivotal moment. Guehi's header was blocked by a Swiss defender, who turned his back but left his hand dangling. The England players appealed for a penalty as the ball struck his hand and after consultation with VAR, the referee gave that penalty. A bit harsh, but we have seen these decisions given all season, so no-one was too surprised when the spot-kick was awarded. Thank you very much said Harry, and Kane's kick was emphatic! That goal was the skipper's 49th for his country, bringing him level with Sir Bobby Charlton and just four behind Wayne Rooney's record of 53. There was to be no 50th goal for Kane this evening though as he was substituted with a few minutes left, replaced by Ollie Watkins.

The substitutions had affected the Swiss more than England in that second half, and apart from a couple of soft efforts on goal they showed very little after the break. The penalty was the only real talking point of the half, but as I said at the beginning of this report, England had found a way to win when not playing that well, and long may that continue.


Source Notes
TheFA.com
BBC Sport

Mike Payne - football historian and contributor
cg