Rank:
FIFA (10th February 2022)

5th


EFO ranking Group One (3rd)
ELO rating 6th
Colours:
The Nike 2020 home uniform

-

White crew-necked jerseys with

navy blue

collar and side trim, blue shorts with dark blue side stripe, white socks.
Capt:
Raheem Sterling ²


3rd, W 2 - D 0 - L 1 - F 9 - A 3




Harry Kane

61:35

Manager:
Gareth Southgate, 51 (3 September 1970), appointed caretaker manager on 27 September 2016, appointed as permanent manager on 30 November 2016.


70th match, W 46 - D 14 - L 10 - F 157 - A 43

England

Lineup

1
Pope, Nicholas

D.

29
349 days
14 April 1992
G
Burnley FC
8
1ᵍᵃ
2
White, Benjamin W., off half time
24
172 days
8 October 1997
RB
Arsenal FC
4
0
final app 2021-22
3
Mitchell, Tyrick K., off 62nd min.
22
209 days
1 September 1999
LB
Crystal Palace FC
2
0
final app 2022
4
Rice, Declan
23
74 days
14 January 1999
LDM
West Ham United FC
29
2
5

Mings, Tyrone

D.

29
16 days
13 March 1993
LCD
Aston Villa FC
17
2
final app 2020-22
6
Maguire, J. Harry
29
24 days
5 March 1993
RCD
Manchester United FC
42
7
7

Sterling, Raheem S., off 62nd min.
27
111 days
8 December 1994
in Kingston, Jamaica
RAM
Manchester City FC
74
19
8
Ward-Prowse, James M.E., off 79th min.
27
148 days
1 November 1994
RDM
Southampton FC
10
2
9

Watkins, Oliver G.A., off 62nd min.
26
89 days
30 December 1995
CF
Aston Villa FC
7
2
final app 2021-22
10
Bellingham, Jude V.W.
18
273 days
29 June 2003
AM
Bsv Borussia 09 Dortmund, Germany
12
0
W 12 - D 0 - L 0
11

Grealish, Jack P., off 62nd min.
26
200 days
10 September 1995
LAM
Manchester City FC
20
1

191st player to reach the 20-app milestone

England Substitutes

scoreline:

England 2 Côte d'Ivoire 0
17
Walker-Peters, Kyle L., on half time for White
24
350 days
13 April 1997
RB
Southampton FC
2
1
0
1
final app 2022
12
Shaw, Luke P.H., on 62nd min.

(61:18)

for Mitchell
26
260 days
12 July 1995
LB
Manchester United FC
21
18
2
3
23
Smith Rowe, Emile, on 62nd min.

(61:33)

for Grealish
21
244 days
28 July 2000
LAM
Arsenal FC
3
1
1
2
final app 2021-22
20
Kane, Harry E., on 62 min.

(61:35)

for Watkins
28
244 days
28 July 1993
CF
Tottenham Hotspur FC
69
59
49
10
18

Foden, Philip W., on 62nd min.

(61:36)

for Sterling
21
305 days
28 May 2000
RAM
Manchester City FC
15
11
2
4
21
Gallagher, Conor J., on 79th min.

(78:58)

for Ward-Prowse
22
51 days
6 February 2000
RDM
Crystal Palace FC, on loan from Chelsea FC
3
1
0
2
result: England 3 Côte d'Ivoire 0
unused substitutes:
13-Fraser Forster, 14-Jordan Henderson, 15-Marc Guéhi, 16-Conor Coady, 19-Mason Mount, 22-Jordan Pickford.
team notes:
Jack Grealish's great great grandfather,

Billy

Garraty, also played for England in 1903.
Raheem Sterling becomes the fourth most-appearenced BME player.
manager/player notes:
James Ward-Prowse becomes the fortieth player to make a tenth appearance under Gareth Southgate.
Whereas Conor Gallagher becomes the sixtieth to have made three appearances, and Kyle Walker-Peters, the seventieth to have made a second, leaving another sixteen to have ever made one appearance. Another nine have appeared on the bench only and another three withdrew from their squad. All in all... Southgate has used 98 different players.
records:
England's 300th victory at home.
The seventieth match played on a Tuesday. The thirtieth clean sheet. 25th victory at home.
The fortieth home victory in the month of March.
England have now won their tenth friendly match in-a-row, all at home, extending back to June 2018 (five short of the record set 1923-48). Unbeaten friendly run is fourteen matches, since June 2017 (record is 24 (1908-29).
England have scored 35 goals in 2021-22, after nine matches. The same number that they scored in 2020-21 with nineteen matches (the record is 45 in 1960-61).
4-2-3-1
Pope -
White (Walker-Peters), Maguire, Mings, Mitchell (Shaw) -
Ward-Prowse (Gallagher), Rice
Sterling (Foden), Bellingham, Grealish (Smith Rowe) -
Watkins (Kane)

Averages

(Starting XI)

:

Age
25 years 253 days
Appearances/Goals
20.5
2.9
Rank:
FIFA (10th Feb 2022) 51st


EFO ranking

n/a




ELO rating

47th

Colours:
Made by Puma - Orange crew-necked jerseys with darker orange shadowed stripes, green collar/shoulder stripe, orange shorts with green side panel, orange socks.
Capt:
Serge Aurier
Manager:
Patrice Beaumelle, 43 (24 April 1978 in Arles, France), appointed November 2020.

Côte d'Ivoire

Lineup
23
Sangaré, Badra Ali
35
303 days
30 May 1986
G
JDR Stars, South Africa
23
0
17
Aurier, Serge A.S.

29


95 days
24 December 1992
RB


Villarreal CF, Spain


79


3


25th expulsion vs. England
32nd min. for a kick and pulling back on Jack Grealish as he tried to sprint
40th min. for complaining at the referee for not getting a free-kick
21
Bailly, Éric B., off half time
27
351 days
12 April 1994
RCD
Manchester United FC, England
46
2
27
Déli, Simon D.S.
30
153 days
27 October 1991
LCD
Adana Demispor Kulübü, Turkey
23
0
14
Kamara, Hassane
28
24 days
5 March 1994
in Saint Denis, France
LB
Watford FC, England
6
0
19
Pépé, Nicolas, off 45th min.
26
304 days
29 May 1995
in Mantes-la-Joile, France
RM
Arsenal FC, England
34
9
8
Kessié, Franck Y.
25
100 days
19 December 1996
RCM
AC Milan, Italy
58
6
4
Seri, Jean Michaël, off 90th

+3rd

min
30
253 days
19 July 1991
LCM
Fulham FC, England
40
4
33rd min. for slicing down Raheem Sterling as he headed towards the area
15
Gradel, Max-Alain, off 45th min.
34
119 days
30 November 1987
LM
Sivasspor Kulübü, Turkey
96
16
22
Haller, Sébastien R.T., off 86th min
27
280 days
22 June 1994
in Ris-Orangis, France
RF
Amsterdamche FC Ajax, Netherlands
14
4
11
Comet, G.A. Maxwel, off 64th min.
25
183 days
27 September 1996
LF
Burnley FC, England
29
6
Côte d'Ivoire Substitutes

scoreline:

England

2 Côte d'Ivoire 0
5
Agbadou, Emmanuel, on half time for Bailly
24
285 days
17 June 1997
RD
KAS Eupen, Belgium
2
0
6
Boly, Willy-Arnaud Z., on half time for Pépé
31
54 days
3 February 1991
in Melun, France
RM
Wolverhampton Wanderers FC, England
12
1
12
Coulibaly, Fousseny, on half time for Gradel
41
240 days
1 August 1980
LM
Espérance Sportive de Tunis, Tunisia
3
0
3
Konan, Ghislaine N.,on 64th min.

(63:04)

for Cornet
26
92 days
27 December 1995
LF
Stade de Reims, France
19
0
28
Boli, Yohan A.M., on 86th min.

(85:09)

for Haller
28
132 days
17 November 1993
in Arras, France
RF
Al-Rayyan SC, Qatar
12
0
20
Akouokou, E.Paul, on 90th+3rd min.

(92:28)

for Seri
24
99 days
20 December 1997
CM
Real Betis Balompié, Spain
2
0

result:

England 3 Côte d'Ivoire 0
unused substitutes:
1-Abdoul Cissè, 2-Ismaël Diallo,10-Jean Kouassi, 16-Mohamed Konè, 18-Ibrahim Sangaré, 25-Karim Konaté.
records:
4-4-2
Sangare -


Aurier,

Bailly (Agbadou), Deli, Kamara -
Pépé (Boly), Kessie, Serir, Gradel (Coulibaly) -
Haller (Boli), Cornet (Konan)

Averages

(Starting XI)

:

Age
29 years 100 days
Appearances/Goals
40.2
4.5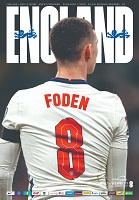 Another friendly match at Wembley, which gave manager Gareth Southgate another pre-World Cup look at his growing squad of players. Tyrick Mitchell and Ollie Watkins started for the first time and altogether there were ten changes from the previous match against Switzerland. Ivory Coast were a new opponent for the Three Lions, and a good game was in prospect at the start.

England seemed content for the visitors to have most of the possession in the early stages, but on six minutes Ben White and Jude Bellingham combined well to put Watkins in, but he was adjudged to be narrowly offside. The England fans were keen to see a more attack-minded home team and a more positive showing than some of the recent games have produced. On eight minutes good approach play from Jack Grealish and Raheem Sterling, who were linking well, gave James Ward-Prowse the chance for a trademark cross. That was cleared to Declan Rice, whose following centre was also cleared away by a determined defending.

There were already signs of some roughhouse tactics from the African side, which seems to be normal when facing sides from that continent, and Sterling, especially, was taking a buffeting. Another free-kick against the Ivory Coast side saw a fine centre in from Ward-Prowse to Tyrone Mings, but the defender's header was deflected wide. Immediately a poor clearance out of defence as Grealish latched on to the ball, but luckily for the Ivory Coast his attempted pass to Sterling was intercepted.

At this stage England were gaining the ascendency with Grealish, Bellingham and Sterling particularly lively and linking well. On 15 minutes Bellingham came so close as an exchange of passes, saw him shoot at the near post, only for goalkeeper, Badra Ali Sangare to deflect the ball wide with his leg. From the corner, Watkins is inches away from a touch at the far post. The pressure was increasing and Bellingham, again to the fore, fed Grealish, who so nearly squeezed another shot in at the near post.

With Rice behind him Bellingham had a free licence to move forward, and he was having a fine match, as was Rice, whose role was different but effective. As the half approached the midway point, the only thing missing from England was a goal their play deserved. A couple of rare Ivory Coast attacks saw Maxwell Cornet crowded out, and then Harry Maguire, ridiculously booed by some fans as his name was read out at the start, cleverly shepherded the ball out for a goal-kick when under pressure from a visiting attacker. Maguire won warm applause for that.

A stifled penalty appeal by England and a Sterling shot that was well blocked by Simon Deli followed. That was a vital stop from the defender, but on the half-hour England finally broke the deadlock. Brilliant footwork by Sterling created a chance to cross close in, and there was Watkins to jubilantly tap the ball over the line for as easy a goal as he is ever likely to score. What a way to celebrate your first start for England. Four minutes later and yet another foul on Sterling gave Ward-Prowse the chance to cross to Rice, but the West Ham player's header lacked pace and direction and was easily saved by Sangare.

It was all happening in the final five minutes of the half, as first Bellingham shot narrowly wide and then, Serge Aurier, the Ivory Coast defender, who had already been booked earlier, received a second yellow card followed by a red, for talking out of turn after questioning the referee as to why he hadn't received a free-kick? Even Grealish pleaded to the referee, but the decision was right. African players do have a tendency to let their lack of discipline get the better of themselves at times.

England then came close again when Grealish and Sterling combined to see the latter's shot blocked, but right on half-time England scored a second goal. Grealish, Watkins and Sterling were all involved and after the keeper parried a shot out to Grealish again, his clever pass gave Sterling the goal his performance on the night deserved. A VAR check was cleared and the visitors went into the break with a mountain to climb, two goals down and a man down. An excellent half for England.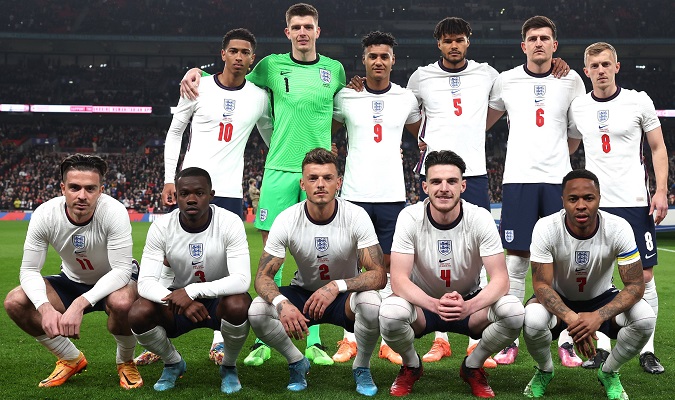 The second-half began with England on top again. Walker-Peters came on for White at the interval and the Ivory Coast made three changes. The visitors were still walking a tightrope with some of their challenges and this was not a game a referee enjoys. Bellingham again bursts through, but held the ball too long before shooting, much to the exasperated Sterling's annoyance. Walker-Peters sees a shot blocked as the hour mark approached, and that time on the clock was the signal for Southgate to make lots of changes. It was like watching the England rugby matches when most of the side is replaced, I don't like seeing it. And how many names do these people want? Smith Rowe, Walker-Peters, Ward-Prowse, all I can say is thank goodness Alexander Arnold, Oxlade-Chamberlain, Hudson-Odoi and Loftus-Cheek were not on the bench! Will we one day see an England team where all the players have multiple names? I don't think I have enough ink in my pen for that!

The game then follows the usual post-mass substitutions pattern by falling a bit flat. The chance to really rub salt in the wounded visitors was lost a little as the pressure dropped off. To be fair the Ivory Coast defended well this half, and England struggled to find gaps. Bellingham was still pulling the strings in midfield, and both Smith Rowe and Ward-Prowse went close to scoring. (Two shots, not four!)

England were very comfortably on top but Nick Pope did have a second touch during the last 15 minutes. With Grealish off now, the attack lacked the flair shown earlier and on 77 minutes a Luke Shaw foul gave the visitors their best chance of the night. From the free-kick by Jean Michael Seri gave Deli a great chance, but his volley was high, wide and not so handsome. England then brought on a sixth substitute (!) with Conor Gallagher replacing Ward-Prowse. One of the other subs was Harry Kane and he missed a couple of good chances as the time ticked away. Phil Foden went close and Smith Rowe also had a go, and won a corner. From that, in the third minute of added time, Foden's kick was headed in by Mings, well, I say headed in, it actually came off his nose, the ball going down into the ground and bouncing high into the net.

And that was it, game over and a very comfortable win for England. The only criticism was that the team still lack the killer instinct when so much on top, and that is something they must work on before the World Cup arrives. Still, all is well, the squad is strong, with lots of options, and there is no reason to fear anyone.