Rank:

FIFA (24th October 2019) 4th
EFO ranking Group One (2nd)
ELO rating 12th
Colours:
The Nike 2018 home uniform

-

White v-necked jerseys with red tri

m on collar, blue shorts, white socks.
Capt:
Harry Kane
(23rd captaincy, 24)
Harry Maguire, 57th min.
Manager:
Gareth Southgate, 49 (3 September 1970), appointed caretaker manager on 27 September 2016, appointed as permanent manager on 30 November 2016.
fortieth match, W 23 - D 9 - L 8 - F 83 - A 33.
England Lineup
1
Pickford, Jordan L.
25
252 dys
7 March 1994
G
Everton FC
final app
2017-19
24
23

GA

2
Alexander-Arnold, Trent

J.

21
38 dys
7 October 1998
RB/

RM

Liverpool FC
8
1
3
Chilwell, Benjamin J.
22
328 dys
21 December 1996
LB
Leicester City FC
10
0
4
Winks, Harry B.
23
285 dys
2 February 1996
CM
Tottenham Hotspur FC
5
0
5
Stones, John
25
170 dys
28 May 1994
CD
Manchester City FC
final app
2014-19
39
2
6
Maguire, J. Harry
26
254 dys
5 March 1993
CD
Manchester United FC
25
1
7
Sancho, Jadon M.
19
234 dys
25 March 2000
RF
BSV Borussia 09 eV Dortmund, Germany
final app
2018-19
11
2
8
Oxlade-Chamberlain, Alexander M.D., off 56th min.
26
91 dys
15 August 1993
RM
Liverpool FC
34
7
9

Kane, Harry E., off 57th min
26
109 dys
28 July 1993
CF
Tottenham Hotspur FC
44
31

10

Mount, Mason T., off 70th min.
20
308 dys
10 January 1999
LM
Chelsea FC
5
0
11
Rashford, Marcus
22
14 dys
31 October 1997
LF
Manchester United FC
37
9

England

Substitutes

scoreline:

England 5 Montenegro 0
19
Maddison, James D. on 56th min.

(55:45)

for Oxlade-Chamberlain
22
356 dys
23 November 1996
RM
Leicester City FC
only app
2019
1
0
22
Bakumo-Abraham, K.O. Tamaraebi, on 57th min.

(56:01)

for Kane
22
43 dys
2 October 1997
CF
Chelsea FC
final app
2019
4
1
15
Gomez, Joseph D., on 70th min

(69:55)

for Mount
22
175 dys
23 May 1997
RB
Liverpool FC
final app
2017-19
8
0

result:

England 7 Montenegro 0

unused substitutes:

12-Kieran Trippier, 13-Nick Pope, 14-Danny Rose, 16-Tyrone Mings, 17-Fikayo Tomori, 18-Declan Rice, 20-Callum Hudson-Odoi, 21-Callum Wilson, 23-Dean Henderson.

records:

The youngest starting XI since the match against Wales in October 1959, beating the previous record set last season against Spain, October 2018.
Harry Kane's hat-trick, his third, is the 88th England hat-trick. It also makes him the record goalscoring captain, overtaking Vivian Woodward.
Aleksandar Šofranac is the 53rd own goal in England's favour.
James Maddison is the 1245th player to earn an England appearance.
4-3-3
Pickford -
Alexander-Arnold, Stones, Maguire, Chilwell -
Oxlade-Chamberlain (Maddison), Winks, Mount (Gomez) -
Sancho, Kane (Abraham), Rashford

Averages (Starting XI):

Age
23.2 (189 days)
Appearances/Goals
22.4
4.4
Rank:

FIFA (24th October 2019)

61st


EFO ranking n/a


ELO rating

76th-78th
Colours:
Made by Legea - Red v-neck collared shirts with red/yellow sleeves, yellow collar with red wings, red shorts with yellow side trim, red socks with yellow hoop.
Capt:
Fatos Bećiraj
Manager:
Faruk Hadžibegić, 62 (7 October 1957 in Sarajevo), appointed 25 July 2019.
fifth match, W 1 - D 1 - L 3 - F 2 - A 13
Montenegro Lineup
12
Mijatović, Milan
32
26 July 1987
G
PFC Levski Sofia, Bulgaria
9
0
7
Vešović, Marko
28
28 August 1991
RB
Legia Warszawa SA, Poland
29
2
Vešović was cautioned in the 33rd min. for Unsporting Behaviour. He kicked the back of Rashford at the corner flag, then moved his head towards him.
20
Šofranac, Aleksander
29
21 October 1990
CD
FK Sutjeska
5
0
22
Simić, Marko
32
16 June 1987
born in Obrenovac, Yugoslavia
CD
Paxtakor Toshkent Fk, Uzbekistan
41
1
3
Radunović, Risto, off 46th min.
27
4 May 1992
LB
AFC Astra Giurgiu, Romania
5
0
8
Hočko, Deni
25
22 April 1994
RM
Royal Excel Mouscron, Belgium
4
0
5
Lagator,

Dušan

25
29 March 1994
CM
PFC Sochi, Russia
3
0
4
Vukčević, Nikola
27
13 December 1991
LM
Levante Unión Deportiva SAD, Spain
39
1
16
Jovović, Vladimir, off 65th min.
25
26 October 1994
RF
FK Jablonec, Czech Republic
31
0
17
Hakšabanović, Sead, off 74th min
20
4 May 1999
born in Hyltebruk, Sweden
CF
IFK Norrköping, Sweden, on loan from West Ham United FC, England
7
0
11
Bećiraj, Fatos
31

5 May 1988


born in Peć, Yugoslavia
LF
Maccabi Netanya FC, Israel
68
9
Montenegro Substitutes

scoreline:

England 5 Montenegro 0

2
Raspopović, Momčilo, on 46th min. for Radunović
25
18 March 1994
RB
HNK Rijeka, Croatia
1
0
23
Janković, Branislav, on 65th min. (64:39) for Jovović
27
8 February 1992
RF
FK Sutjeska
6
0

scoreline:

England 6 Montenegro 0

21

Boljev

ić, Aleksandar, on 74th min.

(73:52)

for Hakšabanović
23
12 December 1995
CF
Royal Standard de Ličge, Belgium
16
0

result:

England 7 Montenegro 0

unused substitutes:

1-Danijel Petković, 6-Boris Kopitović, 9-Stefan

Mugoša

, 13-Matija Šarkić, 14-Nemanja Sekulić, 15-Igor

Vujačić

, 18-Damir Kojašević, 19-Darko Bulato

v

ić, 21-Aleksandar

B

oljev

ić, 23-Branislav Janković.

records:

4-3-3
Mijatović -
Vešović, Šofranac, Simić, Radunović (Raspopović) -
Hočko, Lagator, Vukčević -
Jovović (Janković), Hakšabanović (

B

oljev

ić), Bećiraj

Averages (Starting XI):

Age
27.4
Appearances/Goals
21.9
1.2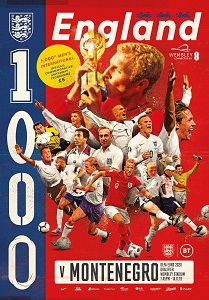 England needed just a point from this match to go through to next year's Euro Finals, and although in reality, there are no easy International matches, this one proved that, occasionally, there is. England won at a canter, and especially in the first-half, the team showed how clinical they can be. They certainly turned on the style in this, the 1,000th England International.





Montenegro began in lively fashion, winning an early corner and pushing forward well. As England grew into the match however, the play settled down to virtual one-way traffic. Alex Oxlade-Chamberlain was in the thick of the action from the start and an early cross was cut out by goalkeeper, Milan Mijatovic. Two minutes later a super run and cross from Jaydon Sancho so nearly reached Harry Kane, only to be thwarted by a terrific last-ditch clearance by Aleksander Sofranac. As England continued to press hard, a Trent Alexander-Arnold cross was again cut out by the overworked Montenegro defence. On 11 minutes though, England took the lead, and it was a fine goal too.





Ben Chilwell, on a forward run, sent a delightful chipped pass out to Oxlade-Chamberlain, unmarked on the right. The Liverpool player showed his club form and confidence by taking one touch, before then drilling a right-foot shot into the far corner. It was a good build up, lovely pass, and great finish, a super goal all round.





The pressure continued from England as another good run and cross from Sancho was saved by the keeper after Kane's weak header did not trouble him. Just to make sure England were concentrating, a good break from Marko Vesovic was only stopped at the expense of a corner, a reminder to England's defence that they still had to be alert, even though they were dominating the play. A minute later and a fine England move almost brought goal number two. This time Kane was the provider as he and Oxlade-Chamberlain combined to send Marcus Rashford bursting into the box. He hit a hard drive which the goalkeeper blocked with his chest to divert the ball for a corner. Moments later, and England won a free-kick on the left. Chilwell took the kick and there was Kane, running in unmarked to head home from close range. It was a well-taken goal, but woeful defending from the Montenegro players, who were all at sea, and becoming more and more overwhelmed by England's attacking power.





Every now and again though, the visitors made a lively break, and in one move down the right, Rashford's pace came in handy as he tracked back to stop a promising burst. However, it was already clear that there was only going to be one outcome in this match and on 24 minutes England added a third goal. Once again it was Chilwell, with a hat-trick of assists, this time taking a corner, which was headed home by Kane. The Tottenham striker was really starting to enjoy this match and had now boosted his England goals tally to go equal with England legends Tom Finney, Nat Lofthouse and Alan Shearer on 30 goals.





In the 27th minute, Chilwell was involved again, this time at the other end. He gave away a free-kick out on the right-wing and from the cross Marko Simic put in a fine header. Somehow though, Jordan Pickford, who had hardly touched the ball thus far, dived to his left to pull of a fantastic save, tipping the ball around the post.





After that slight scare, England were quickly back on the attack. The pass of the night from Alexander-Arnold to Sancho, down the right, helped win a corner. The corner was played short and found Oxlade-Chamberlain sending over another inviting cross. It was met by Harry Maguire and his header was brilliantly blocked by Mijatovic, but the ball rebounded out to Rashford, who quickly adjusted his feet, sent defenders the wrong way, before planting a fine shot into the far corner. Another fine goal and one the Manchester United player deserved as he had been a real handful for the visiting defence.





Frustration started to get the better of Montenegro and one minor confrontation between Rashford and Vesovic ended with both players being booked. England continued to push forward, and it was so easy for them, winning possession back quickly each time they lost the ball. Harry Winks was doing some fine work in midfield, hustling and bustling to win the ball. Kane shot well wide in one attack but the striker was not to be denied and on 37 minutes he completed his hat-trick with another terrific goal. Alexander-Arnold's cross was deflected to Kane right in front of goal. A lovely touch, and as a defender dived in from his left, Kane turned the ball back the other way to beat the goalkeeper again. It was a very clever goal by Kane and he is now in clear sixth place in the all-time goalscoring list, a fitting record for this special night.





As good as England are going forward they are still prone to the odd lapse at the back and with five minutes of the half left Montenegro should have pulled a goal back. A through pass split the two England defenders John Stones and Maguire, leaving a clear run on goal for Fatos Beciraj. He really should have scored but Pickford stood tall and the forward shot straight at him, the ball bouncing clear off the keeper's hands and chest. The follow-up attempt was fluffed and the chance was lost. The first-half ended with one more shot by Rashford deflected wide and a 5-0 half-time score was no less than England deserved.





As often happens in these sort of one-sided games, the half-time break largely put an end to the excitement. You always know that when the crowd start a Mexican wave! A quiet start to the half, but with England still dominating possession. On 55 minutes it looked as though Mason Mount was to register his first England goal after Kane's shot was sa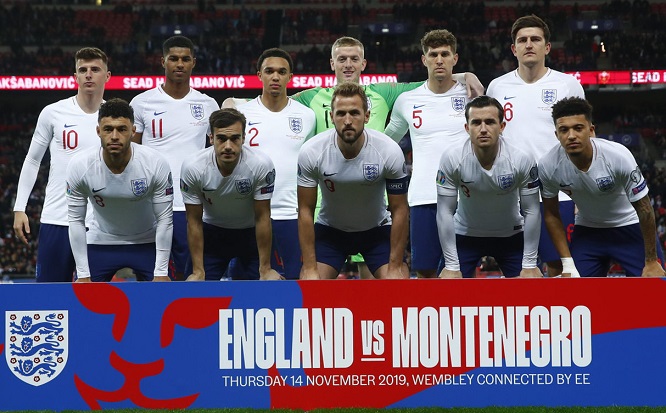 ved and Mount forced home the rebound. Unfortunately the Chelsea man was flagged offside, much to his obvious disappointment.





Time for changes as Oxlade-Chamberlain and Kane were applauded off and on came James Maddison and Tammy Abraham to replace them, Maddison making his debut. On 62 minutes Maguire headed yet another Chilwell corner over the bar, but four minutes later a powerful run by Rashford saw the ball evade Sancho, fall to Mount, who scuffed his shot, only to then see Sofranac crash his attempted clearance past his own goalkeeper! That was the last thing the visitors needed and England began to create lots of chances again. Mount went off to be replaced by Joe Gomez, who was quite unfairly and unnecessarily booed by a section of the crowd, for what reason only those morons that did it could tell you. Sometimes you do wonder about football fans, do they never learn?





England continued to push forward, although, understandably, without quite the same intensity as in the first-half, but on 84 minutes they added a seventh goal. Once more Chilwell began the move with a pass to Sancho. The winger ran to the bye-line before pulling the ball across goal for Abraham to score his first England goal, continuing his fine club form this season. And that was the last positive action of the game. England had done the job more effectively than anyone could have asked. They played some lovely football, scored some wonderful goals and have qualified for next year's finals with a game to spare. Who could ask for more in this very special 1,000th game?