Match Summary
Officials

from Italy

England Squad

Type

Switzerland Squad

Referee (navy) - Gianluca Rocchi
42, (25 August 1973), Firenze, FIFA listed 2008.

Assistant Referees - Elenito

Giovanni

Di Liberatore

, 42 (17 January 1973), Teramo, and

Gianluca Cariolato, 43 (24 April 1972).
Fourth official - Mauro Tonolini, 42 (30 March 1973), Milano.

Additional Assistant Referees - Luca Banti

, 41 (27 March 1974), Livorno,

and Antonio Damato, 43 (15 August 1972), Barletta.
UEFA Referee Observer - Eugen Strigel, Germany
UEFA Delegate - Joao Moraia, Portugal.



Romeo Beckham, son of David, was one of the England mascots tonight

.

7
Goal Attempts
1
16
Attempts on Target
9
0
Hit Bar/Post
0
3
Corner Kicks Won
8
0
Offside Calls Against
6
14
Fouls Conceded
11
49%
Possession
51%

England Team
Rank:

FIFA (3 September 2015) 10th
EFO ranking Group 3
ELO rating 8th to 7th
Colours:
The Nike 2014 home uniform

-

White v-necked jerseys with shadowed pinstripes and silvery white trim, white shor

ts with silvery white trim, white socks.
Capt:
Wayne Rooney
(14th

(22)

captaincy (1

2)

)
Manager:
Roy Hodgson, 68 (8 August 1947), appointed 1 May 2012,
43rd match, W 25 - D 13 - L 5 - F 89 - A 32.
England Lineup
1

Hart,

C.

Joseph

J.

28
142 days
19 April 1987
G
Manchester City FC
54
37ᵍᵃ
2
Clyne, Nathaniel E., off 68th min.
24
156 days
5 April 1991
RB
Liverpool FC
7
0
3

Shaw, Luke P.H.
20
58 days
12 July 1995
LB
Manchester United FC
6
0
4
Shelvey, Jonjo, off 57th min.
23
193 days
27 February 1992
CM
Swansea City AFC
3
0
5
Cahill, Gary J.
29
263 days
19 December 1985
CD
Chelsea FC
37
3
6
Smalling, Christopher

L.

25
290 days
22 November 1989
CD
Manchester United FC
19
0

71st minute following an ongoing running tustle with Xerdan Shaqiri.

7
Milner, James P.
29
247 days
4 January 1986
RM
Liverpool FC
56
1

28th minute following a mis-timed challenge that brought down Lichtsteiner.

8
Delph, Fabian, injured off 2nd min.

(1:59)

25
291 days
21 November 1989
LM
Manchester City FC
8
0
9
Sterling, Raheem S.
20
274 days
8 December 1994
in Kingston, Jamaica
LF
Manchester City FC
17
1

the 47th City player to represent England

10

Rooney, Wayne M.
29
319 days
24 October 1985


CF


Manchester United FC
107
49

(

6

)

the 79th penalty kick scored, 11th in-a-row

.

second player to score 49 goals




scored in a record fortieth match

=

most




goals

scored in 7 successive comp. matches

(record)

11
Oxlade-Chamberlain, Alexander M.D.
22
24 days
15 August 1993
RF
Arsenal FC
22
4
England Substitutes
20
Barkley, Ross, on 3rd min.

(2.40)

for Delph
21
277 days
5 December 1993
LM
Everton FC
15
3
1
12
18
Kane, Harry E., on 57th min.

(56:55)

for Shelvey
22
42 days
28 July 1993

CF

Tottenham Hotspur FC

4

1
3

3
the 83rd substitute goal to be scored
scoreline: England 1 Switzerland 0
15
Stones, John, on 68th min.

(67:54)

for Clyne
21
103 days
28 May 1994
RB
Everton FC
6
3
0
3
result: England 2 Switzerland 0
unused substitutes:
12-Kieron Gibbs, 13-Jack Butland, 14-Theo Walcott, 16-Phil Jagielka, 17-Jamie Vardy, 19-Ryan Mason, 21-Tom Heaton.
team notes:
Alex Oxlade-Chamberlain's father, Mark Chamberlain, also played for England (1982-84).
goalcorers records:
The fact is, Wayne Rooney only scored one goal against Switzerland in Euro 2004, not two. The second clearly an own goal off Jörg Stiel's head after Rooney's shot hit the post and rebounded into play. So this goal, celebrated by himself and the entirety of the media, including our very own Mike Payne (see bottom of page) as his record breaking fiftieth goal, is only his 49th England goal
substitute records:
The seventeenth goal by a substitute at the new National Stadium. The 29th goal scored by a substitute in qualification history.
Stadium records:
Wayne Rooney has now made a record 32 appearances in 46 England's home matches at the National Stadium, beating the previous record set by Steven Gerrard.
Rooney also extends his tally as the record goalscorer at the National Stadium, now eighteen. He also becomes the first player to score in five consecutive matches at the National Stadium.
Roy Hodgson was manager of the Switzerland national team from January 1992 until November 1995. In fact his final match in charge of the Swiss was against England.
4-3-3
Hart -
Clyne (Stones), Cahill, Smalling, Shaw -
Milner, Shelvey (Kane), Delph (Barkley) -
Oxlade-Chamberlain, Rooney, Sterling

Averages

(Starting XI)

:

Age
25 years 173 days
Appearances/Goals

30.5

5.3

Switzerland Team
Rank:

FIFA (3 September 2015) 17th
EFO ranking n/a
ELO rating =18th to 20th
Colours:
Made by Puma - Red crew neck jerseys with white side pinstripe/cuffs, red shorts with white sidestripe, red socks with white vertical pinstripe.
Capt:
G�khan İnler
Manager:
Vladimir Petković, 52 (15 August 1963 in Yugoslavia), appointed 13 July 2014
11th match, W 6 - D 2 - L 3 - F 22 - A 11.
Switzerland Lineup
1
Sommer, Yann
26
265 days
17 December 1988
G
Borussia VfL 1900 Mönchengladbach, Germany
10
0
2
Lichtsteiner, Stephan
31
235 days
16 January 1984
RB
Juventus FC, Italy
77
5
4
Klose, Timm
27
122 days

9 May 1988


in Frankfurt, West Germany
CD
VfL Wolfsburg, Germany
11
0
22
Schär, Fabian L.
23
103 days
20 December 1991
CD
FC Basel 1893
15
5
13
Rodríguez Araya, Ricardo I.
23
14 days
25 August 1992
LB
VfL Wolfsburg, Germany
32
0

10

Xhaka, Granit
22
346 days
27 September 1992
RM
Borussia VfL 1900 Mönchengladbach, Germany
38
6
6
İnler, Gökhan
31
73 days
27 June 1984
CM
Leicester City FC, England
85
6
11
Behrami, Valon, off 79th min.
30
142 days
19 April 1985
in Mitrovića, Yugoslavia
LM
Watford FC, England
61
2
23
Shaqiri, Xherdan
23
333 days
10 October 1991
in Gjilan, Yugoslavia
RF
Stoke City FC, England
48
17
19

Drmić

, Josip, off 63rd min.
23
31 days
8 August 1992
CF
Borussia VfL 1900 Mönchengladbach, Germany
22
8
14
Stocker, Valentin, off 72nd min.
26
149 days
12 April 1989
LF
Hertha, Berliner SC von 1892, Germany
31
5
Switzerland Substitutes
7
Embolo, Breel-Donald, on 63rd min

(62:45)

for

Drmić

18
206 days
14 February 1997
in Yaounde, Cameroon
CF
FC Basel 1893
5
0
scoreline: England 1 Switzerland 0
9
Seferović, Haris, on 72nd min.

(71:37)

for Stocker
23
198 days
22 February 1992
LF

Eintracht Frankfurt

, Germany

25
5
15
Džemaili, Blerim, on 79th min.

(78:50)

for Behrami
29
149 days
12 April 1986
in Tetovo, Yugoslavia
LM
Galatasaray SK, Turkey
44
5
result: England 2 Switzerland 0
unused substitutes:
3-François Moubandje, 5-Steve von Bergen, 6-Silvan Widmer, 12-Marwin Hitz, 16-Gelson Fernandes, 17-Pajtim Kasami, 18-Admir Mehmedi, 20-Fabian Lustenberger, 21-Roman B�rki.

records:

Switzerland have now only beaten England once in 21 attempts.
4-3-3
Sommer -
Lichsteiner, Klose, Schär, Rodríguez -
Xhaka, Inler, Behrami (Džemaili) -
Shaqiri, Drmić (Embolo), Stocker (

Seferović

).

Averages

(Starting XI)

:

Age
26 years 147 days
Appearances/Goals

39.1

4.9
Match Report by Mike Payne [ed: This report is based on the incorrect fact that Rooney finally scored his fiftieth goal]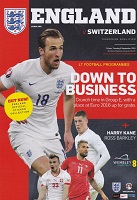 When the European Championship group fixtures came out, everyone assumed that this match could be the crunch game to see who qualifies from the group, and who actually wins it. As it has turned out England have already qualified with ease and this match at Wembley had just two further points to decide. One was to see if England could keep their 100% record intact and the other was to see if Wayne Rooney could score the one goal he needed to break Bobby Charlton's long-standing goalscoring record. In the end both missions were accomplished.





The match began with both sides feeling each other out, although England's pre-match game plan was immediately altered when, after his first sprint, Fabian Delph unluckily pulled up with a Hamstring injury. Ross Barkley was sent on and England passed the ball around at a leisurely pace. A corner taken by James Milner saw Gary Cahill have a free downward header in the 6th minute, and Rooney nearly managed to flick the ball in. Apart from that most of the play was confined to the midfield, although Luke Shaw made some good runs down the left. From one good cross Alex Oxlade-Chamberlain shot over. The next chance came from Rooney as Milner sent the striker away. Rooney only had one thought in mind and tried to curl a shot in at the far post, unfortunately not quite executing it properly and sending it wide.





Switzerland seem to have a plan to shut down England's right hand side, and they particularly closed down on Nathaniel Clyne, catching the full-back in possession a couple of times. But the cover was there and Chris Smalling looked especially sharp and he cut out any danger with some good interceptions.





On the 20 minute mark England fashioned their best chance to date. A long clearance by Smalling found the marauding Rooney moving forward at pace. He laid the ball into the path of the supporting Milner and his left-foot shot was well saved by Yann Sommer. In the main England's defenders coped well with the weak attacking threat posed by the Swiss and Joe Hart was untroubled in the first half hour. Milner was booked for an untidy challenge after his control let him down and then Hart was finally called into action, swiftly moving off his line to save at Xherdan Shaqiri's feet as the 'dead ringer for Harry Enfield' threatened to pounce.





The game then meandered along for a while before Switzerland created their best chance of the match. Josip Drmic found himself away on the right on the edge of the box and with a clear sight of goal. Unfortunately he messed up his shot and the ball was dragged wide, but it was a warning to England. Overall it had been a poor half with both sides below par and not really extending themselves. 0-0 suited the Swiss but the crowd wanted a little more from England.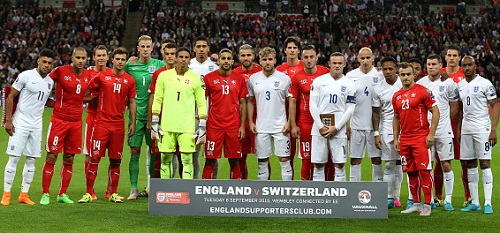 Barkley forced an early corner after the restart and straightaway you sensed a little more purpose about England's play. A lovely turn of pace from Oxlade-Chamberlain took him past Ricardo Rodrigues and the winger's clipped ball back from the bye-line was met by a looping header from Rooney. It was a routine save for Sommer although England continued to press. Clyne, who had recovered from his slightly shaky start, sent in another good cross into the box, which was cleared, and all the home players were showing just a little more urgency about their game.





Switzerland, meanwhile, were looking to break quickly when the opportunity arose, but the England defence coped well and snuffed out any danger with some good tackling and interceptions. But a Swiss corner almost broke the deadlock on 56 minutes when a firm, glancing header by Granit Xhaka was blocked by a scrambling Hart at his near post. After that near miss manager Roy Hodgson decided to bring on Harry Kane for the slightly subdued Jonjo Shelvey, to try and pep up the attack. The Tottenham striker soon made his intentions clear when he fired in a long range shot that brought Sommer to his knees to save. Finally, on 67 minutes, Kane's introduction made the difference.





A lovely through ball by the impressive Milner found Kane out wide on the right. He pulled the ball back inside to Barkley who quickly shifted it on to Rooney. The skipper spotted theer-willing run of Shaw on his left and fed the ball to him. Shaw's cross was clever as he pulled it back a bit further away from the back-pedalling defenders, and there was Kane coming in from the right to hit a super left-foot shot wide of the flat-footed Sommer. It was a terrific goal by England, and who said Harry Kane was out of form? That's two from two for him in an England shirt this season and it was a goal to be really proud of.





Hodgson then made another substitution, bringing on John Stones for Clyne, before Smalling was unluckily booked when Shaqiri was leaning all over him and then went down in a heap. Shaquiri's resultant free-kick was blocked before good work by Milner and Stones cleared the danger. The Swiss did up their tempo for a while and forced a few corners and from one Shaqiri shot wide from a good position. But England were coping well at the back with Smalling excellent and Cahill his usual composed self. With just seven minutes to go England not only clinched the result but also gave the crowd the moment they had all been waiting for.





A good flicked pass by Oxlade-Chamberlain gave Raheem Sterling possession and the speedy winger darted between two defenders. Xhaka stuck out a foot and it was a clear trip on the Manchester City winger. Penalty! Again, there was never any doubt as to who would take the spot-kick, but it was noticeable how Rooney composed himself just a little longer than usual for what was to be a momentus kick. Sommer managed a touch but the crowd erupted when they saw the ball nestle safely in the back of the net for a truly remarkable 50th time from the England captain. Unsurprisingly there was more than a hint of emotion in Rooney's face as he looked to the heavens and realised just what he had achieved. For 45 years Bobby Charlton has been the proud holder of the wonderful goalscoring record for England, but not anymore. I wonder how many years it will be before Rooney's eventual total (he's certainly not finished yet) will be eclipsed?





In the remaining minutes Hart saved from a free-kick, but the Swiss were a spent force by now and in the end it was a comfortable three points for England. It was not a game that will live long in the memory for the excitement, but, of course, it will always be remembered for that one moment that changed the history of English international football. Well done Wazza, for a magnificent achievement!


Source Notes
TheFA.com
BBC Sport
RateTheRef.com


Mike Payne - football historian and contributor
cg