Current European Champions

Colours
Made by Adidas - Blue crew-necked marble-print jerseys with blue/gold collar & cuff and white Adidas shoulder trim, blue shorts with white Adidas side trim, blue socks with white Adidas trim.
Rank
FIFA (22 December 2022) 8th


EFO ranking

Group 6




ELO rating

7th to =10th

Captain
Marco Verratti
Gianluigi Donnarumma 88:08
Manager
Roberto Mancini
58 (27 November 1964), appointed 14 May 2018.

58th match, W 35 - D 15 - L 8 - F 117 - A 41.

Italy

Lineup
1
Donnarumma, Gianluigi
24
26 days
25 February 1999
GK
Paris Saint Germain, France
51
37ᵍᵃ
2
Di Lorenzo, Giovanni
29
231 days
4 August 1993
RB

SSC Napoli

26

3

53rd min. for complaining at the referee after Berella was caught by Rice
3
Tolói, Rafael
32
164 days
10 October 1990
in Glória d'Oeste, Brazil
RCD
Atalanta BC
11
0
15
Acerbi, Francesco
35
41 days
10 February 1988
LCD

FC Internazionale Milano, on loan from SSC Napoli

29

1

Injury time for upending Harry Kane halfway inside the England half
4
Spinazzola, Leonardo
29
363 days
25 March 1993
LB
AS Roma
22
0
18
Barella, Nicolò, off 62nd min.
26
34 days
17 February 1997
RM
FC Internazionale Milano
43
8
8
Jorginho, off 69th min.
31
93 days
20 December 1991
in Imbituba, Brazil
DM

Arsenal FC, England

47

5

61st min. for a foul on Harry Kane as he turned to sprint away from his area
6
Verratti, Marco, off 88th min.
30
138 days
5 November 1992
LM
Paris Saint Germain, France
52
3
11
Berardi, Domenico, off 62nd min.
28
234 days
1 August 1994
RF
US Sassuolo Calcio
25
6
19

Retegui, Mateo
23
329 days
29 April 1999
in San Fernando, Argentina
CF
CA Tigre, Argentina, on loan from CA Boca Juniors, Argentina
1
1
10

Pellegrini, Lorenzo, off 69th min.
26
277 days
19 June 1996
LF
AS Roma
25
5

Italy

Substitutes

scoreline:

Italy 1 England 2

17
Politano, Matteo, on 62nd min.

(61:29)

for Berardi
29
232 days
3 August 1993
RF
SSC Napoli
9
3
16
Cristante, Bryan, on 62nd min. for

(61:33)

Barella
28
20 days
3 March 1995
RM
AS Roma
30
2
7
Gnonto, D. Wilfried

, on 69th min. (68:15) for Pellegrini

19
138 days
5 November 2003
LF
Leeds United FC, England
9
1
20
Tonali, Sandro, on 69th min.

(68:23)

for Jorginho
22
319 days
8 May 2000
CM
AC Milan
13
0
9
Scamacca, Gianluca, on 88th min

(87:47)

for Verratti
24
81 days
1 January 1999
LM
West Ham United FC, England
10
0

result:

Italy 1 England 2

unused substitutes:
5-Matteo Darmian, 12-Matteo Pessina, 13-Emerson, 14-Giorgio Scalvini, 21-Wladimiro Falcone, 22-Alex Meret, 23-Alessio Romagnoli.
team notes:
Italy play in Naples for the first time in nine years.
Striker Mateo Retegui is the son of Carlos Retegui, an Argentinian hockey star of the 1996-2004 Olympic Games, and coach at 2012-16. Winning Gold in Rio 2016.
records:
This loss ended a run of fourteen ECP victories back to September 2015, and an unbeaten run of forty ECP matches, having suffered their previous loss to France in September 2006.

Head Coach Robert Mancini was an unused substitute for Italy in their

November 1989 friendly meeting against England

.

4-3-3
Donnarumma -
Di Lorenzo, Tolói, Acerbi, Spinazzola -
Barella (Cristante), Jorginho (Tonali), Verratti (Scamacca)-
Berardi (Politano), Retegui, Pellegrini (Gnonto)

Averages

(Starting XI)

:

Age

28

years 343 days
Appearances/Goals

30.2

2.6
Rank
FIFA (22 December 2022)

5th


EFO ranking Group Two
ELO rating 8th to 7th
Colours
The Nike 2022 home jersey

-

White crew-necked jerseys

with dark to light blue

fury gradient sleeves, fury/void cuffs, white shorts, white socks with fury/void thin hoop.
Captain
Harry Kane
Manager
Gareth Southgate, 52 (3 September 1970), appointed caretaker manager on 27 September 2016, appointed as permanent manager on 30 November 2016.
⁴⁶

most goals as captain

56th of 63, W 33 - D 12 - L 11 - F 126 - A 48.

P 82nd of 91, W FIFTY - D 18 - L 14 - F 176 - A 58

England

Lineup

two changes on the previous match (Phillips & Grealish for Henderson & Foden)
league position (16th March)

1
Pickford, Jordan L.
29
16 days
7 March 1994
G
Everton FC

(PL 15th)

51
39ᵍᵃ
2
Walker, Kyle A.
32
299 days
28 May 1990
RB

Manchester City FC

(PL 2nd)



74

0

71st min. for timewasting after choosing a different ball at a throw-in
5
Stones, John
28
299 days
28 May 1994
RCD
Manchester City FC

(PL 2nd)

65
3
6
Maguire, J. Harry
30
18 days
5 March 1993
LCD

Manchester United FC

(PL 3rd)



54

7

57th min. after a foul on Nicolò Barella in the lead up to Italy's only goal
3

Shaw, Luke

P.H.

27
254 days
12 July 1995
LB

Manchester United FC

(PL 3rd)





29

3

20th player to be sent off for England



78th min. for timewasting for not taking a throw-in quick enough for the referee.




80th min. for a foul after bringing down Mateo Retegui on the turn

(78:07).

S

USPENDED

8
Phillips, Kalvin M.
27
111 days
2 December 1995
RM
Manchester City FC

(PL 2nd)

26
0
4
Rice, Declan
24
68 days
14 January 1999
CM

West Ham United FC

(PL 17th)

40
3
29th min. for timewasting after offering the free-kick to be taken by Maguire
the 92nd player to reach 40-app

(fifth youngest)

10
Bellingham, Jude V.W

.

, injured off 86th min.
19
267 days
29 June 2003
LM
Bsv Borussia 09 Dortmund, Germany
23
1
7

Saka, Bukayo A.T., off 86th min.
21
199 days
5 September 2001
RF
Arsenal FC

(PL TOP)

25
7
9
Kane, Harry E.
29
238 days
28 July 1993
CF
Tottenham Hotspur FC

(PL 4th)

81
54

¹⁸

the 104th penalty-kick scored

(142)

11
Grealish, Jack P., off 69th min.
27
194 days
10 September 1995
LF
Manchester City FC

(PL 2nd)

30
2

the 129th player to reach the 30-app milestone

England Substitutes

scoreline:

Italy 1 England 2

20
Foden, Philip W., on 69th min.

(68:33)

for Grealish, tactically off 81st min.
22
299 days
28 May 2000
LF
Manchester City FC

(PL 2nd)

23
16
3
7
12
Trippier, Kieran J., on 81st min.

(80:56)

for Foden
32
185 days
19 September 1990
LB
Newcastle United FC

(PL 5th)

41
33
1
8
17
James, Reece T., on 86th min.

(85:27)

for Saka
23
105 days
8 December 1999
RM
Chelsea FC

(PL 10th)

16
10
0
6
final app 2021-23
19
Gallagher, Conor J., on 86th min.

(85:54)

for Bellingham
23
45 days
6 February 2000
LM
Chelsea FC

(PL 10th)

5
2
0
3
result:

Italy 1 England 2

unused substitutes:
13-Aaron Ramsdale, 14-Jordan Henderson, 15-Eric Dier, 16-Ben Chilwell, 18-Marc Guéhi, 21-James Maddison, 22-Fraser Forster, 23-Ivan Toney.
team notes:
England's first return to the stadium since 1 July 1990, when they beat Cameroon.
This is the first time that the two nations have met in the qualification stages of the European Championship, having met three times in the Finals, and therefore, England's first EC victory over them.
It is only England's second competitive victory over Italy and the first compet

itive victory

in Italy.
This is England's 26th visit to the country of Italy, equal with their visits to France. A non-home nations record.
Jack Grealish's great great grandfather,

Billy

Garraty, also played for England in 1903.
manager notes:
Bobby Robson's 82nd match as England manager was also against Italy, in November 1989, a scoreless draw.
Southgate is now equal with Walter Winterbottom in managing England a record five times against Italy, and this is Southgate's first victory over the Azzurri.
sending-off notes:
Luke Shaw, the twentieth expulsion in England's history, is the eighteenth player to be sent-off.
The first player sent off in a European Championship match since Wayne Rooney in October 2011.
The first Manchester United FC player sent off since Harry Maguire against Denmark, October 2020.
It is, however, the first time England have gone on to win a match at an away venue with only ten men.
And the first time England have had a play sent-off against the reigning European Champions.
records:
This is England's first victory over Italy in the host country since 1961.
The 31st match against Italy is England's ninth victory.
Harry Kane's 54th goal, now two clear of Wayne Rooney, has now scored 20 European Championship goals, a new record, and one clear of Rooney.
Following Harry Kane's goal, Tottenham Hotspur FC players have now scored a record-equaling 257 goals of the 2288 scored by England, equal with Manchester United FC players.
Manager Gareth Southgate played for England against Italy in the Le Tournoi victory in June 1997 (he had been an unused substitute in the friendly four months earlier). He also played in the friendly defeats in November 2000 and March 2002.
4-3-3
Pickford -
Walker, Stones, Maguire,

Shaw

-
Phillips, Rice, Bellingham (Gallagher) -
Saka (James), Kane, Grealish (Foden (Trippier))


notes: when Trippier replaced Foden he took up the left-back position

Averages

(Starting XI)

:

Age

27

years 47 days
Appearances/Goals

45.3

7.1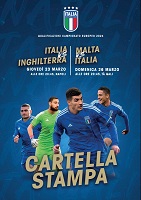 England's first match of the New Year couldn't have been harder than a trip to Naples to face Italy, a country where England hadn't won since 1961. Gareth Southgate chose an interesting line-up with Declan Rice, Jude Bellingham and Kalvin Phillips being the midfield trio. It was soon obvious that the three would have to do plenty of running.

Italy began on the front foot in the opening ten minutes, but England were up for the task and broke cleverly when they had the chance. Indeed, it was Bellingham who had a good shot, just over, early on. The defence was looking solid, but that couldn't be said of the Italians, who, for years, have based their game on a strong defence. England were finding gaps and on 13 minutes, after a surge, again by Bellingham, the midfielder hit a fierce shot which was brilliantly tipped over by the Italian goalkeeper, Gianluigi Donnarumma. From the corner though, England took the lead. Bukayo Saka took the kick and the ball reached Harry Kane, unmarked at the far post. He quickly fired in a shot that was blocked, but the ball ran free to Rice, who powered home with his left foot. It was a well taken goal, but the defending was very un-Italian.

England continued to attack well, and swiftly, and on 17 minutes a break down the left saw Luke Shaw put in a good cross, but again the keeper was equal to it. Three minutes later, Rice went on a marauding run before finding Kane on the right. His fierce cross just needed a touch, but despite Bellingham's lunge, the midfield player couldn't quite find that touch. At this stage the game was fast and furious, but if there was one worry about England's game, it was the continual fiddling about passing in their own box between goalkeeper and defenders. How many times this season, have we seen sides make a mistake with this ploy and give goals away? It seems a bit precarious at times, as it did here.

On 24 minutes Kane, who was playing really well, did some superb work on the right that only won a throw-in, when it deserved better. Italy were definitely rattled and Nicolo Barella showed his contempt at one decision by the referee. However, it was Rice, who unfairly in my opinion, was given a yellow card for delaying the free-kick. England still held the upper hand though and Phillips was so unlucky with one shot, just after the half-hour, which fizzed just the wrong side of the left-hand post.

The Italians are renowned for their tough tackling and some of the England players were given the treatment a few times, without punishment from the ref by the way. In fact, the official seemed to be struggling to recognise when it was a foul or not. Good work down the right between Kyle Walker and Saka so nearly created another opening before the Italians cleared the danger. On 39 minutes, a rare Italian attack saw Leonardo Spinazzola first have his shot blocked by John Stones, before blazing the rebound over the crossbar. Another strong break by Rice a minute later, enabled him to win another corner, taken by Saka.

The deep cross again reached Kane but as Giovanni Di Lorenzo challenged, the ball struck his arm and the England players screamed for a penalty. In the end, after what seemed like ages, the referee viewed the incident on a VAR replay. As he returned to the pitch, he made the sign and pointed to the spot. Penalty to England!

Was there ever a more dramatic moment in Harry Kane's career? Well, yes, there was, just a few months earlier in the World Cup when he missed his penalty to leave France with victory. Was this the chance to make amends? Of course it was, and Kane was never going to pass up this opportunity to break Wayne Rooney's England scoring record. Kane, with nerves of steel, tucked away the perfect spot-kick, sending the keeper the wrong way and registering a record 54th goal for his country. Then, right on the half-time whistle, England had a brilliant chance to make it 3-0. Saka again did well down the right before finding Kane out wide. His pull-back was perfect to Jack Grealish coming in at the far post. Somehow, though, Grealish miscued his shot and the ball went wide of an open goal. As the players went off for the break, one wondered if that miss may come back to haunt England.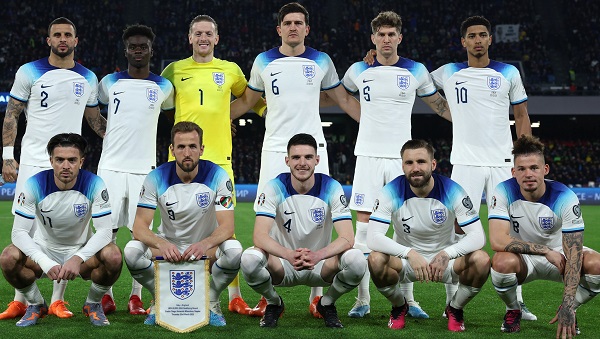 Italy's manager made changes upon the restart, and it seemed that the home side had come out with a new determination. They won an early corner, which Jordan Pickford flapped away for another, but from the second one, the goalkeeper managed a positive punch and the ball was cleared. Tempers were a little frayed by now as decisions went against both teams, and [Di Lorenzo] picked up a yellow card, for what, I'm not sure. On 50 minutes Lorenzo Pelligrini shot over from a good position and you sensed that England were being put on the back foot a great deal more this half. Sure enough, on 56 minutes the Italians pulled a goal back. Harry Maguire, so solid up to that point, sent a careless pass out of defence straight to a blue shirt. The ball reached Pelligrini, and his clever reverse pass found Mateo Retegui, completely unmarked, and he shot confidently past Pickford. Italy's tails were now well and truly up.

England were not getting forward nearly as much since the break and they somehow needed to assert their authority again. To be fair to Italy, they didn't give England the chance as they pressed and fought for every ball. England had to stand strong and defend well, and this they did. For all their pressure Pickford had little to do. A rare break on 67 minutes saw Saka show some great dribbling and control, and his cross to the middle was just begging for someone to score, but alas, there was no-one there as the ball came in.

Italy's changes were having a good effect on their team and Southgate sent on Phil Foden to replace Grealish to try and reverse the pressure a little. Kane continued to be targeted by the Italians, but he was causing all sorts of problems for the home defenders. Sometimes his goalscoring prowess overshadows his all-round game, and he was outstanding in this one. On 77 minutes a dangerous cross was cleared but then Shaw was booked for time wasting at a throw-in. Foolishly, Shaw then dived in recklessly for a tackle, which of course, the Italian player made the most of, and the referee produced a second yellow and then a red card for the Manchester United defender. England were now really up against it. Foden was immediately taken off to be replaced by Kieran Trippier, in an effort to shore up the defence and then shortly after that, Conor Gallagher and Reece James were brought on for Bellingham, who was limping, and Saka. As the end of the game was in sight, you couldn't help thinking, as us regular England watchers often do, that the inevitable equaliser would soon come. But no, England continued to defend superbly and Pickford was largely untroubled in this period of intense pressure. Hearts were in mouths when an Italian forward went down in the box under pressure from Trippier, but nothing was given and England survived an extra five minutes to record a famous victory against one of their oldest foes. In the end it was a thoroughly deserved win.