Current World Champions

Colours
Made by Nike - Midnight navy crew-necked jerseys, white shorts, red socks.
Rank
FIFA (6th October 2022) 4th
EFO ranking Group One (2nd)
ELO rating 5th
Captain
Hugo Lloris
Manager
Didier Claude Deschamps
54 (15 October 1968), appointed 8 July 2012


119th captaincy

137th match, W 88 - D 27 - L 22 - F - A .

France

Lineup
1
Lloris, Hugo H.D
35
349 days
26 December 1986
GK
Tottenham Hotspur FC, England
143
0
5
Koundé, Jules O.
24
28 days
12 November 1998
RB
FC Barcelona,

Spain

16
0
4
Varane, Raphaël X.
29
229 days
25 April 1993
RCD
Manchester United FC,

England

91
5
18
Upamecano, Dayotchanculle O.
24
44 days
27 October 1998
LCD
FC Bayern München, Ge

rmany

11
1
22
Hernandez, Théo B.F.
25
65 days
6 October 1997
LB

AC Milan, Italy

11


1


82nd min. for shoving Mason Mount in his back (79:42).

P

ENALTY

8

Tchouaméni, Aurélien D.
22
317 days
27 January 2000
RDM
Real Madrid CF,

Spain

19
2
14
Rabiot, Adrien T.M.
27
251 days
3 April 1995
LDM
Juventus FC,

Italy

34
3
11
Dembélé, M. Ousmane, off 79th min.
25
209 days
15 May 1997
RAM

FC Barcelona, Spain

33

4

46th min. for a late tackle on a sprinting Jude Bellingham.
7

Griezmann, Antoine
31
264 days
21 March 1991
AM

Club Atlético de Madrid, Spain

115

42


17th min. for tripping Kyle Walker as he ran towards the centre-circle
10
Mbappé Lottin, Kylian S
23
355 days
20 December 1998
LAM
Paris Saint-Germain FC
64
33
9

Giroud, Olivier J.
36
71 days
30 September 1986
CF
AC Milan,

Italy

118
53
France Substitutes

scoreline:

France 2 England 1

20
Coman, Kingsley J., on 79th min. for Dembélé
26
13 June 1996
RM
FC Bayern München, Ge

rmany

44
5

result:

France 2 England 1

unused substitutes:
2-Benjamin Pavard, 3-Axel Disasi, 6-Matteo Guendouzi, 12-Randal Kolo Muani, 13-Youssouf Fofana, 15-Jordan Veretout, 16-Steve Mandanda, 17-William Saliba, 24-Ibrahima Konaté, 25-Eduardo Camavinga, 26-Marcus Thuram.
team notes:
Hugo Lloris overtakes Lilian Thuram as the France player with the most appearances. He already holds the record of most captaincies.
Kingsley Coman replaced Ousmane Dembélé during the French second goal celebrations, so timings are unknown - well before 78:56.
Squad members, the Hernandez's are brothers
Coach, the longest-serving coach at this tournament, Didier Deschamps played for France against England in February and June of 1992 and captained in three more matches in June 1997, February 1999 and September 2000 (his 103rd and final appearance).
4-5(2-3)-1
Lloris -
Koundé, Varane, Upamecano, Hernandez -
Tchouameni, Rabiot -
Dembélé (Coman), Greizmann, Mbappé -
Giroud

Averages

(Starting XI)

:

Age
27 years 333 days
Appearances/Goals

59.5

12.9
Rank
FIFA (6th October 2022)

5th


EFO ranking Group One (4th)
ELO rating 7th
Colours
The Nike 2022 home uniform

-

White crew-necked jerseys

with dark to light blue

fury gradient sleeves, fury/void cuffs, blue void shorts, white socks with fury/void thin hoop.
Captain
Harry Kane
Manager
Gareth Southgate, 52 (3 September 1970), appointed caretaker manager on 27 September 2016, appointed as permanent manager on 30 November 2016.

⁴⁵

most goals as captain

55th of 63, W 32 - D 12 - L 11 - F 124 - A 47.

P 81st of 91, W 49 - D 18 - L 14 - F 174 - A 57

England Lineup

unchanged from the previous match

league position (10th November)

1
Pickford, Jordan L.
28
278 days
7 March 1994
G
Everton FC

(PL 16th)

50
38ᵍᵃ

the 65th player to reach the 50-app milestone

2
Walker, Kyle A.
32
196 days
28 May 1990
RB
Manchester City FC

(PL 2nd)

73
0
5
Stones, John, off 90+8th min.
28
196 days
28 May 1994
RCD
Manchester City FC

(PL 2nd)

64
3
6
Maguire, J. Harry
29
280 days
5 March 1993
LCD

Manchester United FC

(PL 5th)



53

7

90th min. for a jumping higher than Antoine Griezman

n and fouling him.

3
Shaw, Luke P.H.
27
151 days
12 July 1995
LB
Manchester United FC

(PL 5th)

28
3
8
Henderson, Jordan B., off 79th min.
32
176 days
17 June 1990
RDM
Liverpool FC

(PL 8th)

74
3
4
Rice, Declan
23
330 days
14 January 1999
LDM
West Ham United FC

(PL 15th)

39
2
22
Bellingham, Jude V.W.
19
164 days
29 June 2003
CM
Bsv Borussia 09 Dortmund, Germany
22
1
20
Foden, Philip W., off 85th min.
22
196 days
28 May 2000
RF
Manchester City FC

(PL 2nd)

22
3
9
Kane, Harry E.
29
135 days


28 July 1993


CF


Tottenham Hotspur FC

(PL 4th)

80
53


¹⁷

⁴




the 103rd penalty-kick scored

(140)




38th penalty-kick missed

(141)

eighteenth player to reach the 80-app milestone

17

Saka, Bukayo A.T., off 79th min.
21
96 days
5 September 2001
LF
Arsenal FC

(PL TOP)

24
7
England Substitutes
s

coreline:

France 2 England 1

19
Mount, Mason T., on 79th min. for Henderson
23
325 days
10 January 1999
AM
Chelsea FC

(PL 7th)

36
24
5
12
final app 2019-22
10
Sterling, Raheem S., on 79th min. for Saka
28
2 days
8 December 1994
in Kingston, Jamaica
LF
Chelsea FC

(PL 7th)

82
71
20
11
final app 2012-22
11
Rashford, Marcus, on 85th min.

(84:10)

for Foden
25
40 days
31 October 1997
RF
Manchester United FC

(PL 5th)

51
22
15
29
7
Grealish, Jack P., on 90+8th min.

(97:04)

for Stones
27
86 days
10 September 1995
AM
Manchester City FC

(PL 2nd)

29
12
2
17

result:

France 2 England 1

unused substitutes:
12-Kieran Trippier, 13-Nick Pope, 14-Eric Dier, 15-Kalvin Phillips, 16-Conor Coady, 18-Trent Alexander-Arnold, 23-Aaron Ramsdale, 24-Callum Wilson, 25-James Maddison, 26-Conor Gallagher.
team notes:
26th match against the Current World Champions, first since 2017. First meeting with France as World Cup holders since September 2000. It is the first time since 1962 that England have met the World Cup holders at a World Cup Final tournament, losing to Brazil.
Sixth defeat out of six meetings on a neutral ground. Third defeat out of three meetings at WCF.
Jack Grealish's great great grandfather,

Billy

Garraty, also played for England in 1903.
The 21st fixture England have played in the month of December is their first defeat.
The 32nd meeting with France is the third at World Cup Final tournament, in 1966 and 1982, but the first in the second phase of the competition.
Kyle Walker's first touch of the ball was to puncture it with his studs after just five seconds, bringing down an Ousmane Dembélé long ball intended for Klylian Mbappé. As Jude Bellingham picked up the pass, he informed the ball of its flatness and John Stones played the ball out of play after 11 seconds. Dembélé then finally threw the ball pack to Jordan Pickford into play after 34 seconds.
Mason Mount replaced Jordan Henderson and Raheem Sterling replaced Bukayo Saka during the French second goal celebrations, so timings are unknown - well before 78:56.
Penalty-kicks records:
England are awarded two penalty-kicks in one match for the first time in thirteen months (San Marino November 2021). Scored from one and missed with another for the first time in eighteen months (Romania June 2021). It was at the last World Cup Final tournament in 2018 (vs. Panama) that England were awarded two kicks in a Major Tournament Finals. It is, however, the first time England have scored one, and missed one, at a Finals Tournament.
It is the first penalty-kick missed (not saved) since Harry Kane missed against Turkey in June 2016.
World Cup records:
Harry Kane captains England at WCF for a record eleventh time, overtaking Billy Wright, Bobby Moore and David Beckham.
England's nint

h

WCF quarter-final match (W3 D1 L5 F12 A14) - only failing to score once (in 2006), and only progressing three times (1966, 1990 & 2018). No other country has been eliminated more than England's seven at this stage of the competition.
England's only goal of the match was their thirteenth in this tournament, beating the previous record of twelve set at the last tournament 4½ years ago.
Jordan Pickford becomes the first goalkeeper to concede eleven, then twelve World Cup Final goals.
Not since accurate records began (1966) have England receive so little cautions. One for the whole tournament, beating the previous best of two in 1970.
Major Tournament records:
Twentieth WCF defeat in their 74th WCF match, 32 victories and 22 draws.
Both Harry Kane and Raheem Sterling join Ashley Cole as the player with the most Major Tournament Final appearances....22.
4-3-3
Pickford -
Walker, Stones (Grealish), Maguire, Shaw -
Henderson (Mount), Bellingham, Rice -
Foden (Rashford), Kane, Saka (Sterling)

Averages

(Starting XI)

:

Age
26 years 333 days
Appearances/Goals

48.1

7.4
So, it is all over for another World Cup campaign, and unfortunately, once again, England just fell short when it mattered most. To be fair, it was pretty obvious that they did not receive the rub of the green, especially from a very poor referee, but then again, when do we ever get that little bit of good fortune? In the end France went through, some would say, a little luckily, but you make your own luck in football, and that is something England must learn.

This match actually turned out to be one of, if not the best, game of the whole tournament so far. Early on, both sides went hell for leather trying to gain the upper hand, and for the first five minutes it was nip and tuck. England were going long at times, not a bad ploy against a French side with suspect defensive speed. On ten minutes France won a corner, and from it Olivier Giroud saw a low header saved by Jordan Pickford. It was a warning for England as the old campaigner, often a thorn against England, had to be watched very carefully. Meanwhile, Declan Rice was working his socks off, and the West Ham man was in fine form all night.

The one thing that England needed from a fairly bright start was the first goal, but on 17 minutes it was France who broke the deadlock. Bukayo Saka was blatantly fouled on the edge of the French penalty area, but the referee amazingly decided to ignore it. From the breakaway the ball was teed up to Aurelien Tchouameni, and his shot from range beat Pickford, a shot that the goalkeeper would be disappointed to concede. Defenders not closing down the player quick enough did not help, and from an England perspective, it was a poor goal all round. Having said that the non-decision on Saka being fouled was inexcusable.

Over the next fifteen minutes England came back strongly, Hugo Lloris saving from Luke Shaw, and then the goalkeeper excelled again when he thwarted Harry Kane. On 25 minutes Kane was blatantly fouled in the box. Again the referee did nothing, VAR was checked, although what they see in these VAR studios is often different to what the fans see. On 29 minutes, Lloris's personal battle with his Tottenham clubmate Kane continued with a fine save. From the resultant corner, somehow, France scrambled the ball away. They were living on a knife edge at times. And their players were rattled, with several more blatant fouls going unpunished. How Antoine Griezmann did not receive more than one booking in the first-half only the ref could tell you, as the player committed several outrageous fouls.

On the 39th minute the subdued Kylian Mbappe shot over with his only real chance of the game, with Kyle Walker keeping the French star very quiet.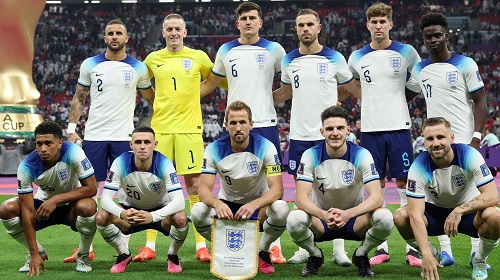 The half ended at 1-0 to the French, but that was an unjust scoreline after a spirited showing by England. Immediately after the restart Jude Bellingham was brought down by Adrien Rabiot, for another yellow card. Had the ref been issued new instructions perhaps? Two minutes into the half, so near to an England goal as Lloris, such a pain in the rear end, saves a fine shot by Bellingham with his fingertips. Does he ever play this well for Spurs one wonders? From the corner, Harry Maguire came oh so close to an equaliser. When Mbappe then went down theatrically, a foul was given, and at the time I wrote, "This ref is going to cost us!"

On 54 minutes the Brazilian ref actually spotted a foul on Saka by Tchouameni, and this time, oh joy, he gave England a penalty. Personally, I couldn't watch as Kane took his penalty, I didn't need to worry as the familiar kiss of the ring and punching of the air gave me all I needed to know. Back came France though and this time it was Pickford's time to shine as he did well to keep out a Rabiot shot. Two minutes later there was plenty of panic in the England area, but the Three Lions escaped. On the hour both sides were desperate for the upper hand, making it an exciting game to watch. Saka tested Lloris twice more, Griezmann blatantly brought down Phil Foden, a foul that should have seen the Frenchman with at least a second yellow. Saka was giving the French defenders headaches and twice he threatened again as he was brought down. From the free-kick, Maguire's header so nearly gave England the lead, with ball scraping a post. That could have so easily been the turning point, but as it turned out, France were again the ones to strike.

Bellingham was brought down, without punishment, much to his disgust, and when Theo Hernandez centred from the left, only a brilliant save from Pickford stopped Giroud from scoring. England's fans, and me, thought we had cleared the danger, but almost immediately another cross came in from the left and this time Giroud buried his header past Pickford. It was a fine header, but where were the defenders? It had to be Giroud though didn't it?

Gareth Southgate made two changes with Jordan Henderson and, surprisingly, Saka going off, with Mason Mount and Raheem Sterling coming on. Within seconds Mount was into the box, looking a certain scorer when he was barged to the ground with the most blatant of fouls by Hernandez, making no attempt to play the ball. The referee's decision.....Play On! Unbelievable. In the end he was persuaded to consult VAR, and it was a definite penalty, but not only that, should have resulted in a red card for Hernandez.

Once again, I couldn't watch as Kane stepped up. Just got the feeling it wasn't quite right. Sadly, this time it was the French who were jumping for joy as Kane blasted the ball well over the crossbar. It was so un-Kane like, but sadly it was the death knell for England.

With eight minutes added on, there was still hope, and when Maguire was fouled on the edge of the box with seconds to go, the free-kick was entrusted to substitute Marcus Rashford. His dipping shot scraped the top of the net with Lloris beaten, much to the agony of all England fans watching.

And not a lot more to say, as the game ended, once again, with England so near yet so far. The one fear was that they would go out with a whimper, but nothing could be further from the truth. England played really well for long spells in this match, but France have learned the way to win these type of important games, something that so far England have failed to do. None of the team could be faulted though and in the main they are a young team that should only get better over the next few years. Let's hope so anyway.