Finals Squad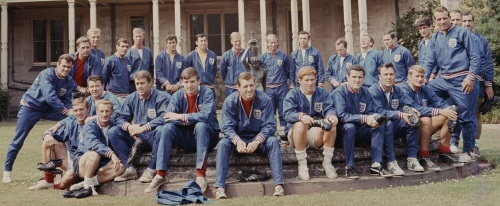 The squad was the product of a rather protracted winnowing process. FIFA required that each national side provide a list of forty players before the end of May 1966 and a final squad of 22 players by July 3, eight days before the tournament began. Alf Ramsey named his provisional list of forty players on April 7, almost two months earlier than required to give as much notice as possible to the affected clubs. The forty included the 22 who eventually were named to the final squad, plus another eighteen: Gordon West, Everton; Tony Waiters, Blackpool; Keith Newton, Blackburn Rovers; Chris Lawler, Liverpool; Paul Reaney, Leeds United; Gordon Milne, Liverpool; Marvin Hinton, Chelsea; John Hollins, Chelsea; Tommy Smith, Liverpool; Terry Venables, Chelsea; Barry Bridges, Chelsea; Peter Thompson (who was also in the 40-man squad in 1962), Liverpool; Peter Osgood, Chelsea; Derek Temple, Everton; John Kaye, West Bromwich Albion; Fred Pickering, Everton; Joe Baker, Nottingham Forest; and Gordon Harris, Burnley.
Ramsey made another squad announcement on 6 May 1966, naming the 28 players who would report for pre-tournament training at the Lilleshall national recreation centre in Shropshire on June 6. In addition to the 22 who did survive the final cut, the list of 28 included Peter Thompson, Gordon Milne and Keith Newton from the original list of 40 and three replacements - Bobby Tambling, Chelsea, for Barry Bridges; John Byrne, West Ham United, for Fred Pickering; and Brian Labone, Everton, for Marvin Hinton. The remaining 12 players from the initial list of 40 - West, Waiters, Lawler, Reaney, Hollins, Smith, Venables, Osgood, Temple, Kaye, Baker and Harris - were given stand-by status.
Labone withdrew from the squad because of injury, and so only 27 players reported for training at Lilleshall on June 6. At the close of the training session on June 18, Ramsey cut five players - Tambling, John Byrne, Thompson, Milne and Newton - although asking them to remain in training at their club facilities in the event of an emergency. Following a break for a short last visit home, the 22-man squad embarked on a four-match pre-tournament tour of Europe. On July 3, the day of the third match of the tour, in Copenhagen, Ramsey formally announced the England squad to FIFA and the press. The numbers Ramsey assigned to the squad generally reflected his preferences, Nos. 1-11 constituting his first team and Nos. 12-22 the second string players. The squad as named remained intact; no replacements were needed.
No. Name
Age
Pos
Club
Starts
Subs
Total
Goals
Capts

1.

Banks, Gordon
28
G
Leicester City FC
27

29ᵍᵃ

2.

Cohen, George

R.

26
RB
Fulham FC
24
0

3.

Wilson, Ramon
31
LB
Everton FC
45
0

4.

Stiles, Norbert

P.

24
M
Manchester United FC
14
1

5.

Charlton, John
31
CD
Leeds United AFC
16
2

6.

Moore, Robert

F.C.

25
CD
West Ham United FC
41
2

7.

Ball, Alan

J.

21
M/F
Blackpool FC
10
1

8.

Greaves, James

P.

26
F
Tottenham Hotspur FC
51
43

9.

Charlton, Robert
28
M/F
Manchester United FC
68
38

10.

Hurst, Geoffrey C.
24
F
West Ham United FC
5
1

11.

Connelly, John

M.

27
W
Manchester United FC
19
7

12.

Springett, Ronald

D.

30
G
Sheffield Wednesday FC
33

48ᵍᵃ

13.

Bonetti, Peter

P.

24
G
Chelsea FC
1

0ᵍᵃ

14.

Armfield, James

C.

30
RB
Blackpool FC
43
0

15.

Byrne, Gerald
27
LB
Liverpool FC
2
0

16.

Peters, Martin

S.

22
M
West Ham United FC
3
1

17.

Flowers, Ronald
31
CD
Wolverhampton Wanderers FC
49
10

18.

Hunter, Norman
22
CD
Leeds United AFC
4
0

19.

Paine, Terence

L.

27
W
Southampton FC
18
7

20.

Callaghan, Ian

R.

24
W
Liverpool FC
1
0

21.

Hunt, Roger
27
F
Liverpool FC
13
12

22.

Eastham, George

E.

29
M
Arsenal FC
19
2