"Happy-Feet Haynes runs Young Danes dizzy"
Daily Herald
Officials
England
FIFA ruling on substitutes
Denmark

Referee


Josef Wershoven
Germany

red flag

Linesmen

yellow flag

Chief Petty Officer Champion


Portsmouth

Herbert Charles Dowell


Poole

England Intermediate Team
Rank:

No official ranking system established;
Colours:
The 1954 Umbro home uniform - White v-necked short-sleeved continental jerseys, blue shorts, black socks with white tops.
Capt:

Peter Sillett


last, W 3 - D 0 - L 0 - F 16 - A 2.

³



Manager:
Walter Winterbottom, 42 (31 March 1913), appointed as FA national director of coaching/team manager on 8 July 1946;


fourth intermediate match, W 3 - D 0 - L 1 - F 16 - A 5

.

member in charge:

Frank Adams

Team chosen by

Intermediate

Selection Committee, headed by Frank Adams, on Thursday, 15 September.
England Lineup

seven changes

to the previous U23 match

(Matthews, Sillett, Haynes & Blunstone remain)

league position

(15 September)

Matthews, Reginald D.
22
282 days
20 December 1932
G
Coventry City FC

(FL3S 9th)

3

2ᵍᵃ

2
Sillett, R. Peter T.
22
239 days
1 February 1933
RB
Chelsea FC

(FL 19th)

3
0
22
3
Shaw, Graham L.
21
81 days
9 July 1934
LB
Sheffield United FC

(FL 17th)

1
0
4
Anderson, Stanley
21
213 days
27 February 1934
RHB
Sunderland AFC

(FL 6th)

2
0
5
Smith, Trevor
19
168 days
13 April 1936
CHB
Birmingham City FC

(FL 11th)

3
0
23
6
Clayton, Ronald
21
54 days
5 August 1934
LHB
Blackburn Rovers FC

(FL2 15th)

1
0
24
7

Kaye, Arthur
22
142 days
9 May 1933
OR
Barnsley FC

(FL2 5th)

1
0
25
8

Robson, Robert W.
22
222 days
18 February 1933
IR
West Bromwich Albion FC

(FL 8th)

1
1
26
9

Stokes, Alfred
22
360 days
3 October 1932
CF
Tottenham Hotspur FC

(FL 22nd bottom)

1
2
10

Haynes, John N.
20
346 days
17 October 1934
IL
Fulham FC

(FL2 TOP)

3
3

=most U23 gls

1955

11

Blunstone, Frank
20
346 days
17 October 1934
OL
Chelsea FC

(FL 19th)

4
2

most U23 apps

54-55

unused substitutes:

Gerry Cakebread (Brentford FC

(FL3S 16th)

), Clayton & Ray Parry (Bolton Wanderers FC

(FL 10th)

). Centre-half Ken Taylor (Huddersfield Town FC

(FL 20th)

) replaced Clayton the day before the match.
team notes:
Duncan Edwards (Manchester United FC

(FL 7th)

) was the original named left-half, his place going to Clayton on Monday, 26 September, as he was suffering with an illness.
Outside-right Vic Groves (Leyton Orient FC

(FL3S 2nd)

) was the original named centre-forward, but injured his ankle in the last minute of the practise match between the England team and the Intermediate side at White Hart Lane, under floodlights, on Monday, 28 September (2-2).
Reg Matthews missed the practise matches, so he could play an important League Division Three South match for his club, against Brentford FC (City won 2-1). Arsenal FC's goalkeeper Ralph Guthrie took his place.
The England players were the overnight guests of the Officers' Mess at the Royal Marine Barracks in Eastney
2-3-5
Matthews -
Sillett, Shaw -
Anderson, Smith, Clayton -
Kaye, Robson, Stokes, Haynes, Blunstone.

Averages:

Age
21 years 256 days
Appearances/Goals
2.1
0.2

oldest intermediate team

so far

Denmark Intermediate Team
Rank:

No official ranking system established;
Colours:
Red jerseys, white shorts.
Capt:
John Kramer
Manager:
Vilhelm Skousen, 47 (23 March 1908).
Team chosen on Tuesday, 20 September 1955
Denmark Lineup
1
Larsen, Erik
21
234 days
6 February 1934
G
AC Horsens
5
13ᵍᵃ
2
Helbrandt, Henning
20
121 days
30 May 1935
RB
Kjøbenhavns Bk
3
0
3
Clausen, Knud
21
324 days
8 November 1933
LB
Espjerg fB
1
0
only U23 app 1955
4

Nielsen, Flemming

Gert

21
216 days
24 February 1934
RHB
Bkben af 1893
3
2
5
Jørgensen, Finn
22
4 days
24 September 1933
CHB
Bkben 1903
3
0
final U23 app 1954-55
6
Nielsen, Ove
21
239 days
1 February 1934
LHB
Køge Bk
3
0
7
Petersen, Knud
21
311 days
21 November 1934
OR
Nykøbing Falster Bk af 1901
2
0
8
Nielsen, Ove Bech
23
56 days
3 August 1932
IR
Akademisk Bk
4
1
final U23 app 1952-55
9
Ingerslav Hansen, Kaj
19
229 days
11 February 1936
CF

Akademisk Bk

3
1

10

Kramer, John
20
315 days
17 November 1934
IL
Køge Bk
5
0
11
Nielsen, Gregor
21
183 days
29 March 1934
OL
Espjerg fB
2
0

unused substitutes:

not known

team notes:

Manager Vilhelm Skousen would later be the president of DBU, from 1965 to 1977.
2-3-5
Larsen -
Helbrandt, Clausen -
F.Nielsen, Jørgensen, O.Nielsen -
Petersen, O.B.Nielsen, Ingerslav, Cramer, G.Nielsen.

Averages:

Age
21 years 137 days
Appearances/Goals
3.1
0.2
Match Report
by Clifford Webb

, Daily Herald, Thursday, 29 September 1955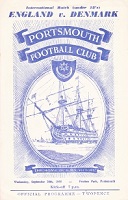 EXCUSE my gloat, but it is so happy I am to be able to report: "We wore 'em down." England stayed the fierce pace better than the Danes in this corker of a match at Portsmouth last night and simply bombarded the bold Erik Larsen, the Scandinavian goalkeeper, during the last 20 minutes.
Can it be that we have at last seen the light? Can it be that we have finally discovered the formula for turning out footballers sleek as greyhounds, swifts as sprint stars and fabulously, gloriously fit? That is the hope that was hammered home with four second-half goals just when the Danes had started to droop. Well, not actually droop but slow up in comparison with our bright belligerent 'babes'. So frequently are the boots on the other feet. So frequently has it been England's players who have faded and folded up against fiery Continentals.
Mind you, in addition to this super-fitness stuff a spell of inspiration can be a great help and last night we had it from Johnny (Happy Feet) Haynes, the Fulham wonder boy. With a display vividly reminiscent of the best we ever saw from Raich Carter Johnny welded his front line forces into a machine, then gave it a precision lock, The 20,000 crowd rose to this dark-haired youngster as he opened the gate time after time with superb positional skill, then stroked dream passes to his colleagues.
For a spell in the first half I though Johnny was overdoing the moves inside the back to Frank Blunstone, whose control is not all it might have been. But Johnny quickly changed his tactics, brought right-winger Arthur Keys more into the game and gradually the pattern of success developed. The football was magnetic—a treat to watch with the Danes showing up well until that English hurricane scattered their defences at the close. The Danish half-back line, including five full internationals Ove Neilsen and Finn Jorgensen were very dominating characters in the first half and Alf Stokes in his first big match began to look as if he was being too highly tried. But now Alf—and all the others for that matter—responded to the canny coaxing of Haynes!
Our defence was several times in real trouble before the interval, but some stout tackling by Trevor Smith and shots brilliantly saved by Reg Matthews stopped the Danes from getting the dangerous 'lift' a first goal of the match would have given them. Naturally, it was Haynes who put us on the winning road. A slick through pass from the Fulham wizard to Blunstone saw the ball whipped inside for Stokes to score the opening goal in 20 minutes. Denmark hit back with a goal by right half Flemming Neilsen—a wizz of a free-kick from 25 yards, but that was as much as they could do in the scoring line.
Fifteen minutes after the interval Johnny Haynes put England ahead again and a few minutes later after one bad miss, Stokes scored No. 3. Before the finish Bobby Robson and Haynes brought the total up to five.

Match Report
as appears in the F.A. Yearbook 1956-57 page 28
DURING season 1955-56 the International Selection Committee's policy of developing young players by means of 'B' and 'Under-23' matches began to reveal itself. No fewer than nine English players have already worked their way through the various preliminary teams to reach full international status: Haynes, Clayton, Hall, Edwards, Perry, Byrne, R. Matthews, and Atyeo. It is perhaps relevant to note that similar policies are being adopted to an increasing extent abroad, now that European teams are obliged to make changes as the time comes for the great players of a few years ago to be gradually replaced.
In order to show the English selectors' policy more clearly, it is perhaps best to describe all the international matches - full, 'B', and 'Under-23' in chronological order. Making due allowances for injuries and loss of form, it will be apparent that the selectors have pursued a definite and recognizable policy which, on the whole, has produced satisfactory results.

In the first match of the season, played at Fratton Park, Portsmouth, on September 28th, 1955, an even first half was followed by a brilliant display by Haynes. After the first hour the Danes tired, and the 'Young England' forwards gradually got on top, and with Stokes (2), Haynes (2), and Robson scoring five good goals, England ran out easy winners.

Source Notes
Official matchday programme


DBU.dk

Rothman's Yearbooks




Original newspaper reports
cgi