"HAYNES AND QUIXALL WHIP THE SCOTS"
Daily Mirror
Officials

from

Netherlands

England
UK ruling on substitutes
Scotland

Referee


Pieter Paulus Roomer
35 (6 April 1920), Rotterdam

red flag

Linesmen

yellow flag

Jacobus Cornelis van Gelder


47 (19 October 1908) Ijsselmonde

Johannes He

inrich

Martens




43 (1914), Zeist

England Intermediate Team
Rank:

No official ranking system established;
Colours:
The 1954 Umbro home uniform - White v-necked short-sleeved continental jerseys, blue shorts, black socks with white tops.
Capt:

Johnny Haynes


first, W 1 - D 0 - L 0 - F 3 - A 1

.

²



Manager:

Walter Winterbottom, 42 (31 March 1913), appointed as FA national director of coaching/team manager on 8 July 1946;


fifth intermediate match, W 4 - D 0 - L 1 - F 19 - A 6

.
Team chosen by Intermediate Selection Committee on Tuesday, 31 January.
England Lineup

seven changes

to the previous U23 match

(Matthews, Smith, Clayton & Haynes remain)

league position

(31 January)

Matthews, Reginald D.
23
50 days
20 December 1932
G
Coventry City FC

(FL3S 5th)

4

3ᵍᵃ

oldest u23 player & gk

so far

most U23 apps

55-56

27
2
Howe, Donald
20
119 days
12 October 1935
RB
West Bromwich Albion FC

(FL 6th)

1
0
28
3
Norman, Maurice
21
276 days
8 May 1934
LB
Tottenham Hotspur FC

(FL 19th)

1
0
only U23 app 1956
4
Clayton, Ronald
21
187 days
5 August 1934
RHB
Blackburn Rovers FC

(FL2 13th)

2
0
5
Smith, Trevor, injured 2nd min.
19
301 days
13 April 1936
CHB
Birmingham City FC

(FL 16th)

4
0

most U23 apps

55-56

6
Edwards, Duncan
19
130 days
1 October 1936
LHB
Manchester United FC

(FL TOP)

4
3

most U23 apps

54-56

final U23 app 54-56
7
Finney, Alan
22
100 days
31 October 1933
OR
Sheffield Wednesday FC

(FL2 TOP)

2
0
29
8

Quixall, Albert
22
183 days
9 August 1933
IR
Sheffield Wednesday FC

(FL2 TOP)

1
0
30

9



Harris, James
22
174 days
18 August 1933
CF
Everton FC

(FL 7th)

1
1
only U23 app 1956
10

Haynes, John N.
21
114 days
17 October 1934
IL
Fulham FC

(FL2 8th)

4
5

most U23 apps

55-56

most U23 gls

55-56

31
11

Pegg, David
20
141 days
20 September 1935
OL
Manchester United FC

(FL TOP)

1
0
only U23 app 1956
reserve:
Stan Anderson (Sunderland AFC

(FL 4th)

)
team notes:
Jimmy Armfield (Blackpool FC

(FL 2nd)

) was the original named right-back. Peter Sillett (Chelsea FC

(FL 11th)

) was the original left-back, and again, he was chosen to captain the side. Vic Groves (now of Arsenal FC

(FL17th)

), was the original centre-forward, and Frank Blunstone (Chelsea FC

(FL11th)

), the outside-left. Chelsea FC requested the release of Sillett and Blunstone, to allow them to play in an FA Cup fourth round replay against Burnley FC on the Monday, 6th (they drew 2-2ᴭᵀ with Sillett scoring a penalty).
Trevor Smith went over on his left ankle in the second minute, and played the remainder of the match strapped up.
pre-match notes:
The team had a practise match against Sheffield United FC on Tuesday, 7th and lost 3-1 in the twenty-minute each-way match. Armfield was poorly and Anderson took his place. Groves also played.
Hours before the match took place, Groves had to withdraw because of a poisoned toe. His place went to Harris, who was training with his teammates in Buxton. Armfield withdrew because of tonsillitis. The West Bromwich Albion coach, Freddie Cox, made a car dash to Oswestry, to get his replacement, Don Howe, who was at the time, with his regiment, the Royal Artillery. However, the car broke down (puncture). Howe made it with an hour to spare.
2-3-5
Matthews -
Howe, Norman -
Clayton, Smith, Edwards -
Finney, Quixall, Harris, Haynes, Pegg.

Averages:

Age
21 years 83 days
Appearances/Goals
2.3
0.5

Scotland Intermediate Team
Rank:

No official ranking system established;
Colours:
Dark blue jerseys, white shorts.
Capt:
Alex Parker

Selecto

r:
Scottish 2nd XI FA Selection Committee
chose a team on Tuesday, 31 January 1956
Scotland Lineup
1
Morrison, Reginald

L.

23
147 days
14 September 1932
G
Aberdeen FC
1
3ᵍᵃ
2
Parker, Alexander

Hershaw

20
190 days
2 August 1935
RB
Falkirk FC
2
0
3
Rae, Ian

Johnstone

23
20 days
19 January 1933
LB
Falkirk FC
1
0
only U23 app 1956
4
Price, William
21
126 days
5 October 1934
RHB
Airdrieonians FC
1
0
5
Nicol, Robert Benjamin Mathieson
19
273 days
11 May 1936
CHB
Hibernians FC
1
0
6
McIntosh, James
19
189 days
3 August 1936
LHB
Falkirk FC
1
0
7

Hamilton, John
21
17 days
22 January 1935
OR
Heart of Midlothian FC
1
1
8
Young, Alexander
19
5 days
3 February 1937
IR
Heart of Midlothian FC
1
0
9
Murray, Maxwell
20
93 days
7 November 1935
CF
Rangers FC
1
0

10

Wishart, Robert
22
335 days
10 March 1933
IL
Aberdeen FC
2
0
final U23 app 1956
11
Baxter, Thomas
nk
not known
OL
Queen of the South FC
1
0
only U23 app 1956
traveling reserve
David Curlett (Kilmarnock)
team notes:
Hibernians FC withdrew Jackie Plendereith and Tommy Preston from the side on 7 February, so that they could play them in a Scottish Cup tie. Hibs' provided their reserve centre-half Nicol as a replacement, and the SFA called on Falkirk FC's McIntosh to replace Preston.
The team arrived at Hillsborough ninety minutes before kick-off, following a six hour train journey.
2-3-5
Morrison -
Parker, Rae -
Price, Nicol, McIntosh -
Hamilton, Young, Murray, Wishart, Baxter

Averages:

Age
21 years 25 days
Appearances/Goals
1.2
0.0
Match Report
by
Frank McGhee, Daily Mirror, Thursday, 9 February 1956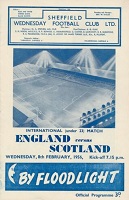 It started just like another day in the life of a soldier. It finished with Gunner Don Howe, of West Bromwich, playing at right-back for Young England at Hillsborough, Sheffield, last night. He helped them to beat Scotland's 'Under-23s' after the most crowded few hours of his nineteen years.
Don was looking forward to playing for his Royal Artillery Unit at Oswestry (Staffs). Then West Bromwich were told that he was wanted to replace Blackpool's young English back Jimmy Armfield.
West Bromwich contacted Don's C.O., got leave for him and sent Freddie Cox to fetch him by car.
But Freddie's car broke down and Don didn't join the team until ninety minutes before the kick-off. But this didn't finish as Howe's match. England's stars were without doubt inside forwards Johnny Haynes (Fulham) and Albert Quixall (Sheffield Wednesday).
In the first half, English experienced youngsters were on top all of the time. The Scots matched this slide-rule Soccer with fiery tackling and were only dangerous in breakaways.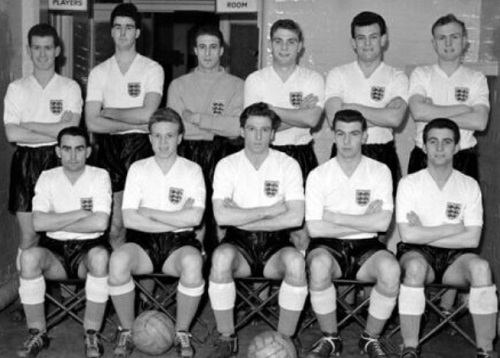 Morrison, Scotland's goalkeeper, was in constant action. Twice he saved brilliantly from inside-right Albert Quixall. Once another Quixall was bundled off the line by left back Rae.
Another time, a cross from winger Allen Finney thudded against the bar and dropped at the feet of centre-forward Jimmy Harris. last-minute deputy for Vic Groves. Right half Price whipped it away out of danger. A goal had to come. And it was a beautiful move in the thirty-fifth minute that brought it. The ball was swept from one end of the field to the other. From left back Norman to outside-left Pegg, to inside right Quixall, and on to inside left Johnny Haynes, England's captain.
Haynes forced his way past two defenders to crack the ball home.
It was the same story in the second-half—non-sop attacks by England, heart-breaking near misses and wonderful keeping by Morrison.
For twenty-five minutes in this half Morrison held out until Haynes finally made it 2—0 from a Pegg pass. Young Johnny hit it home with neat precision to round off a great night for himself.
In the eightieth minute there was a little island of Scottish action in a sea of English superiority....and it produced a goal. Right half Price stabbed a pass to outside right Johnny Hamilton, who scored first time. But like a master reprimanding a too forward pupil, Haynes hit back two minutes later. He put through an inch-perfect pass for Harris to make it 3—1 and it was all over.

Match Report
as appears in the F.A. Yearbook 1956-57 page 30
Forty thousand spectators watched this floodlit match on the Sheffield Wednesday ground on February 8th, 1956. Although Scotland were outplayed for considerable periods, it was an interesting match, dominated largely by an England half-back line. Quixall had a good game, but Haynes's many through-passes were not fully exploited. Haynes cored 2 and Harris 1.

Source Notes
Official matchday programme
SFA

Rothman's Yearbooks




Original newspaper reports
cgi