Match Summary
Officials

from Romania

England Squad

Type

Spain Squad

Referee (black) - Ovidiu Alin Hategan
36 (14 July 1980), Arad, FIFA-listed 2008.

Assistant Referees - Octavian Sovre, 43 (19 July 1973) and Sebastian Eugen Gheorghe, 40 (7 March 1976).
Fourth official - Paval Cristian Balaj, 45 (17 August 1971), Baia Mare, FIFA-listed 2003.

8
Goal Attempts
9
4
Attempts on Target
5
0
Hit Bar/Post
0
5
Corner Kicks Won
4
2
Offside Calls Against
2
17
Fouls Conceded
14
34%
Possession
66%

England Team
Rank:

FIFA (20 October 2016) 12th
EFO ranking Group 4
ELO rating 11th
Colours:
The Nike 2016 home uniform

-

White v-necked jerseys with light blue sleeves and ice blue collared tri

m/side stripe and white cuffs, white shorts with ice blue side trim, red socks.
Capt:
Jordan Henderson
(second (6) captaincy)
caretaker manager:
Gareth Southgate, 46 (3 September 1970), appointed caretaker manager on 27 September 2016.
fourth match, W 2 - D 2 - L 0 - F 7 - A 2.
England Lineup
1

Hart,

C.

Joseph

J.

, off 46th min.
29
210 days
19 April 1987
G
Torino FC, Italy,
on loan from Manchester City FC
68
44ᵍᵃ
2
Clyne, Nathaniel E.
25
224 days
5 April 1991
RB
Liverpool FC
14
0
final app

2014-16
3
Rose, Daniel L., off 79th min.
26
136 days
2 July 1990

LB

Tottenham Hotspur FC

12

0

first half injury time for a lunge on Carvajal.
4
Dier, Eric J.E.
22
305 days
15 January 1994
RDM
Tottenham Hotspur FC
15
2
5
Cahill, Gary J., off 46th min.
30
332 days
19 December 1985
RCD
Chelsea FC
52
4
6
Stones, John
22
171 days
28 May 1994
LCD
Manchester City FC
15
0
7
Sterling, Raheem S., off 65th min.
21
343 days
8 December 1994
in Kingston, Jamaica
RAM
Manchester City FC

29

2

29th min. after his tackle caught Aduriz's shin, after the Spaniard obstructed Rose.
8
Henderson, Jordan B.
26
151 days
17 June 1990
LDM
Liverpool FC
32
1
9
Vardy, Jamie R., off 67th min.
29
309 days
11 January 1987
CF
Leicester City FC
14
5
10
Lingard, Jesse E.
23
336 days
15 December 1992
LAM
Manchester United FC
3
0

11

Lallana, Adam D., injured off 25th min.

(24:25)

28
189 days
10 May 1988
AM
Liverpool FC
29
3

¹

the 81st penalty kick scored

(114)

.

England

Substitutes

scoreline:

England 1 Spain 0
14
Walcott, Theo J., on 26th min.

(25:29)

for Lallana
27
244 days
16 March 1989
AM
Arsenal FC

47
30
8
17
31st min. after he tripped up AzpiIicueta as they were sprinting down the touchline
final app 2006-16
16

Jagielka, Philip N., on 46th min. for Cahill
34
90 days
17 August 1982


CD



Everton FC
40
30
3 1
Everton player with most England appearances
10

the 80th player to reach this milestone

final 2008-16
13
Heaton, Thomas D., on 46th min. for Hart
30
214 days
15 April 1986
G
Burnley FC
2
0
2ᵍᵃ
2

scoreline:

England 2 Spain 0
17
Townsend, Andros D., on 65th min

. (64:56)

for Sterling
25
122 days
16 July 1991
RM
Crystal Palace FC
13
4
3
9
final app

2013-16
20
Rashford, Marcus, on 67th min.

(66:50)

for Vardy
19
15 days
31 October 1997
CF
Manchester United FC
6
1
1
5
1218
22
Cresswell, Aaron W., on 79th min.

(78:40)

for Rose
26
336 days
15 December 1989
LB
West Ham United FC
1
0
the 41st United player to represent England

result:

England 2 Spain 2
unused substitutes:
12-Kyle Walker, 15-Daniel Sturridge, 18-Michael Keane, 19-Jack Wilshere, 21-Ryan Bertrand, 23-Jordan Pickford.
team notes:
Adam Lallana was initially injured in the 22nd min.

(21:58)

as he was tripped by Thiago after beating him to the ball. He went down on 23:17 seeking treatment and was eventually substituted.
Caretaker manager Gareth Southgate played against Spain during Euro '96.
4-2-3-1
Hart (Heaton) -
Clyne, Cahill (Jagielka), Stones, Rose (Cresswell) -
Dier, Henderson -
Sterling (Townsend), Lallana (Walcott), Lingard -
Vardy (Rashford)

Averages

(Starting XI)

:

Age
26 years 82 days
Appearances/Goals

25.7

1.3

least experienced starting XI in 2016-17

Spain Team
Rank:

FIFA (20 October 2016) 10th
EFO ranking Group Three
ELO rating 5th
Colours:
Made by Adidas - Red shadowed triangles v-necked jersey with yellow Adidas sidetrim and blue cuffs, royal blue shorts, navy socks with blue tops.
Capt:
David Silva
Sergio Busquets, 64th min.
Manager:
Julen Lopetegui Argote, 50 (28 August 1966), appointed 21 July 2016.
sixth match, W 4 - D 2 - L 0 - F 19 - A 3.
Spain Lineup
23
Reina

Páez

,

José

Manuel
34
76 days
31 August 1982
G
SSC Napoli, Italy
34
0
15

Carvajal Ramos, Daniel
24
309 days
11 January 1992
RB
Real Madrid CF

9

0

75th min. for a scything foul on Danny Rose on the goalline outside the penalty area.
16
Martínez Berridi, Iñigo
25
182 days
17 May 1991
CD
Real Sociedad de Futbol

4

0

30th min. for pulling back Theo Walcott at his shoulder as he tried to sprint away.
2
Azpilicueta Tanco, César
27
79 days
28 August 1989
LB
Chelsea FC, England
18
0
6
Nacho
26
302 days
18 January 1990
DM

/CD

Real Madrid CF
7
0
13
Mata

García

, Juan

M., off 46th min.

28
201 days
28 April 1988
RM
Manchester United FC

, England

41
10
5
Busquets

Burgos

, Sergio, off 78th min.
28
122 days
16 July 1988
DM
FC Barcelona
94
2
10
do Nascimento, Thiago Alcântara, off 56th min.
25
218 days

11 April 1991


in San Pietro Vernotico, Italy
LM
FC Bayern München, Germany
18
0
11
Vitolo, off 46th min.
27
13 days
2 November 1989
RF
Sevilla FC
9
3
9
Aduriz Zubeldia, Aritz, off 64th min.
35
278 days
11 February 1981
CF
Athletic Club
11
2
21

Jim�nez

Silva, David

J

., off 64th min.
30
312 days
8 January 1986
LF
Manchester City FC, England
109
28
Spain Substitutes
scoreline: England 1 Spain 0
19

Aspas Juncal, Iago, on 46th min. for Vitolo
29
106 days
1 August 1987
RF
RC Celta De Vigo

1

1

65th min. after he pushed the assistant referee when he gave a throw to England.
8
Koke, on 46th min. for Mata
24
312 days
8 January 1992
RM
Atlético de Madrid CF
30
0

scoreline:

England 2 Spain 0
17
Herrera

Agúera

, Ander, on 56th min.

(55:30)

for Thiago
27
93 days
14 August 1989
LM
Manchester United FC

, England

1
0
22
Isco, on 64th min.

(63:16)

for Silva
24
208 days
21 April 1992
LF
Real Madrid CF
17
2
7
Morata Martín, Álvaro B., on 64th min.

(63:26)

for Aduriz
24
23 days
23 October 1992
CF
Real Madrid CF
17
8
20
Nolito, on 78th min.

(77:02)

for Sergio
30
31 days
15 October 1986
F
Manchester City FC, England
16
6
result: England 2 Spain 2
unused substitutes:
1-David de Gea, 3-Sergi Roberto, 4-Marc Bartra, 12-Sergio Asenjo, 14-

José

Callejón, 18-Nacho Monreal.
3-4-3
(4-3-3 after 26 mins)
Reina -
Carvajal, Martinez, Azpilicueta -
Nacho,
Mata (Koke), Busquets (Nolito), Thiago (Herrara) -
Vitolo (Iago Aspas), Aduriz (Morata), Silva (Isco).

Averages

(Starting XI)

:

Age
28 years 225 days
Appearances/Goals

32.2

4.1
Match Report by Mike Payne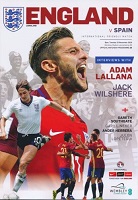 This was a good test for Gareth Southgate and his team in this, the last match of his four game tenure in temporary charge of England. In the end he remained unbeaten and but for a cruel twist at the end, mighten have gained an impressive victory.





Spain arrived at Wembley with some of their top stars unavailable, but nevertheless they had some fine players on show and straight away they dominated the early possession. England set themselves up to frustrate and, when possible, pressure the Spaniards. At least this timeeryone was on it from the start for the home side and although goal chances were few and far between in the first seven minutes it was already an intriguing contest. Then, a minute later, England scored. Adam Lallana won possession down the right wing and looked up before threading a sublime pass into the path of Jamie Vardy. Vardy's first touch wasn't that good but it took the ball away from the onrushing Pepe Reina in goal. Reina's challenge brought Vardy down and the referee had no hesitation in awarding a penalty. Lallana coolly despatched the spot-kick confidently and England were in the ascendency.





Spain hit back quickly and Vitolo went close after some lovely football from the visitors. They expertly kept possession at times, but aseryone knows, possession doesn't win football matches, it is goals that count and Spain's efforts on goal ranged from feeble to non-existent in the first half.





On 25 minutes England received a blow when Lallana had to go off with an injury of some sort, he walked off okay but it was obviously serious enough to end his match. Theo Walcott replaced him but three minutes later England almost gave the ball away once too often, but Spain failed to capitalise. A couple of bookings followed, with Raheem Sterling getting a yellow card for a foul and Inigo Martinez likewise for Spain.





England did some good pressing at times, when the opportunity arose, and it was obvious that Spain did not like being put under pressure. Walcott had a shot but was then booked shortly afterwards, and then great interplay by England ended with Sterling's dangerous cross being cleared, but only just. On 38 minutes more good play by England almost brings a second goal as Vardy narrowly failed to reach another Sterling cross. Seeing Spain struggle at the back gave England plenty of encouragement. At the other end Spain were struggling to find a way past some determined English defending in which Gary Cahill and John Stones stood out.





Danny Rose became the third English player booked before half-time and it was imperative that England continued with their high level of concentration as Spain slick passing had to be matched at all times by clever and watchful defending. The half ended with England still comfortably holding their lead after a very hard-working display. Led by their impressive captain Jordan Henderson, England definitely deserved their slender lead.





After Tom Heaton (for Joe Hart) and Phil Jagielka (for Cahill) came on as substitutes at the start of the second half England so nearly scored with their first attack after the change round. Walcott burst through on a through pass but his shot was deflected wide by a desperate defensive lunge. England were not to be denied though and on 48 minutes, following a great move, the ball found Henderson on the right. He put over a fine cross and there was Vardy to quickly nip in front of a defender and power home a terrific diving header. Spain were clearly rattled by the pressure on their back players and the goal deservedly punished them.





Two minutes later and it should have been 3-0. Vardy put a fine pass through to Walcott and the Arsenal winger tried to place the ball to Reina's right. The goalkeeper managed to get down well to palm the ball away but the ball eventually ran to Henderson. Unfortunately the skipper screwed his shot wide of the far post. It was a golden chance, especially for Walcott, and it should have been taken.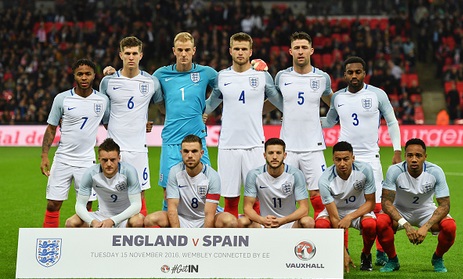 It took Spain 55 minutes to finally force a save from the England goalkeeper but Heaton easily handled David Silva's effort. Spain did begin to offer more up front, especially after two substitutions. Koke forced another, better save from Heaton before Sterling and Jesse Lingard combined to almost force a breakaway goal, before on 70 minutes Alvaro Morata forced another good save by Heaton. Spain now had better options going forward but Gareth Southgate replied by sending on two more attackers in Marcus Rashford and Andros Townsend. Both teams were now going for it. There were chances at both ends and Aaron Cresswell came on for his debut in place of Rose. Spain pressed but with Stones in commanding form England were holding out. Finally, with 89 minutes on the clock, Spain pulled a goal back with a wonderful shot by substitute Iago Aspas.





For once England were caught short of players at the back and Aspas picked the ball up on the right, cut inside and curled a tremendous left-foot shot in off the far post. It was the first goal conceded in Southgate's reign, but it was a good one that you sensed gave Spain a chance. A groan went around the stadium when five minutes of added time was announced and another substitute, Isco, looked certain to equalise until Stones managed to deflect his shot for a corner. But Isco was to get another chance with just seconds left. A long ball forward cleared the head of Eric Dier and Isco brought the ball down and fired through Heaton's leg from a tight angle for a heartbreaking equaliser.





If you are honest you have to say that Spain deserved the draw, but the manner in which it came was very disappointing from an England point of view. 89 minutes gone and 2-0 up, they really should have seen it out safely. However, Spain are one of the best teams in the world and never give up, but England can be proud of their efforts. It was a very hard-working performance and if Walcott had converted that chance in the 50th minute then maybe, just maybe, Southgate would have had a famous win. It remains to be seen if I will be reporting on the next England match with the same manager in charge. I personally think he deserves the job, but then, what do I know?


Source Notes
TheFA.com
BBC Sport
SeFutbol


Mike Payne - football historian and contributor
cg