Rank:

FIFA (10 August 2017) 13th
EFO ranking Group 4
ELO rating 9th
Colours:
The Nike 2016 home uniform

-

White v-necked jerseys with light blue sleeves

and ice blue collared tri

m/side stripe and white cuffs, white shorts with ice blue side trim, red socks.
Capt:
Jordan Henderson
fourth, W 2 - D 2 - L 0 - F 8 - A 3.

⁸

Manager:
Gareth Southgate, 47 (3 September 1970), appointed caretaker manager on 27 September 2016, appointed as permanent manager on 30 November 2016.


tenth match, W 5 - D 3 - L 2 - F 19 - A 9.

England Lineup
1

Hart,

C.

Joseph

J.

30
138 days
19 April 1987
G
West Ham United FC, on loan from Manchester City FC
73
48ᵍᵃ
2
Walker, Kyle A.
27
99 days
28 May 1990
RB
Manchester City FC
29
0
3
Bertrand, Ryan D.
28
30 days
5 August 1989
LB
Southampton FC
16
1
4

Henderson, Jordan B.
27
79 days
17 June 1990
RCM
Liverpool FC
34
0
5
Cahill, Gary J.
31
259 days
19 December 1985
RCD
Chelsea FC
57
4
6
Jones, Philip A.
25
195 days
21 February 1992
LCD
Manchester United FC
23
0
7

Rashford, Marcus, off 84th min.
19
308 days
31 October 1997
RAM
/LM
Manchester United FC
11
2
8

Dier, Eric J.E.
23
232 days
15 January 1994
LCM

Tottenham Hotspur FC
20
3

73rd min. after he swiped at Michal Ďuriš on the halfway line.

the 177th player to reach the 20-app milestone

9
Kane, Harry E.
24
38 days
28 July 1993
CF
Tottenham Hotspur FC
21
10
10
Alli, Bamidele J., off 90th+3 min.
21
146 days
11 April 1996
AM
Tottenham Hotspur FC
21
2

11

Oxlade-Chamberlain, Alexander M.D., off 83rd min.
24
20 days
15 August 1993
LAM
/RM
Liverpool FC
29
6

England

Substitutes

scoreline:

England 2 Slovakia 1
22
Sterling, Raheem S., on 83rd min.

(82:22)

for Oxlade-Chamberlain
22
270 days
8 December 1994
in Kingston, Jamaica
LM
Manchester City FC
34
26
2
8
20
Welbeck, Daniel

N.T.M., on 84th

min. (83:02)

for Rashford
26
282 days
26 November 1990
F
Arsenal FC
36
25
15
11
18
Livermore, Jake

C.L.

, on 90th+3 min

. (92:49)

for Alli
27
294 days
14 November 1989
DM
West Bromwich Albion FC
5
3
0
2

result:

England 2 Slovakia 1
unused substitutes:
12-Chris Smalling, 13-Jack Butland, 14-Aaron Cresswell, 15-Michael Keane, 16-John Stones, 17-Nathanial Chalobah, 19-Daniel Sturridge, 21-Jamie Vardy, 23-Tom Heaton.
team notes:
Alex Oxlade-Chamberlain's father, Mark Chamberlain, also played for England (1982-84).

stadium records:

This is a record eighth consecutive World Cup victory at the Stadium, starting back in October 2012.
records:
England have now gone 37 qualification matches unbeaten (W28 D9).
They are also unbeaten in a record 23 competitive home matches (beginning October 2008).
Jake Livermore is the one hundredth different player to feature for England at the National Stadium.
Manager Gareth Southgate started in both European qualifiers against Slovakia in the 2002-04 campaign. Both ended in 2-1 victories.
4-4-1-1
Hart -
Walker, Cahill, Jones, Bertrand -
Rashford (Welbeck), Henderson, Dier, Oxlade-Chamberlain (Sterling) -
Alli (Livermore) -
Kane.


notes: Oxlade-Chamberlain and Rashford exchanged wings half-way through the first half.

Averages

(Starting XI)

:

Age
25 years 275 days
Appearances/Goals

30.4

2.4
Rank:

FIFA (10 August 2017) 22nd
EFO ranking n/a
ELO rating 28th
Colours:
Made by Nike - Pale blue v-necked jerseys with dark blue sleeves/side trim and pale blue collar trim, pale blue shorts with dark blue side trim, pale blue socks.
Capt:
Martin Škrtel
Manager:
Ján Kozák, 63 (17 April 1954), appointed 2 July 2013.
43rd match, W 24 - D 9 - L 10 - F 64 - A 36.
Slovakia Lineup
23
Dúbravka, Martin
28
242 days
5 January 1989
G
AC Sparta Praha

, Czech Republic

6
9ᵍᵃ
2
Pekarík, Peter
30
309 days
30 October 1986
RB
Hertha, Berliner SC von 1892, Germany
77
2
3
Škrtel, Martin
32
263 days
15 December 1984
CD
Fenerbahçe SK

, Turkey

91
6
4
Ďurica, Ján
35
268 days
10 December 1981
CD
Trabzonspor Kb

, Turkey

89
4
15
Hubočan, Tomáš
31
352 days
17 September 1985
LB
Olympique de Marseille

, France

54
0
14
Škriniar, Milan
22
205 days
11 February 1995
DM
FC Internazionale Milano, Italy

11

0


70th min. after he brought down Deli Alli outside the penalty area.

S

USPENDED.

22

Lobotka, Stanislav
22
283 days
25 November 1994
DM
RC Celta de Vigo , Spain
3
1
7
Weiss, Vladimír, off 68th min.
27
278 days
30 November 1989
RM
Al-Gharafa SC

, Qatar

62
7
17
Hamšík, Marek, off 79th min.
30
39 days
27 July 1987
AM
SSC Napoli

, Italy

99
21
20
Mak,

Róbert

26
180 days
8 March 1991
LM
Panthessalonicean AC Constantinopolitans, Greece, on loan from

FK Zenit, Russia

32
7
11
Nemec, Adam, off 69th min.
32
2 days
2 September 1985
CF
FC Dinamo București, Romania
30
10
Slovakia Substitutes

scoreline:

England 2 Slovakia 1

10
Rusnák, Albert, on 68th min.

(67:53)

for Weiss
23
59 days
7 July 1994
in Vyškov, Czechoslovakia
M
Real Salt Lake City

, United States

5
0
21
Ďuriš, Michal, on 69th min

. (68:05)

for Nemec
29
95 days

1 June 1988


in Uherské Hradiště, Czechoslovakia
F
FC Orenburg

, Russia

36
4
8
Duda, Ondreja, on 79th min.

(78:29)

for Hamšík
22
273 days
5 December 1994
AM
Hertha, Berliner SC von 1892, Germany
17
2

result:

England 2 Slovakia 1

unused substitutes:
1-Ján Novota, 5-Norbert Gyömbér, 6-Ján Greguš, 8-Ondreja Duda, 9-Jaroslav Mihalík, 12-Martin Polaček, 13-Patrik Hrošovský, 16-Róbert Mazáň, 18-Erik Sabo, 19-Juraj Kucka.
Coach Jón Kozak played for Czechoslovakia against England in the November 1978 friendly defeat.
Vladimír Weiss' father, also Vladimír, played for Czechoslovakia, as a substitute,

in the March 1990 friendly defeat

.
4-2-3-1
Dúbravka -
Pekarík, Škrtel, Ďurica, Hubočan -
Škriniar, Lobotka -
Weiss (Rusník), Hamšík (Duda), Mak -
Nemec (Ďuriš).

Averages

(Starting XI)

:

Age
29 years 90 days
Appearances/Goals

50.4

5.2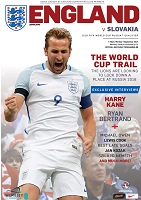 After a somewhat laboured display in Malta, England arrived at Wembley determined to win over their sceptical fans with a positive performance against their nearest rivals in their World Cup group, Slovakia. What everyone needed was an early goal to settle the nerves, and we got one, although unfortunately, it wasn't scored by England.

With only two and a half minutes of the game gone, Phil Jones headed clear a cross from the right and Marcus Rashford attempted to dribble the ball away to try and make a break. The youngster was caught in possession though, and a lovely chipped pass from Adam Nemec found Stanislav Labotka clear of the defence to shoot past the advancing Joe Hart. It was not at all what the crowd, or the team, wanted but it was a well-taken goal and it highlighted Slovakia's bright and positive start. The visitors tactics surprised England as they continued to play on the front foot. They certainly weren't going to sit back and defend for ninety minutes. England had a lot of work to do and they gradually knuckled down to their task.

Rashford attempted to redeem his mistake with a good run and shot, saved by Martin Dubravka, but for a spell it was the Slovakia team that held possession well with some good crisp passing. England were struggling to come to terms with conceding that early goal. Finally, on 15 minutes, Harry Kane forced a corner, and there was a fierce scramble as Slovakia struggled to clear the danger. Two minutes later a better England move down the right saw Rashford tee up Dele Alli, but the final shot was deflected wide for another fruitless corner.

Gradually England clawed their way back into the game and Alex Oxlade-Chamberlain made a promising break on 20 minutes. However, the crowd groaned as his final shot went way over the top. Shortly after that miss, Alli's header from Kyle Walker's deep cross was easily gathered by Dubravka. All the time, the Slovakian midfield, strong throughout, set England's defenders a number of tasks, and the visitors were always dangerous, but without threatening Hart.

England continued to search for a way back and on 25 minutes a good ball into the middle by Jordan Henderson was again met by Alli's head, but again the header was weak. Several corners were won over the next few minutes but as so often before nothing fruitful came of them. England were improving as the game progressed but the final pass was never quite there for them, whilst at the back Hart was having a quiet game with the defence coping with the few Slovakian attacks. Rashford had another attempt on 34 minutes but that went wide and a few more corners came and went. Then on 37 minutes Kane might have gone down in the box when he was clipped by a defender, but instead settled for yet another corner. This time, lo and behold, the corner brought a rich reward!

Rashford took the kick and played it low, towards the near post, at pace, Eric Dier stole a march on the dozing Slovakian defenders and flicked the ball towards goal. Not only that but it flew into the top corner giving the keeper no chance and gave England a deserved equaliser. England, at last, had made a corner kick pay off!

The goal certainly lifted the mood of the stadium, and the team came close to taking the lead before the break. In the 42nd minute Ryan Bertrand latched on to a loose ball and shot hard from close range. Dubravka fisted that one clear but a minute later the keeper produced the best save of the night when he tipped Rashford's fine shot around a post at full stretch. There was still time for a bit of a let-off at the other end as Slovakia pushed forward again. Gary Cahill lunged in to the back of Vladimir Weiss, but the forward rolled the challenge well and was clear on goal about forty yards out. As he sped towards the box Walker came from nowhere, using his superb pace, to dislodge the ball away from Weiss's feet. Replays suggested that Walker was a mite lucky to get away with the challenge as it appeared he caught the legs of Weiss, although to be fair, Walker had made a legitimate challenge for the ball. That incident signalled the end of an entertaining half, but England would look to improve after the break.

England, by and large, had finished the first half strongly and they continued with that pattern after the restart. On 47 minutes a fine piece of inter-passing between Rashford and Alli saw the latter's shot blocked but then run free to Henderson. Unfortunately the skipper scuffed his follow-up shot wide of the far post. Five minutes later Rashford forced another good save from Dubravka after more excellent build up play, and then the keeper saved again from a fierce shot by Oxlade-Chamberlain, getting everything behind the ball as he dived to catch.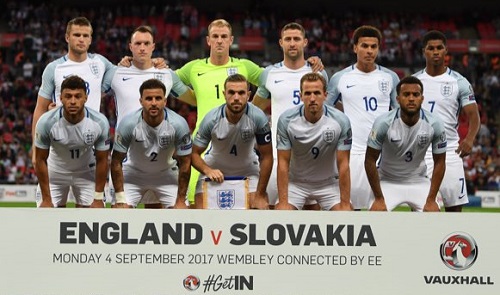 Just as you thought England would forge ahead, Slovakia came back with a near miss of their own. In the 55th minute good interplay down the left ended with a weak cross by Robert Mak, but England failed to clear properly and the ball ran for Marik Hamsik to try another cross. This time it was an excellent one and it cleared Jones before being chested down by Nemec. The forward hit a point-blank shot at goal but Hart stood tall to make a very good save, pushing the ball away for a corner. Martin Skirtel headed over from the kick and the danger was over.

Immediately, England were back on the attack. Kane rode two challenges to fire in a cross-shot which Dubravka managed to push out, but Alli could not bring the ball under control and it went out for a goalkick. On 58 minutes, with the game hotting up, Alli had another try, but this time shot hopelessly high, wide and not so handsome. Seconds later though, England finally forced their noses ahead, and this time it was a fine goal. Alli intercepted a pass inside, Gary Cahill passed it on to Henderson, who, in turn, found Rashford. One touch made him some space, and the second saw him drill a super shot wide of the keeper and into the far corner. No-one deserved the goal more than the Manchester United youngster as he showed great character to come back from his earlier error. He certainly atoned for it with his goal.

On 65 minutes chances fell at both ends as the game opened up, with Alli seeing another effort saved and then Tomas Hubocan hit a shot into the ground and wide following a free-kick. For a period of play after that England sat very deep allowing Slovakia to come on to them, which seemed a dangerous ploy, although to be fair the England players defended well and pressed the Slovakian players at every opportunity, thus denying them space. Substitutes came on for Slovakia and then Dier committed one foul too many to gain a booking. With ten minutes left, good covering from Jones averted a dangerous situation and the defender had had a very steady game.

Gareth Southgate brought on Raheem Sterling and Danny Welbeck for Oxlade-Chamberlain and Rashford with eight minutes to go. In those remaining minutes though Slovakia could not generate the necessary surge to try and force a late equaliser, and that was mainly down to England's good defending. Jake Livermore came on for Alli in the closing seconds but he barely had a touch before the final whistle sounded. Three vital points for England and they have all but booked their place in the finals next year, now having a five point gap from Slovakia in second spot.