Match Summary
Officials

from Germany

England Squad

Type

Italy Squad

Referee (salmon pink)
Deniz Aytekin
39 (21 July 1978), Nürnberg, FIFA-listed 2011.
12
Goal Attempts
9
6
Attempts on Target
2
Assistant Referees
0
Hit Bar/Post
0
Eduard Beitinger


34 (1 November 1983), Regensburg

Rafael Foltyn


32 (21 June 1985),

Wiesbaden

8
Corner Kicks Won
3
Fourth official
Marco Fritz


40 (3 October 1977), Korb, FIFA-listed 2012.

0
Offside Calls Against
2
10
Fouls Conceded
8
48%
Possession
52%
Video Assistant Officials

Daniel Siebert


34 (4 May 1984), Berlin, FIFA-listed 2015



Assistant Video Assistant Referee - Benjamin Brand

England Team
Rank:

FIFA (15 March 2018) 16th
EFO ranking Group Three
ELO rating 7th
Colours:
The Nike 2018 home uniform

-

White v-necked jerseys

with red tri

m on collar, dark blue shorts, white socks.
Capt:
Eric Dier


third, W 0 - D 3 - L 0 - F 1 - A 1.

⁵

Manager:
Gareth Southgate, 47 (3 September 1970), appointed caretaker manager on 27 September 2016, appointed as permanent manager on 30 November 2016.


sixteenth match, W 8 - D 6 - L 2 - F 23 - A 10.

England Lineup
1
Butland, Jack
25
17 days
10 March 1993
G
Stoke City FC
7
4ᵍᵃ

32nd different keeper to concede penalty

2
Trippier, Kieran J., off 60th min.
27
189 days
19 September 1990
RWB
Tottenham Hotspur FC
5
0
3
Young, Ashley

S.

32
281 days
9 July 1985
LWB


/RWB

Manchester United FC

33

7

83rd min. after a fall on the touchline & rolled onto the pitch to force a stoppage
4
Walker, Kyle A.
27
303 days
28 May 1990
RD
Manchester City FC
34
0
72nd min. after he brought down Pellegrini on the edge of the area
5
Stones, John, injured off 71st min.

(70:32)

23
303 days
28 May 1994
CD
Manchester City FC
24
0

1231

6
Tarkowski, James

A.

25
128 days
19 November 1992
LD
Burnley FC
1
0

the 28th Burnley player to represent England

7

Oxlade-Chamberlain, Alexander M.D., off 60th min.
24
224 days
15 August 1993
RAM
Liverpool FC

32

6

40th min. after he kicked the ball away after he is penalised following a tussle
8
Dier, Eric J.E.
24
71 days
15 January 1994
CM
Tottenham Hotspur FC
25
3
9

Vardy, Jamie R., off 70th min.
31
75 days
11 January 1987
LF
Leicester City FC
21
7
10
Sterling, Raheem S.
23
109 days
8 December 1994
in Kingston, Jamaica
RF
Manchester City FC
37
2
11

Lingard, Jesse E., off 71st min.
25
102 days
15 December 1992
LAM
Manchester United FC
10
1

England

Substitutes

scoreline:

England 1 Italy 0
18
Lallana, Adam D. on 60th min.

(59:01)

for Oxlade-Chamberlain
29
321 days
10 May 1988
M
Liverpool FC
34
23
3
11
final app 2013-18
12
Rose, Daniel L., on 60th min

(59:36)

for Trippier.
27
268 days
2 July 1990
LM
Tottenham Hotspur FC
16
13
0
3
21
Rashford, Marcus, on 70th min.

(69:53)

for Vardy
20
147 days
31 October 1997
LF
Manchester United FC
17
7
2
10
1232
19
Cook, Lewis J., on 71st min.

(70:12)

for Lingard
21
52 days
3 February 1997
LAM
AFC Bournemouth
1
0

first Bournemouth player to represent England

only app 2018
14
Henderson, Jordan B., on 73rd min.

(72:15)

for Stones
27
283 days
17 June 1990
CD
Liverpool FC
38
28
0
10

result:

England 1 Italy 1
unused substitutes:
13-Joe Hart, 15-Harry Maguire, 16-Alfie Mawson, 17-Jake Livermore, 20-Dele Alli, 22-Jordan Pickford, 23-Nick Pope, 24-Danny Welbeck.
team notes:
Alex Oxlade-Chamberlain's father, Mark Chamberlain, also played for England (1982-84).
John Stones' injury occurred when he took the ball flat into his face (68:20), toppling him, preventing a Davide Zappacosta cross, a yard outside the penalty area.
records:
England went 624 minutes without conceding a goal, before Insigne's penalty.
England's last three conceded penalties have come in a March, in 2018, 2016 and 2008.
Lewis Cook is the thirtieth player to make his debut as a substitute at the National Stadium.
Jamie Vardy is the 28th different England player to have scored against Italy (33 scored).
England have equalled their record of four home friendly matches without a victory.
Manager Gareth Southgate played for England against Italy in the Le Tournoi victory in June 1997 (he had been an unused substitute in the friendly four months earlier). He also played in the friendly defeats in November 2000 and March 2002.
3-5-2
Butland -
Walker, Stones (Henderson), Tarkowski -
Trippier (Rose), Oxlade-Chamberlain (Lallana), Dier, Lingard (Cook), Young -
Sterling, Vardy (Rashford)


notes: Rose went left wing-back, Young went right, at his substitution. Then Dier took over Stones' role in the back three when the defender was injured.

Averages

(Starting XI)

:

Age
26 years 164 days
Appearances/Goals

20.8

2.3

oldest starting XI in 2017-18

Italy Team
Rank:

FIFA (15 March 2018)

14th


EFO ranking Group Two


ELO rating

11th

Colours:
Made by Puma - Royal blue jersey with navy blue collar/cuffs, blue shorts with navy hem, blue socks with navy top.
Capt:
Leonardo Bonucci

Caretaker

Coach:
Luigi Di Biagio, 46 (3 June 1971), appointed U21 coach on 2 July 2013, appointed caretaker of first team, 5 February 2018.
second match, W 0 - D 1 - L 1 - F 1 - A 3.
Italy Lineup
26
Donnarumma, Gianluigi
19
30 days
25 February 1999
G
AC Milan
5
0
21
Zappacosta, Davide
25
289 days
11 June 1992
RB
Chelsea FC, England
9
0
15
Rugani, Daniele
23
241 days
29 July 1994
CD
Juventus FC
6
0
19
Bonucci, Leonardo
30
330 days
1 May 1987
CD
AC Milan
77
5
2
De Sciglio, Mattio
25
158 days
20 October 1992
LB
Juventus FC
33
0
16
Pellegrini, Lorenzo

, off 79th




min.

21
281 days
19 June 1996
RM
AS Roma
3
0
14
Jorginho
26
97 days
20 December 1991
in Imbituba, Brazil
CM
SSC Napoli
5
0
18
Parolo, Marco
33
61 days
25 January 1985
LM
SS Lazio
36
0
6
Candreva, Antonio

, off 55th




min.

31
327 days
28 February 1987
RF
FC Internazionale
54
7
17
Immobile, Ciro, off 64th min.
28
35 days
20 February 1990
CF
SS Lazio
32
7
10
Insigne, Lorenzo
26
296 days
4 June 1991
LF
SSC Napoli
23
4
55th penalty against scored

(83rd overall)

Italy Substitutes

scoreline:

England 1 Italy 0

25
Chiesa, Federico, on 55th min.

(54:59)

for Candreva
20
153 days
25 October 1997
RF
ACF Fiorentina
2
0
9
Belotti, Andrea, on 64th min. (63:48) for Immobile
24
97 days
20 December 1993
CF
Torino FC
15
4
20
Gagliardini, Roberto, on 79th min.

(78:40)

for Pellegrini
23
354 days
7 April 1994
RM
FC Internazionale , on loan from Atalanta BC
4
0

result:

England 1 Italy 1

unused substitutes:
1-Gianluigi Buffon, 3-Gian Marco Ferrari, 4-Matteo Darmian, 5-Obinze Angelo Ogbonna, 7-Giacoma Bonaventura, 8-Marco Verratti, 12-Simone Verdi, 22-Patrick Cutrone, 23-Bryan Cristante, 24-Alessandro Florenzi, 27-Mattia Perin.
team notes:
Federico Chiesa's father Enrico, also played as a substitute for Italy against England in October 1997, unused substitute in February and June 1997 matches.
Caretaker coach Luigi Di Biagio played for Italy as a substitute against England and Southgate in the friendlies November 2000 and March 2002.
4-3-3
Donnaruma -
Zappacosta, Rugani, Bonucci, De Sciglio -
Pellegrini (Gagliardini), Jorginho, Parolo -
Candreva (Chiesa), Immobile (Belotti), Insigne.

Averages

(Starting XI)

:

Age
26 years 203 days
Appearances/Goals

25.7

2.0
Match Report by Mike Payne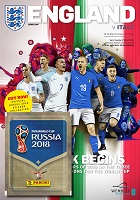 After the success in Holland, manager Gareth Southgate went with largely the same team in this home game with Italy. It wasn't as convincing as the performance in Amsterdam, but there were still plenty of positives to be gained, and but for a strange decision at the end, another win would have been recorded.

With the VAR system in operation for this match England began very sloppily and in the third minute John Stones so nearly gave a goal away. He dawdled on the ball, lost his footing, and possession, as Ciro Immobile challenged. Luckily for the Manchester City player Immobile was not as decisive as an Italian normally is and Stones recovered to block the shot. It was a near miss and gave food to those who don't always enjoy this playing the ball out at the back when under pressure. The home side gradually snapped out of their lethargy though and four minutes later a corner was won at the other end. This time Stones headed over from the kick.

The Italians were stroking the ball around the turf well and England's pressing in the early stages of the game was nowhere near as sharp as it had been against Holland. But a great through ball then so nearly released Jaime Vardy, only for a fine saving tackle to end the attack. Raheem Sterling looked very lively when England pushed forward and the Italians struggled to cope with his pace. Both sides were looking to play balls over the top for the forwards to run onto, but most of the passes were over-hit or intercepted. Italy should have been in front on 16 minutes when a cross from the right found Immobile on his own in front of goal. Once again though the forward messed up the chance and this time he headed over the bar. At this stage of the game Italy seemed to be winning most of the loose balls, and most of the headers. Eric Dier did manage one header at goal but could not generate enough power and it was easily saved by Gianluigi Donnarumma.

After 22 minutes, and with England showing signs of improvement, they created their best chance so far. Sterling was fouled as he ran, but he kept going and fed Vardy and only a good save by the keeper prevented a goal. Four minutes later England attacked again, and once again Sterling was fouled as he ran, he kept going but was fouled again. Quick thinking by Jesse Lingard, reacting to the free-kick being given, saw him put the ball down and tap it to Vardy who strode forward and hit a rasping shot into the top corner. It was a fine finish and a reward for some sharp thinking by Lingard.

Italy hit back after the goal and Immobile was again off target with another effort on goal. Immediately Marco Parolo fired another shot just over Jack Butland's crossbar. The Italians played a series of one-two's but could not find a way through, and it was England who went close again after a powerful breakaway by Alex Oxlade-Chamberlain and Sterling. On 38 minutes England had another attempt as Sterling set up the marauding Ashley Young only for his shot to be deflected just wide of the far post. There was a silly booking for Oxlade-Chamberlain as he kicked the ball away after being penalised, but all in all, England were more comfortable as the half ended and were worthy of their half-time lead.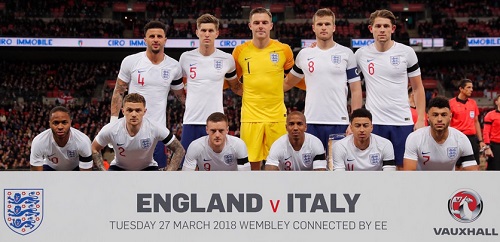 The first ten minutes after the restart saw England comfortable in possession and passing the ball around confidently. However, there was little from either side by way of a decent attack until Sterling attacked down the left, brilliantly set up Young, only to see the shot blocked by a defender. At this point Italy were under the cosh and finding it difficult to make an impact. Dier then broke and found Sterling who teed up Oxlade-Chamberlain, but his shot was straight at Donnarumma. Italy were making uncharacteristic mistakes and if England had scored again then, the result would have been settled. But Southgate then made some substitutions and somehow the zest went out of the home team's game. Coupled with Italy doing the same, with a more positive result, the visitors enjoyed more possession for a spell.

England still created openings with Sterling at the heart of most of their best attacks. One shot was saved and then Sterling shot over from a great position, the sort of chance he has been tucking away all season for City. More substitutions with Vardy and Lingard off and Marcus Rashford and another debutant, Lewis Cook on, further upset any rhythm and Kyle Walker blotted an otherwise good performance with a needless booking following a silly foul. To be fair the referee had overlooked similar challenges by the Italians and did seem to give the balance of the 50-50 decisions to the away side. Yet another booking came when Young was fouled on the edge of the pitch, Young then rolled back on to the pitch to be treated for an injury and was promptly booked for coming back on to the pitch without the ref's permission. Three silly bookings for England and ones they must learn from.

It was a little frustrating as the game went on as Italy had more of the game whilst England sat back and basically forgot to attack. It was a recipe for disaster and with three minutes left it happened, but not in the way anyone imagined.

Federica Chiesa, a substitute, ran at England defence and three players closed in on him as he entered the penalty area. He went down, screaming (!), but the referee gave a corner, quite rightly. Unfortunately for England, the referee was then alerted by the VAR official to have a look at the incident again. The VAR was supposed to be to try and eradicate clear errors. After umpteen replays it was far from clear to anyone, but the referee saw James Tarkowski's foot come down on Chiesa's and deemed that it was a penalty, even though the player was going down already with his theatricals. So, up stepped Lorenzo Insigne and he slammed the ball into the corner giving Butland no chance.

Personally, I think that the VAR should then have been brought into play again as at least two other Italians were in the area before Insigne shot! But then I'm nitpicking, and I'm not a fan of VAR, in any form. Leave it to the referee, if he makes a mistake then we live with it, after all it is the top subject for all football fans, moaning about the ref!! Now we will have to moan about the ref and the VAR. I can certainly see problems ahead at the World Cup, I just hope other teams are punished by VAR as well.

Back to the game, and it has to be said that England only have themselves to blame for not winning this match and their lack of desire to go forward in the last 20 minutes eventually cost them the win. Having said all that, there were some excellent performances from Tarkowski, Sterling, Trippier, Vardy and Walker. Lots to praise, but also lots to improve.



Source Notes
TheFA.com
BBC Sport
vivoazzurro.it
Mike Payne - football historian and contributor
cg