"A FIVE GOAL FLOP"
Daily Mirror
Officials

from Netherlands

England
FIFA ruling on substitutes
Denmark XI
Referee
Pieter Paulus Roomer

Linesmen

A.S. Loskamp
J Groenewoud

England Intermediate Team
Rank:

No official ranking system established;
Colours:
The 1959 Bukta home uniform - White v-necked short-sleeved continental jerseys, blue shorts, socks to be confirmed.
Capt:
John Angus
Manager:
Ronald Greenwood,

38

(11 November 1921), appointed over the 1959 summer, also assistant manager of Arsenal FC;
trainer: Fred Ford
Team chosen (to face GDR) by the Intermediate Selection Committee, headed by Len Shipman, on Thursday, 15 September.
England Lineup

nine changes

from the previous U23 match

league position

(15 September)

Banks, Gordon
22
266 days
30 December 1937
G
Leicester City FC

(FL 14th)

2
Angus, John
22
19 days
2 September 1938
RB
Burnley FC

(FL 4th)

3
McNeil, Michael
20
227 days
7 February 1940
LB
Middlesbrough FC

(FL2 9th)

4
Barber, David Eric
20
290 days
6 December 1939
RHB
Barnsley FC

(FL3 12th)

5
Labone, Brian
23
246 days
19 January 1937
CHB
Everton FC

(FL 5th)

6

Moore, Robert F.C.
23
9 days
13 May 1937
LHB
West Ham United FC

(FL 16th)

7

Paine, Terence L.
21
182 days
23 March 1939
OR
Southampton FC

(FL2 6th)

8

Hill, Frederick
20
248 days
17 January 1940
IR
Bolton Wanderers FC

(FL 19th)

9

Baker, Joseph H.
20
66 days
17 July 1940
CF
Hibernian FC, Scotland

(SL 16th)

10

Burnside, David Gort
20
286 days
10 December 1939
IL
West Bromwich Albion FC

(FL 22nd)

11

Charlton, Robert
22
346 days
11 October 1937
OL
Manchester United FC

(FL 18th)

reserves:
Bryan Harvey (Newcastle United FC

(FL 11th)

), John McGrath (Bury FC

(FL3 7th)

), John Fantham (Sheffield Wednesday FC

(FL 2nd)

).
pre-match notes:
On 16 September, Twelve senior players were chosen for practice matches against the under-23 team on Monday & Tuesday, 19th & 20th at Old Trafford. They are; Ron Springett, Jimmy Armfield, Graham Shaw, Maurice Setters, Peter Swan, Ron Flowers, Bobby Robson, Norman Deeley, Dennis Viollet, Ray Pointer, Johnny Haynes and Brian Pilkington.
"CRISIS HITS SOCCER
"EAST German Soccer players who were due to meet England in the Under-23 international match at Manchester on Wednesday cannot come here because of the tense situation in Germany. Movement between East and West Germany is restricted and the members of the team have not been able to get travel documents. Instead, the England Under-23's will meet a Danish XI." - Sunday Mirror, 18 September 1960.
"Vejle, the Danish First Division team who include four members of the silver-medal-winning Olympic side, leave tomorrow to meet England's Under-23 side. Vejle are fourth in their division, only four points behind the leaders. The have one the Danish Championship twice, the Danish Cup three times, and have represented their country many times in Europe." - Birmingham Post, Monday, 19 September 1960.
On Monday, 19th, without an injured Norman Deeley, the first practice match was played, ending in a one-all draw. Dennis Viollet opened the scoring in the second half with Terry Paine equalising late on.
The practice match played the day after resulted in a 2-1 victory for the Young side.
2-3-5
Banks -
Angus, McNeil -
Barber, Labone, Moore -
Paine, Hill, Baker, Burnside, Charlton.

Averages:

Age
21 years 276 days

Denmark XI Team
Rank:

No official ranking system established;
Colours:
red shorts, white shorts and white socks
Capt:
Poul Jensen

Manager

:
Frits Gotfredsen, 46 (14 August 1914)
Denmark XI Lineup
1
Sørensen, Erling
23
299 days
27 November 1936
G
Vejle BK
2
Johansen, Kai
28
223 days
11 February 1932
RB
3
Jensen, Poul
26
177 days
28 March 1934
LB
4
Sørensen, Knud Herbert
26
244 days
21 January 1934
RHB
5
Pedersen
nk
not known
CHB
6
Poulsen, Kaj
17
265 days
31 December 1942
LHB
7
Andersen, Svend

Grønkjær

31
363 days
24 September 1928
OR
8
Troelsen, Tommy Brian
or Hansen
20
73 days
10 July 1940
IR
9
Thomsen
nk
not known
CF
10

Enoksen, Henning
24
361 days
26 September 1935
IL
11
Mejer, Poul
28
324 days
2 November 1931
OL
unused substitutes:
not known
team notes:
Programme notes state the possibility of Hansen playing instead of Troulsen
2-3-5
E.Sørensen -
Johansen, Jensen -
K.Sørensen, Pedersen, Poulsen -
Andersen, Troelsen or Hansen, Thomsen, Enoksen, Mejer

Averages:

Age
25 years 179 days

⁹
Match Report
by Bill Holden, Daily Mirror, Thursday, 22 September 1960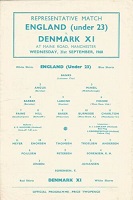 IN fairness to the England boys who won at Maine-road, Manchester, last night the selectors must keep this Under-23 team together for the next match against unknown—so far—Continental opponents in November.
Because against Vejle—a Danish club team which the Football Association insisted on calling a Danish National XI—they flopped. You can forget the scoreline. For the first half, the cream of England's young talent—which is being built up for the 1962 World Cup—made no impression on this all-amateur Danish team. And at half-time they were held to 1—1 by Vejle, who included four schoolteachers, three clerks, a plumber and a bacon inspector in their line-up. Vejle helped the F A out of a fix by agreeing to deputise for the East German Under-23 side, who were refused permission to travel to England. It was lucky for our prestige that they did—for this new look Young England simply did not measure up for the job. Thankfully ofr English honour—and his own future—Manchester United outside left Bobby Charlton rescued his side after the break. Charlton crashed through in the fifty-second minute entirely on his own to put England 2—1 ahead. Seven minutes later he hit in another. In the sixty-fourth minute with the Danes tiring badly, West Ham left half, Bobby Moore, came through to hit England's fourth. And nine minutes later Southampton outside right Terry Paine touched home the fifth goal. Young England's first goal had come from centre forward Joe Baker in the 17th minute. Vejle equalised through inside left Henning Enoksen after 35 minutes.

Football League Division One


Nottingham Forest 4 Fulham 2




City Ground, Nottingham

(14,959)


Vowden

(3),

Booth ~

Cook, O'Connell




Football League Division Two


Middlesbrough 1 Scunthorpe United 3


Ayresome Park, Middlesbrough

(19,533)


Henderson ~ Thomas (2), Benson
Football League Division Three


Reading 3 Bradford City 1




Elm Park, Reading

(8,627)


Wheeler (2),

Spiers ~ Howard

Shrewsbury Town 2
Southend United 2


Gay Meadow, Shrewsbury

(6,959)


Rowley (pen), McLaughlin ~ Corthine (2)

Football League Division Four


Gillingham 3 York City 2


Priestfield, Gillingham

(5,161)


Shepherd, Terry, Brown ~

Addison, Wragg

Workington 0 Aldershot 4


Borough Park, Workington

(4,424)


Kirkup (2), Parnell, Tyrer

Wrexham 1 Stockport County 3


Racecourse Ground, Wrexham

(8,252)


G.Jones ~ Murdoch, Anderson, Wilson
Source Notes
| | | |
| --- | --- | --- |
| | | Original newspaper reports |
cg