England Football Online
Results 1960-1965
Page Last Updated 30 August 2022

Tuaisceart Éireann
337 vs. Northern Ireland


342
next senior match

(11 days)


343 vs. Luxembourg

354 vs. Northern Ireland

Saturday

,

8 October 1960




Home International Championship 1960-61

(66th)

Match





Northern Ireland 2 England

5

[1-2]




Windsor Park, Donegall Avenue, Belfast, county Antrim
Kick-off (GMT): 3.00pm
Attendance:

'estimated at 55,000'; '58,000'; '60,000'.

Danny Blanchflower won the toss
England kicked off






[1-1] Billy McAdams 35


'Derek Dougan, on the edge of the penalty area, challenged Swan for a lob from the right, the ball ran loose for McAdams to run in and crash home a 15-yard drive.'


[1-1] Derek Dougan heads against the post 40





[1-2] Billy McAdams heads against the other post 44
[0-1] Bobby Smith 16
'Johnny Haynes free-kick tapped the ball aside to Smith, who crashed in a terrific drive to the top of the net.'
(Greaves fouled)



[1-2] Jimmy Greaves 42
'coolly shot home with Gregg unsighted from a Johnny Haynes cross.'

2 Bandstand 2,45 Break For Music 2.55 Racing 3.10 West of England Players
3.45 Football: Ireland vs. England
4.45 William Davies at the Piano 5 Sports Report 6 All Together 6.30 Music With a Beat 7 News & Newsreel



[2-3] Billy McAdams header 53
'Bingham sent Jimmy McIlroy away on the right, from his accurate centre, McAdams headed a good goal.'
[1-3] Bobby Charlton header 46
'When Douglas crossed hard from the right, Gregg dived at the feet of Greaves and fisted the ball away only for Charlton to head through.'

[2-4] Bryan Douglas 67
'Charlton intercepted a pass in his own half, brought the ball down before passing to Jimmy Greaves, whose square cross found Douglas unmarked'...'half-hit shot off his shin.'
[2-5] Jimmy Greaves 89
'from a through ball by Johnny Haynes he just brushed through the Irish defence, walked into an empty net.'
second half live - commentator: tbc


"GREGG NIGHTMARE"
Sunday Mirror
Officials

from Scotland

Northern Ireland
UK ruling on substitutes
England
Referee (black)
Hugh Phillips


39 (4 April 1921), Wilshaw


THE FACTS as reported in the Daily News...
Corners—Ireland 12, England 6. Off-side—Ireland 0, England 5. Fouls—Ireland 12, England 19.
Shots—to Ireland (first-half 14, second-half 9:- Peacock 4, Bingham 2, McIlroy 2, McAdams 5, Dougan 5, McParland 6) 23, England (first-half 8, second-half 10:- Douglas 4, Greaves 4, Smith 4, Charlton 6) 18.
Linesmen
Ronald Gordon


Glasgow

Harold McNicol


Clydebank

Northern Ireland Team
Rank:

No official ranking system established;
ELO rating 27th to 33rd
Colours:
Made by Bukta - Green continental jerseys with white v-neck collar/cuffs, white shorts, green socks with white tops.
Capt:
Danny Blanchflower
Manager:
Peter Dermot Doherty, 47 (5 June 1913), appointed October 1951.
fortieth match, W 8 - D - 13 - L 19 - F 53 - A 85.


team provisionally chosen on Saturday, 24 September, announced Monday, 26 September.

Northern Ireland Lineup
Gregg, Henry
27
347 days
27 October 1932
G
Manchester United FC

, England

20

37ᵍᵃ

2
Keith, Richard M.
27
146 days
15 May 1933
RB
Newcastle United FC

, England

15
0
3
Elder, Alexander R.
19
166 days
25 April 1941
LB
Burnley FC, England
2
0
4
Blanchflower, R. Dennis
34
241 days
10 February 1926
RHB
Tottenham Hotspur FC

, England

43
1
most apps 1960
5
Forde, J. Thomas
29
208 days
14 March 1931
CHB
Ards FC
2
0
6
Peacock, Robert
32
9 days
29 September 1928
LHB
The Celtic, Scotland
25
2
7
Bingham, William L.
29
64 days
5 August 1931
RM

Luton Town AFC

, England

41
6
8

McIlroy, James
28
349 days
25 October 1931
AM
Burnley FC, England
39
7
11
McParland, Peter J.
26
166 days
25 April 1934
LM
Aston Villa FC, England
27
7
9

McAdams, William J.
26
262 days
20 January 1934
RF
Bolton Wanderers FC

, England

6
3
10

Dougan, A. Derek
22
262 days
20 January 1938
LF
Blackburn Rovers FC

, England

3
0

reserve

:
Ray Gough (Linfield AFC)
pre-match notes:
On Wednesday, 5th October, the Northern Ireland played a pr

ivate practice match at Coleraine against the Irish League team that is to meet the Football League next week. Northern Ireland won 6-0, with Dougan scoring three goals and his forward partner McAdams with another. Wingers McParland and Bingham scored then other two.

Manager Peter Doherty played for Ireland against England on seven separate occasions from 1935 until 1947, scoring one in 1947.
2-3-5(3-2)
Gregg -
Keith, Elder -
Blanchflower, Forde, Peacock -
Bingham, McIlroy, McParland
McAdams, Dougan

Averages:

Age

27

years 270 days
Appearances/Goals

20.3

2.2

England Team
Rank:

No official ranking system established;
ELO rating 10th to 9th
Colours:
The 1959 Bukta home uniform - White v-necked short-sleeved continental jerseys, blue shorts, red socks with white calf hoop


seventh match, W 2 - D 2 - L 3 - F 12 - A 14.

³⁵
Capt:

Johnny Haynes


third, W 1 - D 0 - L 2 - F 5 - A 7.

²²

Manager:
Walter Winterbottom, 47 (31 March 1913), appointed as FA national director of coaching/team manager on 8 July 1946;
116th match, W 64 - D 28 - L 24 - F 312 - A 169, one abandoned.¹³⁹

Trainer: Harold Shepherdson
The team chosen by the Selection Committee, headed by Joe Richards, on Monday, 26 September.
England Lineup

three changes

from the previous match (McNeil, Greaves & Smith>Wilson, Viollet & Baker)

league position

(26 September)

Springett, Ronald

D.

25
78 days
22 July 1935
G
Sheffield Wednesday FC

(FL 2nd)

6

12ᵍᵃ

2
Armfield, James C.
25
17 days
21 September 1935
RB
Blackpool FC

(FL bottom)

9
0
5
Swan, Peter

25

8 October 1936
RHB
Sheffield Wednesday FC

(FL 2nd)

4
0
6
Flowers, Ronald
26
72 days
28 July 1934
LHB
Wolverhampton Wanderers FC

(FL 5th)

16
2

793

3
McNeil, Michael
20
244 days
7 February 1940
LB
Middlesbrough FC

(FL2 7th)

1
0
the 18th Boro player to represent England
4
Robson, Robert W.

27


233 days
18 February 1933
RM
West Bromwich Albion FC

(FL 18th)

8
2
10

Haynes, John N.
25
357 days
17 October 1934
LM
Fulham FC

(FL 6th)

37
14
7

Douglas, Bryan
26
134 days
27 May 1934
OR
Blackburn Rovers FC

(FL 4th)

15
3
8

Greaves, James P.
20
231 days
20 February 1940
IR
Chelsea FC

(FL 12th)

8
5

794

9

Smith, Robert A.
27
229 days
22 February 1933
IL
Tottenham Hotspur FC

(FL TOP)

1
1
151st player to score on his debut

the 25th Hotspur player to represent England

11

Charlton, Robert
22
363 days
11 October 1937
OL
Manchester United FC

(FL 20th)

19
14

reserve

:
Brian Miller (Burnley FC

(FL 7th)

)

pre-match notes

:
The party joined up in Manchester on Tuesday, 4 October. Ron Flowers missed the practice session at Maine Road because of an injured ankle. Brian Miller deputised in the match against the FA XI that is due to face the RAF XI tomorrow night at Old Trafford. Bryan Douglas scored the only goal in the fifty-minute practice match.
In Wednesday's training, the party moved on to Burnden Park and in the forty-minute practice, they drew 2-2 with hosts Bolton Wanderers FC. Greaves and Smith scoring for England, and two Dennis Stevens headers in reply.
On Thursday, the team returned to Maine Road for a final practice before flying out to Belfast.

team notes

:
The inclusion of three new players to the England set-up means that there has now been 175 players since the war/under Walter Winterbottom and selected by the ISC to have been named on England teamsheets (Starting XI & reserves).
Johnny Haynes, equal with Stan Matthews, becomes the fourth most used player in that period.
4-2-4
Springett -
Armfield, Swan, Flowers, McNeil -
Robson, Haynes -
Douglas, Greaves, Smith, Charlton.

Averages:

Age

24

years 312 days
Appearances/Goals

11.3

3.3
Match Report
by Mike Payne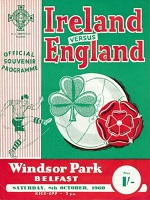 THE proverbial 'Luck of the Irish' had nearly always been missing when these teams met in Belfast and this day saw no exception. In fact, it was England who enjoyed the lion's share of any luck that was going and although they deserved to win, the margin of victory was a little flattering.

It was England who took the lead after a quarter of an hour. Johnny Haynes flicked a short free-kick to Bobby Smith and the big centre-forward thundered a 20-yard shot into the top corner of Gregg's net. Smith was full of powerful running and he constantly gave the Irish defence much to think about. He continually pulled Forde, Elder and Keith out of position which created openings for his colleagues.

However the Irish were soon back on level terms as the pace hotted up. Dougan's overhead flick was met by McAdams, who hit home a fine goal. Almost immediately the Northern Ireland side went close to taking the lead. It seemed certain that Bingham's shot would go in, but it hit McParland who was standing almost on the goal-line. That was typical of the bad luck that Ireland had, but worse was to come.

Nearly 60,000 people had crammed into this famous ground and they were watching an excellent game. Before half-time, though, they were to be very disappointed as England regained the lead. This time Haynes put in a cross from the right and Jimmy Greaves hit the ball past Gregg from 18 yards for another well-struck goal.

Overall, England deserved their half-time lead, their plan to have Ron Flowers alongside Peter Swan was working well with the twin aerial threat of Dougan and McAdams. Although Swan struggled at times, Flowers was always there to mop up any problems. Haynes, Greaves, and especially Bobby Charlton were all in tip-top form and Charlton was a particular delight with his long, raking passes stretching the Irish to the limits.

Blanchflower's usual skilful contribution in midfield was somewhat stifled by the Irish tactic of pumping high balls to the big men up front, so with Bobby Robson supporting Haynes superbly, England had the edge in midfield.

Immediately after the interval, England scored again. The alert and dangerous Bryan Douglas centred from the right and goalkeeper Gregg came a long way out of his goal in trying to palm the ball clear. Greaves, once again the man for the situation, punished the mistake with a clever looping header which dropped just under the crossbar.

It seemed all over bar the shouting but back came the battling Irish. McIlroy crossed and there was McAdams, again, to thump home a powerful header. The crowd were at fever pitch now but alas for them, the leprechauns refused to help their green-shirted countrymen at this stage. Dougan and McParland both struck the goalposts with good efforts and England could count themselves very lucky that they held on to their lead. Just as it seemed that the Irish must equalise they suddenly faded, allowing England the chance to reassert themselves.

Towards the end, they gained complete control again and promptly added two more goals to their tally. First, a fine move involving Charlton, Greaves and Haynes let in Douglas for the fourth goal; then, just before the final whistle, the same quartet combined again with this time Charlton the man in at the kill. Those perfectly-executed goals finally ended the brave Irish challenge.

Match Report
by Norman Giller
This victory over a strong Northern Ireland team marked the start of one of the most impressive sequences of results in England football history. Bobby Smith scored with his second kick in international football after Johnny Haynes had rolled a short free-kick into his path. Bobby Robson and Haynes, soon to be Fulham clubmates, were impressive midfield partners in a 4-2-4 formation, and the front four men - Douglas, Greaves, Smith and Bobby Charlton - looked as potent a force as England had fielded for ten years. Middlesbrough's powerfully built Mick McNeil replaced injured Ray Wilson at left-back, and looked comfortable in an England jersey. Two late England goals produced a final scoreline that was unkind to an Irish team in which Danny Blanchflower and Jimmy McIlroy were outstanding. The twinning of Greaves and Smith was a sign of great things to come for both England and Tottenham.

Match Report
as appears in the F.A. Yearbook 1961-62 page 38
IN spite of losing the two close season matches in Spain and Hungary, England only made three changes, one enforced through injury, in the the team which met Ireland at Belfast in October. Al left-back Wilson was injured, giving McNeil the opportunity to win his first full cap; in the forward line, Greaves and Smith were preferred to Baker and Viollet. The margin of England's victory was flattering and the Irish were unlucky in that they hit the post and crossbar on three occasions. Smith gave England the lead with a powerful shot in the sixteenth minute, a goal which was equalised by McAdams before halftime following a fast centre from Bingham. On the stroke of halftime Greaves put England in front and Charlton added to the score immediately after the interval with a header. Ireland again reduced the lead through McAdams but England were now well on top and scored further goals through Greaves and Douglas.

Source Notes
TheFA.com


Northern Ireland's Footballing Greats


Original newspaper reports
Official Matchday Programme


Drew Herbertson, Scottish FA historian

Rothman's Yearbooks




Mike Payne's England: The Complete Post-War Record


Norman Giller, Football Author
The Complete Book of the British Charts

cg