England Football Online
Results 1960-1965
Page Last Updated 3 September 2022

Lëtzebuerg
151 vs. Luxembourg

previous match

(11 days)


342 vs. Northern Ireland
343
next match

(seven days)


344 vs. Spain

351 vs. Luxembourg

Wednesday

,

19 October 1960




Campeonato Mundial de Futbol Copa Jules Rimet UEFA Group Six Qualification Match





Luxembourg 0 England 9

[0-4]


Stade Municipal é Luxembourg, Rollengergronn-Belair-Nord, Lëtzebuerg
Kick-off (CEST): 7.30pm 6.30pm GMT
Attendance: '5,000'; 5,500';

[0-1] Bobby Charlton 3
'Haynes split the defence with a superb long through pass. Jimmy Greaves got a touch and as the ball ran loose, Charlton hit a fierce left-foot shot inside the far post.'
[0-2] Bobby Charlton header 7
'When Bryan Douglas' centre came over, there was Charlton leaping to head homer'
[0-2] Bobby Smith scores - wrongly disallowed: offside
[0-3] Jimmy Greaves 16
'Johnny Haynes set up Greaves, who hit a left-foot shot in off the underside of the crossbar'
[0-4] Bobby Smith header 22
'

Greaves and Charlton combined on the left before Smith headed in

Bobby Charlton's pinpoint centre'
[0-5] Bobby Smith 52
' a perfect right-footer after Jimmy Greaves

mesmerised three defenders'


[0-6] Johnny Haynes 61


'a short range blast'


[0-7] Bobby Charlton volley 66 HAT-TRICK
'Jimmy Armfield hit a cross-field pass to Charlton, who gratefully glided through on the left before hitting a screamer with his right foot which swerved into the top corner.'
[0-8] Jimmy Greaves 82
'a snap effort'
[0-9] Jimmy Greaves 85 HAT-TRICK


'another snap effort'

no TV or Radio coverage


"9-0 MASSACRE"
Daily Mirror
Officials

from Netherlands

Luxembourg
FIFA ruling on substitutes
England Party
Referee (black)
Johan Heinrich Martens


45 (24 November 1914) Velsen



Linesmen
Lauren Van Ravens


38 (18 September 1922), Sciedam

Henk van der Veer


Luxembourg Team
Rank:

No official ranking system established;
ELO rating 117th
Colours:

'cherry-red'

jerseys, white shorts, blue socks.
Capt:
Erny Brenner
Manager:
Robert Heinz, 35/36 (1924 in West Germany)
second match, W 0 - D 0 - L 2 - F 2 - A 13
Luxembourg Lineup
Stendebach, Den Théid
23
182 days
20 April 1937
G
CS Stade Dudelange
3

14ᵍᵃ

2
Brenner, Ernest
29
36 days
13 September 1931
RB
CS Stade Dudelange
30
3
3
Hoffmann, Nicolas
20
61 days
19 August 1940
LB
CS Grevenmacher
2
0
4
Jann, Ernest
29
16 days
3 October 1931
RHB
AS La Jeunesse d'Esch
10
1
5
Brosius, Fernand Nicolas
26
157 days
15 May 1934
CHB
CA Spora Luxembourg
20
0
6
Konter, François
26
242 days
20 February 1934
LHB
FC Chiers
32
4
7
Schmit, Adolphe
20
63 days
17 August 1940
OR
CS Fola
3
0
8
Cirelli, Henri Joseph
25
301 days
23 December 1934
IR
CS Alliance Dudelange
20
5
9
Bauer, Gaston
24
262 days
31 January 1936
CF
US Luxembourg
5
0

10

May, Paul Nicolas Michel
25
121 days
20 June 1935
IL
AS La Jeunesse d'Esch
5
0
11
Mertl, Jean-Pierre
30
179 days
23 April 1930
OL
US Luxembourg
20
1

reserve

s:
Nico Schmitt (US Luxembourg), Léon Letsch (CA Spora Luxembourg), Gilbert Meylender (CS Stade Dudelange)

team note

s:
Luxembourg's national football hero, 30 year-old inside forward Viccy Nurenberg (Sochaux), was ruled out of this match because of injury - he would have been the only professional in the team.
His straight-forward replacement, Josef Kunnert, cannot get time off from work as a crane driver.
It means Brosius, a jeweller, moves from left to centre. Hoffmann, a centre-forward, moves to left-back and Bauer, a solicitor's clerk, comes in as centre-forward.
Jean-Pierre Mertl came in as a last-minute replacement at outside-left, replacing Letsch.
2-3-5
Stenderbach -
Brenner, Hoffmann -
Jann, Brosius, Konter -
Schmit, Cirelli, Bauer, May, Mertl

Averages:

Age

25

years 215 days
Appearances/Goals

13.6

1.3

England Team
F.A. secretary Sir Stanley Rous and Joe Richards, president of the Football League, bade goodbye to England's team in Luxembourg early this morning—and set off on an eight hour train journey to Zurich to attend secret talks on the possible formation of a summer Super League.
The new League is the brainchild of Karl Rappan, Switzerland's national coach. His plan, backed by the Swiss F.A. is to run a knock-out competition with six clubs from 10 European countries.

Match Report
by Mike Payne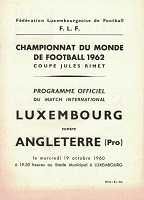 ENGLAND took the field in Luxembourg eager to make a winning start to their World Cup group matches. A place in the finals in Chile in 1962 was up for grabs and nothing short of a win would do. Some British soldiers had come down on leave from Brussels, so the team did not lack vociferous support. What followed was a simple, devastating and thoroughly professional job. The television coverage and the weakness of the home nation kept the crowd down to only less than 7,000, who were soon witnessing a goal.

As early as the third minute, Johnny Haynes, masterful throughout, split the defence with a superb long through pass. Jimmy Greaves got a touch and then, as the ball ran loose, in came Bobby Charlton to hit a fierce left-foot shot inside the far post with his first touch of the game.

Four minutes later, his third touch brought the second England goal. It was probably the best of the match and followed a scintillating move involving Haynes, Bobby Smith, Greaves and Brian Douglas. When Douglas' centre came over, there was Charlton leaping to head home.

Play continued to flow only one way and poor Luxembourg hardly managed a touch. After 15 minutes it was 3-0. Haynes was again was the architect and, not for the last time, he cleverly switched the direction of play to set up Greaves, who hit a shot in off the underside of the bewildered Stendebach's crossbar. Smith was the next player to get in on the scoring act. Twenty-two minutes had elapsed when Greaves and Charlton combined on the left before Smith headed in Charlton's centre.

For a while England became over-eager in attack as players queued up to have a pot at the beleagured Stendebach's goal. Too often they wanted to take the ball that one yard too many and chances were lost. However, it was obviously noticed as after the half-time break the forwards self-control returned.

Within seconds of the restart, Greaves beat three men in a lightning dash before giving Smith the chance to hit a rocket of a shot past Stendebach. Skipper Haynes was the next to score, picking his spot after a fine move by Ron Flowers and Charlton.

Charlton was continually catching the eye and he hit a peach of a goal for number seven. Jimmy Armfield hit a cross-field pass to the Manchester United ace, who gratefully glided through on the left before hitting a screamer with his right foot which swerved into the top corner.

The almost telepathic combination of Haynes and Greaves produced both of the last two goals, with Greaves twice darting through on to long passes to score.

For Luxembourg there was little consolation, although for a while Brenner had to switch to the right wing because of injury. Even when he returned, the pressure on him and Hoffmann was unrelenting with this rampant England display.

Match Report
by Norman Giller
Jimmy Greaves and Bobby Charlton helped themselves to hat-tricks in this World Cup qualifying match against outclassed Luxemburg. Bobby Smith notched two, but the goal of the game was a thundering shot from skipper Johnny Haynes. Walter Winterbottom announced that he had got the selectors to agree that they should make as few changes as possible as he put his faith in a settled team on the way to the 1962 World Cup finals in Chile.

Match Report
as appears in the F.A. Yearbook 1961-62 page 38
In their first attempt to win a place in the Final rounds of the World Cup, England travelled to Luxembourg on October 19th with the same team which had shown great improvement against the Irish. Although Luxembourg's chances of success were very slight, it was recalled that the England Amateur team which played there some two years previously, but lost 3-1 and strict pre-match training was carried out. England won very easily, the goals being scored at regular intervals by Greaves (3), Charlton (3), Smith (2), and Haynes.

Football League Division Three
Swindon Town 3 Bristol City 1
County Ground, Swindon
(16,618)
Layne
(3)
~ Atyeo
Football League Cup First Round


Exeter City 1 Manchester United 1


St. James' Park, Exter

(16,000)


Rees

~ Dawson
Football League Cup First Round Replays


Bolton Wanderers 5 Hull City 1


Burnden Park, Bolton

(10,791)


McAdams (2), Birch, Hill (2)

~

Gubbina




Bradford City 1 Lincoln City 0


Valley Parade, Bradford

(3,145)




Anders




Port Vale 3 Queen's Park Rangers 1ᴭᵀ


Vale Park, Burslem

(6,819)




Steel, Kinsey, Fidler

~ Bedford
Football League Cup Second Round


Derby County 3 Barnsley 0


Baseball Ground, Derby

(11,114)


Hutchinson, Curry, Barrowcliffe

(pen)




Gillingham 1 Preston North End 1


Priestfields, Gillingham

(5,735)


Cunningham OG ~ Alston




Liverpool 1 Luton Town 1


Anfield, Liverpool

(10,502)




Leishman

~ Brogan
Football League Cup Second Round Replay


Crewe Alexandra 2 Bournemouth 0


Burnden Park, Bolton

(10,791)


M.Jones, Llewellyn
Inter-Cities Fairs Cup First Round

First Leg




Birmingham City 3 Újpesti Dózsa 2


St Andrews, Birmingham

(23,301)


Gordon (2), Astall

~ Göröcs

(2)
Representative
FA XI 2 The Army 1
Hillsborough, Sheffield
(9,683)
Connelly, Fantham ~
Strong
Source Notes
TheFA.com
Original newspaper reports
Official Matchday Programme


Rothman's Yearbooks




Mike Payne's England: The Complete Post-War Record


Norman Giller, Football Author


The Complete Book of the British Charts
cg