340 vs. Spain

previous match

(seven days)


343 vs. Luxembourg


344
next match

(seven days)


'U23' 25 vs. Italy
next senior match

(28 days)


345 vs. Wales

395 vs. Spain

Wednesday

,

26 October 1960




International Friendly Match





England 4 Spain 2

[2-1]


Empire Stadium, Wembley Park, Wembley, Middlesex
Kick-off (GMT): 2.30pm
Attendance:

'80,000';

Receipts:

'£40,500'.

Bobby Smith kicked off
[1-0] Jimmy Greaves 1
'Greaves flicked the ball to Bobby Smith on the right wing, darting down the middle, Greaves took the return pass, parried the ball past a defender and hammered it into the net.'


[2-1] Bryan Douglas header 41
'Jimmy Armfield centre floated perfectly into the target area for Douglas to head with rifle power.'




[1-1] Luis Del Sol 13
'Del Sol rounded off the movement calmly. Drew Springett out before shooting'
Del Sol and Suarez were in a offside position

2 News 2.5 Science & Life
2.25 Football: England vs. Spain
4.15 Wednesday Magazine 4.45 Watch With Mother: The Flowerpot Men 5 Noggin the Nog 5.10 Union Pacific

50th post-war goal conceded at Wembley>


[3-2] Bobby Smith header 69
'Bobby Charlton floated a beautiful centre rom the left and Smith leapt to head in a superb goal'
[4-2] Bobby Smith chip 82
'Johnny Haynes pushed the ball through for him. He calmly watched Ramallets advance, then a 25 yard chipped ball perfectly over his head.'

[2-2]

Luis Suárez

53
'Enrique Mateos put the ball inside, Suarez scored with a fierce shot that hit Armfield on the foot and deflected past Springett.'
commentator: Kenneth Wolstenholme second half also live on the Light Programme


"GREAT, GLORIOUS ENGLAND"
Daily Mirror
Officials

from France

England
FIFA ruling on substitutes

Spain Party

Referee (black)
Maurice Alexandre Guigue


48 (4 August 1912), Arles

orange flag

Linesmen flame flag
Jacques Devillers


49 (23 August 1911), Cambrai

M. Bois

England Team
Rank:

No official ranking system established;
ELO rating 9th to 8th
Colours:
The 1959 Bukta home uniform - White v-necked short-sleeved continental jerseys, blue shorts, white socks with red/white/blue calf hoop


ninth match, W 4 - D 2 - L 3 - F 25 - A 16.

³⁵
Capt:
Johnny Haynes ¹


fifth, W 3 - D 0 - L 2 - F 18 - A 9.

²²
Manager:
Walter Winterbottom, 47 (31 March 1913), appointed as FA national director of coaching/team manager on 8 July 1946;
118th match, W 66 - D 28 - L 24 - F 325 - A 171, one abandoned.¹³⁹

Trainer: Harold Shepherdson
Winterbottom's thirtieth match at the Empire Stadium
The team chosen by the Selection Committee, headed by Joe Richards, on Wednesday, 19 October in Luxemburg, announced by Walter Winterbottom on Thursday, 20 October at London Airport.
England Lineup

unchanged

from the previous match

league position

(19 October)

Springett, Ronald

D.

25
96 days
22 July 1935
G
Sheffield Wednesday FC

(FL 2nd)

8

14ᵍᵃ

2

Armfield, James C.
25
35 days
21 September 1935
RB
Blackpool FC

(FL bottom)

11
0
5
Swan, Peter
24
18 days
8 October 1936
RHB
Sheffield Wednesday FC

(FL 2nd)

6
0
6
Flowers, Ronald
26
90 days
28 July 1934
LHB
Wolverhampton Wanderers FC

(FL 6th)

18
2
3
McNeil, Michael
20
262 days
7 February 1940
LB
Middlesbrough FC

(FL2 6th)

3
0
4
Robson, Robert W.

27


251 days
18 February 1933
RM
West Bromwich Albion FC

(FL 16th)

10
2
10

Haynes, John N.
26
9 days
17 October 1934
LM
Fulham FC

(FL 7th)

39
15
7

Douglas, Bryan
26
152 days
27 May 1934
OR
Blackburn Rovers FC

(FL 8th)

17
4
8

Greaves, James P.
20
249 days
20 February 1940
IR
Chelsea FC

(FL 17th)

10
9
9

Smith, Robert A.
27
247 days
22 February 1933
IL
Tottenham Hotspur FC

(FL TOP)

3
5
11

Charlton, Robert
23
15 days
11 October 1937
OL
Manchester United FC

(FL 20th)

21
17
unused substitutes:
Brian Miller (Burnley FC

(FL 3rd)

)
pre-match notes:
The England party were due to play Tottenham Hotspur FC in a private practice match on 24th However, upon returning from Luxembourg, Walter Winterbottom found to his dismay, that Spurs had arranged a match against The Army that evening. England did get to practice, against Arsenal FC at Highbury. Jimmy Armfield was forced to miss the match because of a strained right knee. Brian Miller deputised.
and the following day, they trained at Cheshunt, the training ground of Tottenham Hotspur FC on Tuesday, 25th, Armfield inclusive, for ninety minutes.
Following their Tuesday training, the party spent the afternoon at the picture house. And at their Hendon headquarters, watched football matches (Real Madrid-Eintracht Frankfurt, Wolverhampton Wanderers-Barcelona and Spain-England).
team notes:
Bryan Douglas becomes the 25th player to have made seventeen-or-more post-war England appearances, as well as under the management of Walter Winterbottom and the selection of the ISC.
4-2-4
Springett -
Armfield, Swan, Flowers, McNeil -
Robson, Haynes -
Douglas, Greaves, Smith, Charlton.

Averages:

Age

24

years 330 days
Appearances/Goals

13.3

4.5

Spain Team
Rank:

No official ranking system established;
ELO rating 6th
Colours:
Red jerseys, blue shorts, black socks with yellow tops
Capt:
Luis Suárez
Manager:
Luis Miró Doñate, 47 (3 March 1913)

, also coach of Sevilla CF


Team chosen by Selection Committee, and announced on Tuesday morning, 15th October.
Spain Lineup
Ramallets Simón, Antonio
36
117 days
1 July 1924
G
FC Barcelona
32

45ᵍᵃ

2
Marquitos
27
193 days
16 April 1933
RB
Real Madrid CF
2
0
final app 1955-60
3
Gràcia

Royo,

Sígfridio
28
213 days
27 March 1932
LB
FC Barcelona
7
0
4
Sosa, Manuel Ruiz
23
199 days
10 April 1937
RHB
Sevilla CF
1
0
5
Santamaría Iglesias, José Emilio
31
87 days
31 July 1929
in Montevideo, Uruguay
CHB
Real Madrid CF
6
0
6
Vergés Massa, Martín
26
232 days
8 March 1934
LHB
FC Barcelona
10
2
7

Mateos

Mancebo,

Enrique
26
103 days
15 July 1934
OR
Real Madrid CF

6

3

"In the eightieth minute [Smith] was half-ko'd by a diabolical foul by Mateos. He was spoken to by Guigue, who pointed a warning finger at the dressing room."
8

Del Sol Cascajares, Luis
25
203 days
6 April 1935
IR
Real Madrid CF
2
1
9
Di Stéfano Laulhe, Alfredo Stéfano
34
114 days
4 July 1926
in Barracas, Argentina
CF
Real Madrid CF
23
20
10

Suárez

Miramontes,

Luis
25
177 days
2 May 1935
IL
FC Barcelona
20
13
11
Gento Lopez, Francisco
27
5 days
21 October 1933
OL
Real Madrid CF
19
1
unused substitutes:
José Araquistain (Real Sociedad), Feliciano Rivilla (Club Atlético de Madrid ), Jesus Garay (FC Barcelona), Chuzo (Club Atlético de Madrid ), Jesus Maria Pereda (Sevilla CF)

team notes:

José Santamaría played for Uruguay against England in the 1954 World Cup Finals quarter-final.
2-3-5
Ramallets -
Marquitos, Gràcia -
Sosa, Santamaria, Vergés -
Mateos, Del Sol, Di Stéfano, Suárez, Gento.

Averages:

Age

28

years 152 days
Appearances/Goals

11.6

3.5
Match Report
by Mike Payne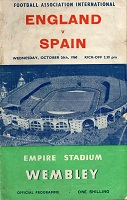 WHAT A magnificent match, magnificent victory and magnificent performance by this new, rejuvenated England team.

On an appalling day with the wind and rain driving down across Wembley from first to last, two splendid sides produced a thriller for the 80,000 spectators. With two fine wins behind them, England were looking for an even bigger confidence booster and they took on the Spaniards determined to show them all that is best about English football.

Within 30 seconds of the start England were granted the wish that they wanted when they scored a precious early goal, A fine move down the right between Bryan Douglas and Bobby Smith ended with a diagonal pass across the face of the penalty area. Before the Spanish defenders could react, Jimmy Greaves burst through the rain, took the ball at top speed, slid through the gap and guided home a low shot past Ramellets. That was just the start England needed and both sides were soon producing some sparkling football.

In the 14th minute, Spain gained a superb equaliser. Fabulous play by Suarez began the move which was carried on by Di Stefano and Mateos. Then, in came Del Sol to finish off the attack with a clinical strike.

With Peter Swan and Ron Flowers holding the middle together well, England's 4-2-4 formation looked effective. Bobby Robson, who got through a mountain of work keeping tabs on Di Stefano as well as supporting Johnny Haynes in midfield, had an excellent game. Bobby Charlton and Greaves were sharp and dangerous up front and the whole side was an impressive unit.

Just before the interval, England regained the lead. A short free-kick by Robson to Jimmy Armfield enabled the full-back to put in a lovely centre. On the end of it, of all people, was Douglas, popping up in the centre-forward position to glance home a brilliant header. It was old fashioned but very effective, indeed the English game at its best.

The lead was certainly deserved and England must have been well satisfied with their first-half display. However, immediately after the break Spain levelled the scores again. A good run by the speedy Gento ended with him pulling the ball back for Suarez to sweep it wide of Ron Springett's dive.

The game was buzzing at this stage with the crowd revelling in the skills on show and forgetting the atrocious weather. The best was yet to come as in the last half-hour England's challenge reached a new peak. Charlton suddenly found extra venom as he cut the Spaniards' defence repeatedly to set up chances for his forward colleagues. From one such run, England regained the lead for a third time. This time Charlton's pass found Smith unmarked to head home and then ten minutes from the end England wrapped it all up with an exquisite fourth goal.

Robson began the move and when Smith took his pass, the centre-forward looked up and chipped in a perfect shot over the advancing Ramallets from some 25 yards.

It was a dream come true for the fans and the final icing on the cake came in the closing minutes when England treated the Spaniards to some of their own medicine, cleverly keeping possession with numerous passes which the visitors could not get near. It was poetic justice as England had suffered the same fate in Madrid last May.

It was also a lovely feeling, seeing England get their own back in such style.

Match Report
by Norman Giller
As in Madrid five months earlier, torrential rain turned the pitch into a miniature lake, but this time it was England who kept their feet better against an exceptional Spanish team that included their big shots di Stefano, del Sol, Suarez and Gento. England started and finished their victory romp with classic goals, the first from Jimmy Greaves and the second from Bobby Smith, who delicately chipped the ball over the goalkeeper's head from 20 yards to break the Spanish spirit after they had twice battled back to equalize. One of the outstanding features of the game - as in Madrid - was the duel between Armfield and Gento, with the Blackpool full-back emerging triumphant against one of the greatest wingers of all time. Remembering how Spain had tried to humble them in Madrid with keep-ball passing, England gave the Spaniards a taste of their own medicine and had the Wembley spectators roaring as they stitched together dozens of passes.

Match Report
by Glen Isherwood
Spain had lost on both their previous visits to England, the last occasion being at Wembley in 1953. They had beaten England 3-0 in Madrid, however, just five months earlier. Spain had also reached the European Championship quarter-finals but politics forced them to withdraw from a meeting with the eventual winners, the USSR.
England took a first minute lead. Smith's pass found Jimmy Greaves who shot low to beat Ramellets. Spain were not behind for long. Luis Del Sol taking a pass from Mateos to equalise. England regained the lead before the break. Armfield crossed and Bryan Douglas headed home. Spain levelled again just afterwards when Gento broke away, then pulled it back to enable Luis Saurez to shoot past Springett. England were not to be denied, though. Bobby Smith headed them in front once more from Charlton's centre. Then, in the 80th minute, Smith took a pass from Robson and brilliantly lobbed the 'keeper from 25 yards for his second.
Spain finished bottom of their group in the 1962 World Cup in Chile but won the European Championship in their own country in 1964. They returned to Wembley to face the World Cup holders in 1967.
Two European Footballers of the Year, Alfredo Di Stefano (who won it twice) and Luis Suarez (the 1960 winner) who scored their second goal, made their first appearance at Wembley. Only Di Stefano would return, for the FA's Centenary match in 1963.

Match Report
as appears in the F.A. Yearbook 1961-62 page 38
The selectors relied upon the same team against Spain, which was likely to offer the hardest game of the season. Although Wilson was now fit again left-back McNeil retained his place as he had been impressive in his first two games. A crowd of 85,000 watched the match in spite of the torrential rain which waterlogged the Wembley pitch, producing conditions unfavourable to the Spanish players. At the kick-off, a move involving Douglas and Smith ended with Greaves securing the ball at top pace and scoring with a low shot. England then dominated the play throughout, although the Spaniards equalised twice before goals by Smith in the second half put the result beyond doubt. Del Sol equalised England's opening goal in the thirteenth minute but Douglas regained the lead just after halftime when he headed home a centre from right-back Armfield. Although England attacked early in the second half, it was Spain, through Suarez, who scored. England mastered a tense situation to score in the sixty-eighth minute when Smith met Charlton's centre with his head and veered the ball beyond the reach of the Spanish goalkeeper. Twelve minutes later, Smith neatly volleyed the ball over the advancing Ramallets.

Football League Cup First Round Replays


Manchester United 4 Exeter City 1


Old Trafford, Manchester

(15,662)


Quixall (2 (1 pen)), Giles, Pearson
~ Thompson (pen)
Bobby Charlton was representing England

Southampton 5 Newport County 3


The Dell, Southampton

(8,414)


Reeves, Traynor, Paine (2), O'Brien
~ Burton (3)

Football League Cup Second Round


Bolton Wanderers 6 Grimsby Town 2




Burnden Park, Bolton

(7,992)


Stevens, Hill, Lofthouse (3), Keeble OG
~ Rafferty

(2)




Leicester City 1 Rotherham United 2


Filbert Street, Leicester

(5,735)


King (pen) ~

Kettlebrough, Darwin




Norwich City 6 Oldham Athletic 2


Carrow Road, Norwich

(13,067)


Whitehouse (2), Larkin (2), Lythgoe, Crowe (pen)

~ Lister (2)




Torquay United vs. Plymouth Argyle


Plainmoor, Torquay

- match postponed - unfit ground

Football League Cup Second Round Second Replay


Swindon Town 0
Shrewsbury Town 2ᴭᵀ


County Ground, Swindon

(6,785)


McLaughlin, Hobson



Inter-Cities Fairs Cup First Round Second Leg


Újpesti Dózsa 1 Birmingham City 2


Megyeri út, Budapest

(25.000)


Szusza

~ Rudd, Singer

Gordon sent off
Source Notes
TheFA.com
Original newspaper reports
Official Teamsheet
BDFutbol.com

Rothman's Yearbooks




Mike Payne's England: The Complete Post-War Record


Norman Giller, Football Author
The Complete Book of the British Charts
British Pathé
cg