Rank:

FIFA (15 Sept 2016) 12th
EFO ranking Group 4
ELO rating 9th
Colours:
The Nike 2016 home uniform

-

White v-necked jerseys with light blue sleeves and ice blue collared tri

m/side stripe and white cuffs, white shorts with ice blue side trim, red socks.
Capt:
Wayne Rooney
(21st

(22)

captaincy (1

4)

)
Caretaker Manager:
Gareth Southgate, 46 (3 September 1970), appointed caretaker manager on 27 September 2016.
first match, W 1 - D 0 - L 0 - F 2 - A 0.
England Lineup
1

Hart,

C.

Joseph

J.

29
172 days
19 April 1987
G
Torino FC, Italy,
on loan from Manchester City FC
65
44ᵍᵃ
2
Walker, Kyle A.
26
133 days
28 May 1990
RB
Tottenham Hotspur FC
21
0
3
Bertrand, Ryan D., injured off 19th min.
26
64 days
5 August 1989
LB
Southampton FC
10
0
4

Henderson, Jordan B.
26
113 days
17 June 1990
RDM
Liverpool FC
29
1
5
Cahill, Gary J.
30
294 days
19 December 1985
RCD
Chelsea FC
49
3
6
Stones, John
22
133 days
28 May 1994
LCD
Manchester City FC
12
0

7

Walcott, Theo J., off 68th min.
27
206 days
16 March 1989
RAM
Arsenal FC
45
8
8
Alli, Bamidele J.
20
180 days
11 April 1996
AM
Tottenham Hotspur FC
14
2
9
Sturridge, Daniel A., off 73rd min.
27
37 days
1 September 1989
CF
Liverpool FC
23
7
10
Rooney, Wayne M.
30
350 days
24 October 1985
LDM
Manchester United FC
117
52

most gls

11

Lingard, Jesse E.

23


298 days
15 December 1992
LAM
Manchester United FC
1
0

1217

the 66th United player to represent England

England

Substitutes

scoreline:

England 2 Malta 0
14
Rose, Daniel L., on 19th min.

(18:29)

for Bertrand
26
98 days
2 July 1990
LB
Tottenham Hotspur FC
9
8
0
1
20
Rashford, Marcus, on 68th min.

(67:24)

for Walcott
18
343 days
31 October 1997
RF
Manchester United FC
4
1
1
3
19
Vardy, Jamie R., on 73rd min.

(72:57)

for Sturridge
29
271 days
11 January 1987
CF
Leicester City FC
12
6
4
6

result:

England 2 Malta 0

unused substitutes:
12-Chris Smalling, 13-Fraser Forster, 15-Eric Dier, 16-Michael Keane, 17-Alex Oxlade-Chamberlain, 18-Michail Antonio, 21-Andros Townsend, 22-Tom Heaton.
team notes:
Wayne Rooney extends his tally of most appearances as an England outfield player.
Ryan Bertrand pulled his hamstring as he was chasing a ball down the left into the Maltese penalty area on 14:13, he eventually collapsed on 16:53, and replaced on 18:29.
Alex Oxlade-Chamberlain's father, Mark Chamberlain, also played for England (1982-84).
records:
Southgate's victory makes him the ninth successive England manager to win their first game in charge.
They have now gone 31 qualification matches unbeaten (W24 D7), victorious in their last fourteen.
They are also unbeaten in twenty competitive home matches, equalling their best form since the 20 in 1984-96.
Wayne Rooney extends his record of playing in 35 of England's 51 home matches at the National Stadium.
Caretaker manager Gareth Southgate was a 57th minute substitute the last time England played Malta in a June 2000 friendly.
4-2-3-1
Hart -
Walker, Cahill, Stones, Bertrand (Rose) -
Henderson, Rooney -
Walcott (Rashford), Alli, Lingard -
Sturridge (Vardy).

Averages

(Starting XI)

:

Age

26

years 215 days
Appearances/Goals

35.1

6.6
Rank:

FIFA (15 Sept 2016) =176th
EFO ranking n/a
ELO rating 160th
Colours:
Made by Givova - Red collared jerseys with shadow diagonal stripes and white trim/cuffs, red shorts with white hem, white socks.
Capt:
Andre Schembri
Michael Mifsud 85th min.
Manager:
Pietro Ghedin, 63 (21 November 1962 in Scorzè, Italy). Previously apptd 5 July 1993-5 November 1995, re-appointed on 8 May 2012.
37th match, W 6 - D 4 - L 27 F ? A ?.
overall - 65th match, W 60 - D 11 - L 44 - F - 40 - A 121.
Malta Lineup
1
Hogg, Andrew J.
31
220 days
2 March 1985
in Kingston-upon-Thames, England
G
Hibernians FC
48
0
6
Borg, Steve
28
146 days
15 May 1988
RB
Valletta FC

21

0


55th min. after he slid into a sprinting Lingard running along the touchline.

17
Camilleri, Ryan
28
139 days
22 May 1988
RCD
Valletta FC
29
0
5
Agius, Andrei
30
57 days
12 August 1986
CD
Hibernians FC
62
1
20
Muscat, Zach
23
47 days
22 August 1993
LCD
US Arezzo

, Italy

16
0
22
Muscat, Alexander
31
299 days
14 December 1984
LB
Sliema Wanderers FC
32
0
18
Kristensen, Bjorn
23
186 days
5 April 1993
RM
Hibernians FC
16
0
4
Sciberras, Gareth
33
193 days
29 March 1983
RCM
Birkirkara FC
48
0
13
Schembri, Andre, off 85th min.
30
134 days
27 May 1986
LCM
Boavista FC

, Portugal

75
3
8
Fenech, Paul
29
293 days
20 December 1986
LM
Balzan FC
37
1
19
Effiong, Alfred, off 76th min.
31
314 days
29 November 1984
in Lagos, Nigeria
CF
Balzan FC
14
4
Malta Substitutes
scoreline: England 2 Malta 0
9
Mifsud, Michael, on 76th min.

(75:25)

for Effiong
35
174 days
17 April 1981
F
Valletta FC
120
40

most gls

10
Muscat, Rowen, on 85th min.

(84:56)

for Schembri
25
115 days
15 June 1991
M
Birkirkara FC
26
0
result: England 2 Malta 0
unused substitutes:
3-Joseph Zerafa, 7-Clayton Failla, 11-Steve Pisani, 12-Harry Bonello, 14-Jean Paul Farrugia, 15-Mark Scerri, 16-Ryan Scicluna.
5-3-2
Hogg -
Borg, Camilleri, Agius, Z.Muscat, A.Muscat -
Kristensen, Sciberras, Schembri (R.Muscat) -
Fenech, Effiong (Mifsud).

Averages

(Starting XI)

:

Age

29

years 120 days
Appearances/Goals

36.2

0.8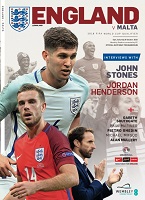 Who would have thought that I would be writing this report, with yet another new manager in charge of the team? Gareth Southgate's first match as interim manager was pretty much a foregone conclusion, result wise, with the visit to Wembley of Malta, another of the minnows of World football. However, as has been proved many times before, no matter what type of opposition you face, you still have to earn the right to the three points. England did that, but not with any real conviction.





When games are this easy for players at the top level, there is a tendency to go into a lackadaisical mode, and that is what happened here with quite a few of the team not really 'busting a gut' so to speak.





The pattern of the match was soon clear to see as England dominated possession, trying to find a way past a bank of four and a bank of five. Malta were organised and disciplined and frustrated the crowd and the England players. It was not a question of whether England would score, more a case of when they would. It took seven minutes for a goal attempt, when Wayne Rooney's free-kick was charged down, but the ball was soon back and after it was laid back to the England skipper he fired in another effort from just outside the box and only a fine save by goalkeeper Andrew Hogg prevented a goal. It was not to be the last time the keeper would save his side.





Kyle Walker and Ryan Bertrand were trying to make headway around the wings of the defence and both put in good crosses. On 12 minutes Bertrand's cross was patted out to Jesse Lingard, but the Manchester United striker scuffed his goal attempt wide. Daniel Sturridge then twisted and turned in the box, but his eventual shot was weak and easily saved. England then suffered a blow as Bertrand had to go off with a hamstring problem, and on came Danny Rose to replace him. Immediately Rose was in the action and he fired in a cross from the left, which was cleared. Lindgard then made a fine run to meet Jordan Henderson's pass, but scuffed his shot when well placed. It was certainly England's best chance so far.





Just three minutes later Henderson put in another fine cross, met sweetly by the head of Deli Alli. A goal looked certain but somehow Hogg managed to get a hand to it and save. en then the ball dropped to Sturridge, for what appeared to be a simple tap-in. Unfortunately, Sturridge somehow contrived to blaze the ball way over the bar.





At this point it was virtually total possession for England and one-way traffic towards the Malta goal and their eleven man defence. Chances were beginning to come more often, with Rooney playing a lynchpin role, spreading the play from side to side with ease, although not too many passes went forward, into the danger area. But, at last, on 29 minutes, England finally had their breakthrough. Another lovely ball in from the lively Henderson found Sturridge on the edge of the Malta box. This time the header was perfect as he guided a lovely effort just inside the far post with Hogg beaten at last.





Four minutes later Lindgard had another attempt and was actually unlucky to see his header hit the knee of the keeper and squirm just wide of the post. Credit Hogg though, for spreading himself well.





The pressure was intense now as England had upped the pace and were starting to create some gaps. With 38 minutes gone a welcome second goal came along, and once again Henderson was heavily involved. The midfield player burst onto a loose ball, powered into the box and flicked the ball to Alli. The Tottenham player's first attempt was blocked by Hogg, but Alli followed up and prodded home with his second attempt.





As the half wound down, Sturridge again forced a good save from Hogg, and then headed another chance into the keeper's hands. England were playing some good football and the extra pace to their game had brought their reward. Only Hogg had been between England and a rout, but everyone left the field at the break thinking that the same again would bring even greater dividends. Unfortunately, as soon as the second-half began England fell back into that lackadaisical mode that I mentioned. The build-up play was slow and lacked the intensity of earlier, and some of the players just went through the motions a little, knowing that the points were safe.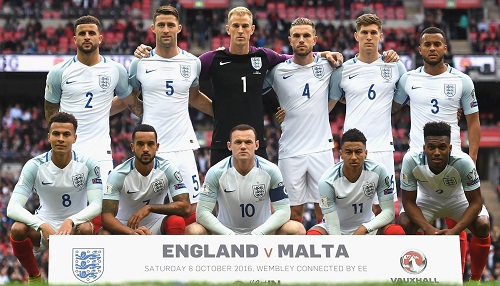 What was a little disconcerting was that England rarely fashioned a decent chance in the half, and Malta were able to easily soak up the attacks. Southgate tried a couple of substitutions, replacing the ineffectual Theo Walcott with Marcus Rashford, and then switching Sturridge for Jamie Vardy. But things did not noticeably improve, although it must be said that England were in total control. Credit to Malta, who worked incredibly hard, and indeed, on 80 minutes, they forced a save from Joe Hart at his near post. That would have been just a tad embarrassing, had we conceded a goal, but England coasted to the end. Rooney did force another good save from Hogg with a free-kick and Alli should have scored his second when Rashford's cross reached him at the far post, only for Alli to blaze his shot over the bar from close range.





After all that had gone on before the game, Southgate will be glad of a match like this to get him off and running. There were a few positives to take from the performance, but the hard graft will start in a few days time when we travel to Slovenia for our third group match in this qualification tournament. We go into the game with plenty of confidence though and everyone will be aware as to what will be expected of them.