"NO TEST FOR ENGLAND" Sunday Post
Officials

Ireland
UK ruling on substitutes
England

Referee


William E. Webb


Glasgow

Linesmen

tbc
tbc
Prematch entertainment provided by the Royal Enniskillen Fusiliers Band

Ireland Team
Rank:
No official ranking system established;
ELO rating 39th to 41st
Colours:
Green jerseys with white white winged collars, white shorts, blue socks with green tops.
"The smart rig worn by the Irish team and "Special victory" football used in the match were supplied by The Athletic Stores Ltd., of Wellington Place." - Belfast news-letter, Monday, 30 September 1946.
Capt:
Peter Doherty
Selector:
Selection Committee
on Thursday, 19 September 1946.
Ireland Lineup
Russell, Alexander
23
253 days
18 January 1923
G
Linfield FAC
1
7ᵍᵃ
only app 1946
2
Gorman, William

C.

35
77 days
13 July 1911
RB
Brentford FC, England
1
0
3
Aherne, Thomas
27
245 days
26 January 1919
LB
Belfast Celtic FC
1
0
also has three appearances with Éire
4
Carey, John

J.

27
217 days
23 February 1919
RHB
Manchester United FC, England
1
0
also has ten appearances with Éire
5
Vernon, John

J.

28
2 days
26 September 1918
CHB
Belfast Celtic FC
1
0
6
Douglas, Joseph

P.

nk
not known
LHB
Belfast Celtic FC
1
0
only app 1946
7
Cochrane, David

A.

26
45 days
14 August 1920
OR
Leeds United AFC, England
3
0
8

McAlinden, James
30
271 days
31 December 1917
IR
Portsmouth FC, England
3
0
also has two appearances with Éire
9
McMorran, Edward

J.

23
26 days
2 September 1923
CF
Belfast Celtic FC
1
0

10

Doherty, Peter

D.

33
115 days
5 June 1913
IL
Derby County FC, England
11
2
11

Lockhart, Norman

H.

22
208 days
4 March 1924
OL
Linfield FAC
1
2

reserve

:
Jim Feeney (Linfield FAC)
team notes:
West Bromwich Albion FC's Dave Walsh was the original chosen centre-forward, his place going to Eddie McMorran, after a knee injury in a club match forced his withdrawal.
2-3-5
Russell -
Gorman, Aherne -
Carey, Vernon, Douglas -
Cochrane, McAlinden, McMorran, Doherty, Lockhart.

Averages:

Age

27

years 221 days

¹⁰

Appearances/GoalsAppearances/Goals

2.3

0.1

England Team
Rank:
No official ranking system established;
ELO rating 4th to 5th
Colours:
The 1946 home uniform - White collared jerseys, blue shorts, red socks.
first, W 1 - D 0 - L 0 - F 7 - A 2.¹⁸

Capt:

George Hardwick
first, W 1 - D 0 - L 0 - F 7 - A 2.¹³
Manager:
Walter Winterbottom, 33 (31 March 1913), appointed as FA national director of coaching/team manager on 8 July 1946;
first match, W 1 - D 0 - L 0 - F 7 - A 2.¹³⁹
Masseuse: Walter Max
Team chosen by Selection Committee headed by Arthur Drewry on Wednesday, 18 September, following trial match between FA XI and Combined XI in Nottingham.
England Lineup
ten changes to the previous match (only Lawton remains)
league position (18th September)

69

Swift, Frank V.
32
276 days
26 December 1913
G
Manchester City FC

(FL2 3rd)

1
2ᵍᵃ

655

15th City player to represent England

656

2
Scott, Lawrence
29
158 days
23 April 1917
RB
Arsenal FC

(FL 16th)

1
0

19th Arsenal player to represent England

657

3
Hardwick, George

F.M.

26
238 days
2 February 1920
LB
Middlesbrough FC

(FL 7th)

1
0

14th/15th Boro player to represent England

658

4
Wright, William A.
22
234 days
6 February 1924
RHB
Wolverhampton Wanderers FC

(FL 17th)

1
0

18th Wanderer to represent England

659

5
Franklin, Cornelius
24
247 days
24 January 1922
CHB

Stoke City FC (FL 14th)

1
0

15th City player to represent England

660

6
Cockburn, Henry
25
14 days
14 September 1921
LHB

Manchester United FC (FL TOP)

1
0

7th United player to represent England

661

7

Finney, Thomas
24
176 days
5 April 1922
OR

Preston North End FC (FL 9th)

1
1

12th Northender to represent England

8

Carter, Horatio

S.

32
281 days
21 December 1913
IR

Derby County FC (FL 18th)

7
3
9 years & 168 days after his last app,

26th County player

9

Lawton, Thomas
26
357 days
6 October 1919
CF
Chelsea FC

(FL 11th)

9
7
7 years & 127 days after his last app,

14th Chelsea player

662

10
Mannion, Wilfred

J.

28
135 days
16 May 1918
IL

Middlesbrough FC (FL 7th)

1
3
the 38th (first post-war) hattrick scored

14th/15th Boro player to represent England

663

11

Langton, Robert
28
20 days
8 September 1918
OL

Blackburn Rovers FC (FL 6th)

1
1

34th Rover to represent England

reserves

:
Don Welsh (Charlton Athletic FC

(FL 13th)

), Eddie Shimwell (Sheffield United FC

(FL 15th)

).
Johnny Hancocks (Wolverhampton Wanderers FC

(FL 17th)

) replaced Tom Finney.
team notes:
Stanley Matthews (Stoke City FC

(FL 14th)

) was selected for the starting eleven, but had to withdraw through injury and was replaced by Tom Finney from the reserves on 23 September.
records:
Wilf Mannion is the first debutant to score a hat-trick since George Mills in October 1937. The eleventh to do so overall.
"The England team arrived in Belfast by boat from Liverpool

[via Euston Station, London],

and went at once to the Slieve Donard Hotel, Newcastle, which will be their headquarters until Saturday" -

Belfast News-Letter, Friday, 27 September 1946.

2-3-5

Swift -
Scott, Hardwick -
Wright, Franklin, Cockburn -
Finney, Carter, Lawton, Mannion, Langton.

Averages:

Age
27 years 187 days
Appearances/Goals

2.3

0.7
News
"W. Winterbottom may act as the F.A. team manager.
"Wing Commander W. Winterbottom, a former player with Manchester United and director of physical fitness at the Air Ministry during the war, has been appointed a member of the Football Association staff. His primary duties will concern the direction and extension of the coaching and instructional work of the English F.A. While he has not been appointed as England team manager, he will take charge of teams at the discretion of the International Selection Committee, and if so directed, will decide tactics.". - Yorkshire Post, Tuesday, 9 July 1946

"ENGLAND SHOCK THE I.F.A"
"The Emergency Committee of the Irish Football Association held a special meeting in Belfast to consider a letter from the Football Association stating that their International Committee wanted assurance that only players born in Northern Ireland would be selected for the international match against England at Windsor Park on Saturday, September 28. The I.F.A. Committee did not announce their decision, but it is understood that they are to inform the Football Association that they see no reason why such an assurance should be given. The information given to the Press was: "We have drafted a reply which is being sent to the Football Association. A copy will be issued to the Press on Thursday afternoon. At the Liverpool Conference of 1923 the IFA was given international status and the Eire Association dominion status. Under this agreement the IFA had the right to select any Irish-born player attached to an English or Scottish club and the Eire Association was only permitted to call upon Eire-born players". - Belfast News-Letter, Wednesday, 18 September 1946

Match Report by Mike Payne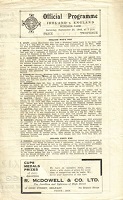 A RECORD 57,000 people attended the first official full Home International football match since 1939 and the huge swirling crowd threatened to cancel the game as the spectators spilled on to the pitch. Thankfully, common sense and good humour prevailed and order was restored in time for the kick-off.

The match got off to a sensational start with England taking the lead in the first minute. George Hardwick sent the ball into the Irish penalty area and after Ahearne had made a weak attempt at a clearance, Raich Carter pounced to open the scoring.

Although Ireland tried desperately to recover they could not stop the eager England forwards. In the seventh minute it was 2-0. Henry Cockburn found Tommy Lawton with a lovely pass and the centre-forward fond some space brilliantly to set up and easy goal for Wilf Mannion. Middlesbrough's Mannion scored again before half-time after Lawton's ferocious shot rebounded off the crossbar and England went in with a commanding lead.

Carter and Mannion continued to perform brilliantly after the break to completely destroy Ireland's already shattered defences. Time and again their fine passing set up more goal chances. Within 15 minutes England had scored two more goals through Tom Finney and Mannion, who thus completed his hat-trick.

Finney was doing just as he pleased on the right wing and by this time Mannion and Carter were walking through the demoralised Irish ranks. Lockhart gave the eerily silent crowd something to cheer with a goal from the left, but Lawton and then Bobby Langton underlined England's superiority with goals six and seven. Just before the end Lockhart gave the Irish another consolation goal but it was a very dejected set of green-shirted footballers who left the field at the final whistle.

England's display had been very impressive and Carter's link up with Finney was outstanding, much better than at anytime with Stanley Matthews; Mannion's performance was also memorable.

Match Report

by Norman Giller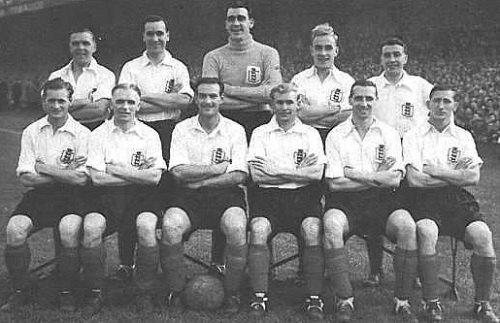 Raich Carter scored in the first minute of what was a memorable match for Middlesbrough team-mates Wilf Mannion and George Hardwick. Mannion illuminated his debut with a hat-trick, and Hardwick was made skipper in his first official international. He was to make thirteen successive appearances for England, all as captain. There was a record Windsor Park crowd of 57,000 for this first Home International match since 1939. England were 3-0 up at half-time. This was England's first game under the stewardship of Walter Winterbottom, a former Manchester United centre-half who was a university-educated intellectual whose depth of knowledge about the tactics and techniques of the game were unequalled. He was shackled and stifled by a team selection system that put all the responsibility on his shoulders but most of the power in the hands of amateur selectors. Winterbottom was lucky if he got his players together a day before an international match, and often they would arrive just a few hours before the kick-off. It was nothing unusual for England team-mates to meet each other for the first time in the dressing-room shortly before going out to play.

IN OTHER NEWS...
It was on 27 September 1946 that the British test pilot, Geoffrey de Havilland Junior, son of the famous aircraft designer, was killed when his experimental jet-propelled plane exploded in mid-air near Shearness. His younger brother had also been killed on a test flight, three years earlier.
Source Notes
TheFA.com




Original newspaper reports




Rothman's Yearbooks




Northern Ireland's Footballing Greats (for programme image too)


Northern Ireland's Footballing History
Mike Payne's England: The Complete Post-War Record
Paul Agnew's Finney: A Football Legend
Norman Giller's Billy Wright: A Hero for All Seasons
Douglas Lamming's Forgotten Caps: England Football Internationals of Two World Wars & English Football Internationalists' Who's Who
Tommy Lawton's My Twenty Years of Soccer
David Miller's Stanley Matthews: The Authorized Biography
Nick Varley's Golden Boy: A Biography of Wilf Mannion
cgpy